Sonia Sotomayor's New Books Hold An Invaluable Message — Especially For Young Readers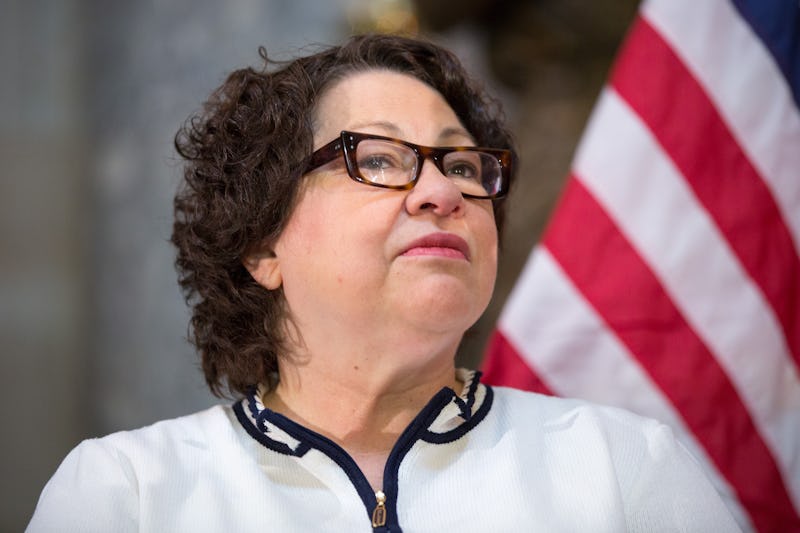 Allison Shelley/Getty Images News/Getty Images
This week, Supreme Court Justice Sonia Sotomayor will release two new books, both of which have inspiring messages for young readers. The justice's forthcoming publications are based on her life story and are designed to inspire children to live their lives to the fullest.
One of Justice Sotomayor's books is entitled The Beloved World of Sonia Sotomayor and is based on her 2013 autobiography, My Beloved World. The book is geared toward middle schoolers and was written particularly with children who are learning English in mind. As the Associated Press (AP) described, Sotomayor was inspired to adapt her autobiography for younger readers after her cousin, a bilingual middle school teacher, told the justice that some of her students were having trouble reading her autobiography in full.
Sotomayor's cousin, Miriam Gonzerelli, emphasized to the AP that she " ... wanted them [her students] to have access to Sonia's amazing story," saying many children look up to Sotomayor because she is the first Latina Supreme Court Justice. As the Associated Press reported, Sotomayor reflected this sentiment on Saturday, saying that wrote her books as means of providing encouragement to children. As the justice put it, "People, I add children, who live in difficult circumstances need to know that happy endings are possible."
Sotomayor's second book, Turning Pages: My Life Story, is geared toward even younger readers. The picture book describes the justice's life as a child growing up in New York City and emphasizes the inspiring role that books played in her young life. Sotomayor further explained some of the inspiration behind the book while speaking at the 18th annual Library of Congress National Book Festival in Washington, D.C. on Saturday. As NBC reported, the justice told the audience:
The power of words is in creating pictures in your mind and that is very special. As a child, I explored the world through books. I saw the possibilities of things that I could have never imagined without reading ... I could have never imagined traveling to faraway places and now I do it, but that wish to meet other people and go other places came from reading. Books were the key to deciding to become what I am today.
NBC also noted that, beyond the two children's books due out this week, Sotomayor told the audience that she is planning to release another children's book next year that shares the experiences of "children with differences." As the outlet reported, this book will be based on the justice's own experience living with diabetes as a child.
Sotomayor further described this still forthcoming book in an interview with the Washington Post on Aug. 31 and emphasized the importance of people coming together despite their differences.
It [the book]showcases how those who are challenged present an opportunity for positive contributions ... The book has children with visible and invisible conditions — children who are blind, in a wheelchair, have attention-deficit disorder, Down syndrome. These children are building a garden together. It shows that we may all be different, but despite this we can create something together, we can make a more beautiful world.
The Beloved World of Sonya Sotomayor and Turning Pages: My Life Story are both due to be released on Sept. 4 and are being published by Penguin Random House.