Why The 'Supernatural' & 'Scooby-Doo' Crossover Is Making Jared Padalecki Completely Freak Out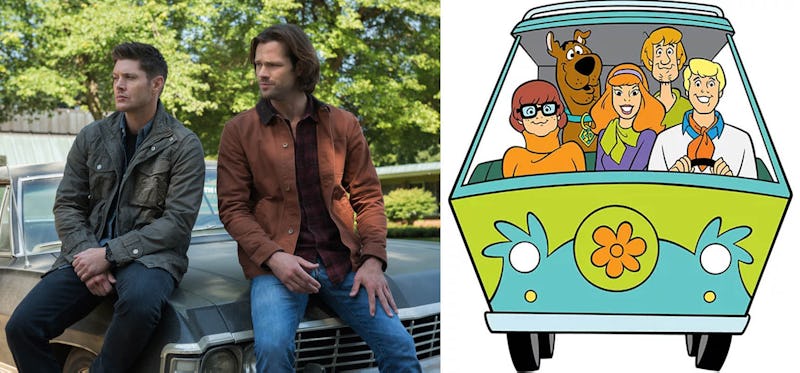 The CW, Cartoon Network
Is there anything that Supernatural can't do?! The longest-running CW series, currently airing its record-breaking 13th season (Thursdays at 8 p.m.), is known for a lot of things: emotionally-grounded storytelling set in a supernatural world, bloody action, scary horror, these beautiful faces. But what cements this bromance-heavy series as a true fan-favorite all over the globe in the age of Peak TV is the way it constantly brings the laughs by flipping the script with meta, genre-bending episodes.
From Season 1's viral video hunter-wannabes the Ghostfacers to the all-time series high "French Mistake" where Sam (Jared Padalecki) and Dean (Jensen Ackles) found themselves in an alternate universe where they were actors named Jared Padalecki and Jensen Ackles on a TV show called Supernatural, this show isn't afraid to take risks. And it almost always pays off.
Season 13 is no different, as the demon-hunting, monster-killing Winchester brothers are set to get animated in what's sure to be another series high with a Supernatural and Scooby-Doo crossover episode. The special crossover, which will find Sam and Dean fully animated with Scooby and the Mystery Machine gang, will air later this year. Sitting in a small screening room deep within The CW's headquarters in Burbank, Calif. after screening an episode from the new season for a small group of reporters, Padalecki — clad in one of his signature grey beanies despite the 80 degree heat outside — smiles as he details how the "f*cking awesome" concept is coming to life.
"We got the script technically March, April, several months ago," he says, pulling his jacket tighter across his chest as his Warner Bros. Comic-Con exclusive Supernatural t-shirt peeks out underneath. "Because we did the audio for it several months ago. And they've already started drawing it and we actually saw a little mock up, not fully animated or anything but little black-and-white cells, what it's going to look [like]."
After watching what he and his co-star Ackles look like fully animated with the Scooby gang, he grinned and clapped his hands. "Never in my wildest dreams," he says. "I grew up watching it so to hear that animated you is going to be on the same screen with the Mystery Machine — super cool."
The actor notes that he has full confidence in the Supernatural writers and producers because of moments and ideas like this.
"It's like, how do you think of this stuff?," Padalecki says, turning to executive producers Brad Buckner and Eugenie Ross-Leming, sitting on either side of him. "We're 260 or -70 episodes in and now we're doing Scooby-Doo. I want to do a Scooby-Doo season. 'Scooby-natural,' all 22 episodes!"
Looking at the track record of all the kinds of different genres and shark-jumping concepts that Supernatural has taken on over the years to great success, it's no surprise to hear Ross-Leming's claims that there's nothing they won't touch.
"Honestly I can't think of anything because you're always so hungry for ideas," she says. "You want to just make sure you can do it. If it's something we think we're not able to write or for, we would back away."
While an exact date hasn't been set for the Scooby-Doo episode, Bucker is able to reveal some details about the "charming and funny" plot already.
"It's like the better of the meta episodes where you have fun with what the show is. And now you get two shows to tweak," Buckner says. "There's a certain amount of expertise from a certain brother about what Scooby world is. We have fun with that."
But what's most exciting is that apparently the question of what's faster, the Supernatural Impala or the Mystery Machine, will be answered once and for all.
"You'll have to see. You'll get a chance to see," Padalecki teases with a smile. "Depends who's driving it, I guess."
Start placing your bets now.