You Won't See These Democrats At The Inauguration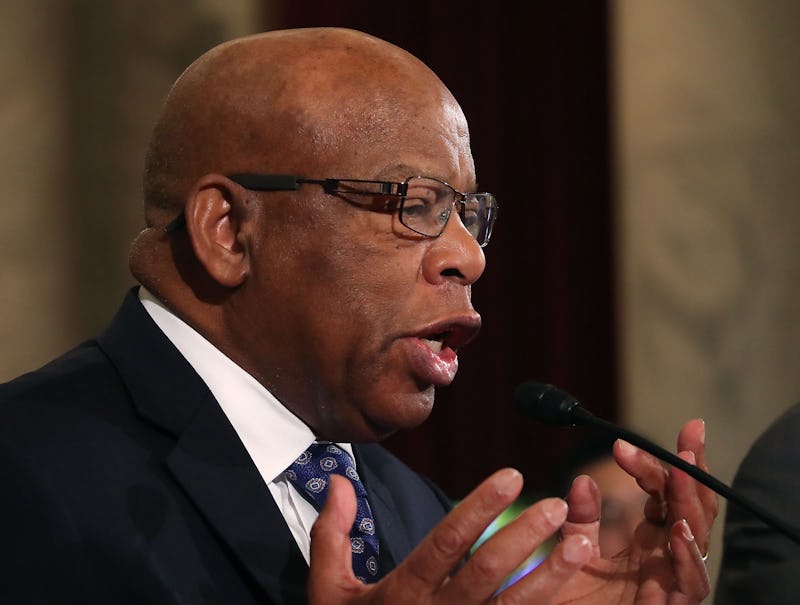 Mark Wilson/Getty Images News/Getty Images
A number of Democratic politicians have announced that they will be breaking with long-standing tradition and skipping Donald Trump's inauguration, and the numbers have continued to swell as Jan. 20 approaches. As of this writing, 25 lawmakers have said that they won't attend the swearing in, the highest profile instance being civil right icon and Georgia Rep. John Lewis. And while not all have explained their reasoning, some have — ultimately, these Democrats have pretty valid reasons for skipping Trump's inauguration.
The revolt against Trump snowballed after Lewis said on Meet the Press he doesn't consider Trump a "legitimate president," due to the alleged election interference by Russia (Russia has denied interfering in the U.S. elections). Trump lashed out at Lewis on Twitter, insisting that the Georgia congressman should be focusing his efforts on "crime infested inner-cities [sic]." Why Trump thinks Lewis should tackle inner city crime is unclear (other than the fact that Lewis is black, and Trump reflexively associates black people with inner cities).
After Lewis announced that he'll be skipping the inauguration, more Democratic legislators began following his lead. The reasons they gave for skipping the election were all-encompassing, with Democrats citing everything from Trump's lack of "decency" to his relationship with Vladimir Putin to his position on nuclear weapons and the environment. Here's a sampling of the reasons Trump has inspired members of Congress to take the unprecedented step of skipping the inauguration.
1. Rep. John Lewis
"I don't see the President-elect as a legitimate president," Lewis told Chuck Todd. "I think there was a conspiracy on the part of the Russians and others to help him get elected. That's not right. That's not fair. That's not the open democratic process."
2. Rep. Luis Gutiérrez
Rep. Gutiérrez of Illinois, whose district includes parts of Chicago, took to the House floor on Jan. 10 to explain why he won't be attending Trump's swearing-in. "I could not look my wife, my daughters, or my grandson in the eye if I sat there and attended, as if everything that the candidate said about the women, the Latinos, the blacks, the Muslims, or any of those other things he said in those speeches and tweets, and that all of that is okay or erased from our collective memory," Gutierrez said. Like many of his Democratic colleagues, he will be attending the Women's March the next day instead.
3. Rep. Raúl Grijalva
Rep. Grijalva of Arizona also declared that he would not attend on the House floor:
My absence is not motivated by disrespect for the office, or motivated by disrespect for the government that we have in this great democracy, but as an individual act — yes, of defiance — at the disrespect shown to millions and millions of Americans by this incoming administration and by the actions we are taking in this Congress.
4. Rep. Jose Serrano
New York Rep. Serrano, whose Bronx district is majority Hispanic, explained his reasons for skipping the inauguration in a tweet.
5. Rep. Barbara Lee
California Rep. Lee wrote in a press release:
On January 20th, I will not be celebrating or honoring an incoming president who rode racism, sexism, xenophobia and bigotry to the White House. ... I will be organizing and preparing for resistance.
Notably, Lee, who represents Berkeley and Oakland, was the only member of Congress to vote against the Authorization for Use of Military Force in 2001.
6. Rep. Jared Huffman
Rep. Huffman, another representative from California, wrote in a Facebook post:
I do accept the election results and support the peaceful transfer of power, but it is abundantly clear to me that with Donald Trump as our President, the United States is entering a dark and very dangerous political chapter. I will do everything I can to limit the damage and the duration of this chapter, and I believe we can get through it. But I will not sit passively and politely applaud as it begins.
7. Rep. Katherine Clark
Rep. Clark of Massachusetts wrote in a Twitter post:
Families in my district are fearful that the anti-woman, anti-immigrant, anti-Muslim, and divisive promises that drove the Trump campaign will become the policies affecting the health and safety of every American. ... After discussions with hundreds of my constituents, I do not feel that I can contribute to the normalization of the President-elect's divisive rhetoric by participating in the inauguration.
8. Rep. Earl Blumenauer
"There is unprecedented concern by my constituents about the many threats posed by a Trump administration seeking to implement the President-elect's policies on health, environment, nuclear weapons, and immigration, to name but a few," the Oregon representative wrote on Facebook.
"I will forgo the inauguration, spending the day instead in my district talking with Oregonians to hear their priorities, try to answer their questions, and prepare for the coming assault on the values and programs we hold dear."
9. Rep. Mark DeSaulnier
Rep. DeSaulnier of California said Trump in a video posted to Twitter:
I have failed to see, in spite of hoping to see, a belief in common American decency, and a respect of law, and a respect of the Constitution — both the spirit of the Constitution and the letter of the law of the Constitution.
"The President-elect has had an ongoing attack on what I believe is one of our great strengths, is that most Americans aspire to a common sense of decency, even when we disagree," he continued. "I haven't seen that from the president-elect in any of his capacities."
10. Rep. Jerry Nadler
In a Twitter post, the New York representative implied that he won't be attending the inauguration due to Trump's chummy relationship with the Russian President.
11. Rep. Ted Lieu
Rep. Lieu, who represents part os the Los Angeles metro area, said in a statement:
While I do not dispute that Trump won the Electoral College, I cannot normalize his behavior or the disparaging and un-American statements he has made. Trump — who lost the popular vote — has made a series of racist, sexist and bigoted statements. In addition, he has attacked Gold Star parents, veterans such as John McCain and now civil rights icon John Lewis.
Lieu also said that when Trump is sworn in, "[he] will be in violation of Article 1, Section 9 of the Constitution because of the massive conflicts of interests he has with his global business holdings."
12. Rep. Adriano Espaillat
Rep. Espaillat of New York, the first Dominican-American member of Congress, wrote in a Facebook post:
Many have given their lives and dedicated their lives to working to fulfill Dr. King's dream and make it a reality, and it is up to us to preserve his legacy and the legacy of President Barack Obama to ensure that we do not go back in time! President-elect Donald Trump is trying to take us back! And the people Trump is appointing– Steve Bannon, Jeff Sessions – are trying to take us back! That's why I am not attending the presidential inauguration.
13. Rep. Mark Pocan
In a Twitter post, Rep. Pocan of Wisconsin wrote:
I was planning on attending the inauguration on Friday out of respect for the office of President ... However, after long consideration based on reading the Classified document on Russian hacking and the Trump candidacy on Thursday, the handling of his conflicts of interest, and this weekend's offensive tweets about a national hero Rep. John Lewis, I am no longer attending the event.
Pocan added that Trump should "start acting like President Trump, not an immature, undignified reality star with questionable friends and a Twitter addiction."
This a pretty extensive list — but amazingly, it only encompasses around half of the Democrats who've announced their intent to skip the inauguration. A revolt like this isn't normal, and it demonstrates both the depth of partisanship in American politics and the unique danger that so many Americans believe Trump poses to the country.