Why 'Thor: Ragnarok Star' Cate Blanchett Thinks Breaking This Major Marvel Glass Ceiling Is Actually NBD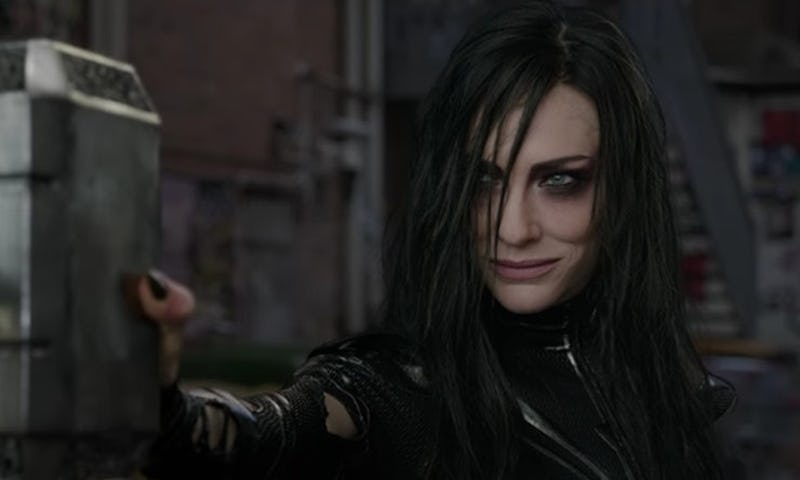 Walt Disney Studios
Over the decades-long course of her career, Cate Blanchett has played practically every type of role under the sun, from a British Queen to a Tolkien elf to a troubled socialite. But her newest part, that of evil "Goddess of Death" Hela in the upcoming Thor: Ragnarok, is totally new territory — and not just for the actor. Hela is the MCU's first female villain, yet while that title is undoubtedly a major deal, Blanchett says she feels none of the pressure that's usually placed on most "first women" in Hollywood.
"I think you only feel pressure if you think this is the only shot that women will have, which is ridiculous," Blanchett says, sitting down with reporters during a break from filming Ragnarok in Brisbane, Australia. Soon after the Oscar winner's casting as Hela was announced, it was reported that Brie Larson would star as Captain Marvel in the MCU's first female-led film, a fact that Blanchett says IS [she considers] a sign of more progress to come.
"You think, 'great, this is the beginning of a rolling stone that's gonna gather a lot of female moss,'" the actor explains, before cringing and adding with a laugh, "Oh, that's a terrible image."
As the mother of a young daughter, Edith (she also has three sons, with husband Andrew Upton), Blanchett gets passionate when she speaks up about the existence of complex women in superhero films. "There's a huge female fanbase, and having a daughter myself, you want them to be able to identify with those [at the] badass end of the spectrum as well as the heroes," she says.
Female heroes in the MCU are relatively rare as is (even when you include TV heroes like Jessica Jones and Chloe Bennett), with the highly-anticipated Captain Marvel joining just Black Widow, Gamora, Scarlet Witch and pitifully few others. Female villains, though, have been totally nonexistent in Marvel's big screen offerings — until now. Blanchett's casting as Hela is momentous, and it's clear that the actor is planning on making the most of her villainous role. The goddess, a massively powerful being capable of breaking Thor's hammer with barely any effort, proves in Ragnarok to be a bigger threat than any the heroes have seen before, even though Hela herself isn't always clear why that is.
"She doesn't meet people who are receptive to her, and I think she's quite bewildered as to why people are frightened of her," explains Blanchett, adding that the character arrives in Asgard after having been banished for centuries. "But," the actor adds, "the more havoc she wreaks, the stronger she becomes."
Although most details of Ragnarok, out Nov. 3, are being kept under wraps, fans are understandably eager to learn more about Hela's role in the film — as well as in the MCU overall. The villain's fate is, of course, unknown at this time, but if she makes as big an impact on viewers in the movie as she did just in the trailers, then you can bet fans will be itching for a Hela return in future MCU releases. Sadly, Blanchett can't yet speak to any upcoming appearances, whether in upcoming Thor movies or otherwise.
"I suppose it depends what they end up with — you never know," she says when asked about a potential return to the MCU post-Ragnarok, adding, "that's up to the big bosses."
But she certainly seems open to the possibility of making a return, if the story calls for it. "I've had an absolute ball, but it doesn't mean my work's any good," Blanchett says with a laugh. Yeah, OK — considering she's one of Hollywood's most acclaimed actors, it's doubtful that her Hela is anything but a scene-stealer in Ragnarok. But regardless of her appearance in the film, there's no question that the character is already making a huge impact, both on the Marvel world and on female superhero fans across the globe.