Tiffany Haddish & Taylor Swift Headlining 'SNL' Together Has Made Some Fans Furious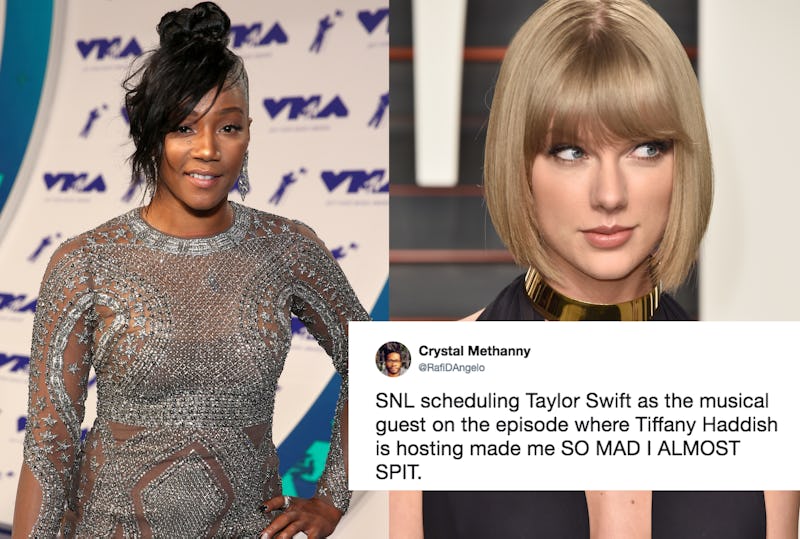 Getty Images/Bustle
As October fades into November with Halloween Tuesday as its last hoorah, you may want to sit down for this: Tiffany Haddish will host Saturday Night Live on Nov. 11, continuing the banner year she's been having since she became the breakout star of Girl's Trip. It will be the comedian's first time hosting the show. Joining her as November hosts will be Larry David (Nov. 4) and Chance The Rapper (Nov. 18), so clearly November is going to be a banner month for all of us. However, the one eyebrow-raising part of all this is the musical guests that have been paired with each host. In particular, Haddish is matched with Taylor Swift on SNL as her musical guest.
The choice isn't bizarre once you consider the timing. Swift's sixth studio album, the much hyped Reputation, is coming out on Nov. 10 — the day before her Saturday Night Live appearance. (It will also be the singer's third time appearing on the program.) So, of course Swift would be promoting the album by performing on Saturday Night Live. And Haddish's job as host is no surprise either. From comedy specials to viral VMAs moments, the actor's career has been on fire and everybody wants to snatch her up. She's too talented for that not to be the case.
But the reason Swift's pairing with Haddish seems so strange, however, is that Swift's reputation (in real life, not the album) took a dive due to public missteps that resonated in the wrong way with the black community in particular.
In 2015, Swift infamously derailed a conversation that Nicki Minaj was attempting to start about black artists being excluded from award ceremonies and nominations lists. Minaj's "Anaconda" wasn't nominated for Video of the Year, and the rapper pointed out that this slight was part of a systematic problem. In a since-deleted tweet, Swift called her out for "pitting women against each other" — becoming, as far as fans were concerned, a poster child for white feminism. This view only worsened when Minaj invited Swift to speak on this issue, and Swift responded by inviting Minaj to join her on stage if Swift one. (Swift later apologized for her handling of the situation two days later, tweeting, "I thought I was being called out. I missed the point, I misunderstood, then misspoke.")
This would later be followed by her equally infamous feud with Kanye West and Kim Kardashian, after West mentioned her in a controversial line in his song "Famous." Though there was no racial element at play in Swift's actions, many thinkpieces accused her of purposefully playing into the Aggressive Black Man stereotype in painting herself as the victim in that situation when Kardashian's release of a Snapchat video proved that West had called to hear her thoughts and she had approved at least part of the song before West released it.
All of this to say, fans aren't really sure they want to watch Swift just to enjoy Haddish.
On the other hand, Chance the Rapper being paired with Eminem makes more sense. The two once went on tour in Europe together, although Chance sarcastically told MTV in 2013 that they never met the whole time: ""Eminem is one of my biggest influences in music, and going out to Europe with him the first time was just a great experience... I've never met Eminem, you don't meet Eminem. He has his own secret service." Both rappers are also heavily political involved. Chance does so much for his hometown of Chicago, raising money for schools and citizens, and Eminem recently made headlines for devoting an entire cypher to calling out Donald Trump for his controversial policies. Basically, that episode is going to be fire, probably of the political kind.
And, finally, Larry David and Miley Cyrus may seem like an odd match, but not really. David once appeared on Hannah Montana, the Disney show that made Cyrus famous, with his daughters.
So, keep your eyes peeled for November on Saturday Night Live, because, with the hosts and guests that have already been announced, it's going to be interesting. To say the least.