Why Wasn't Zayn Malik At The Met Gala?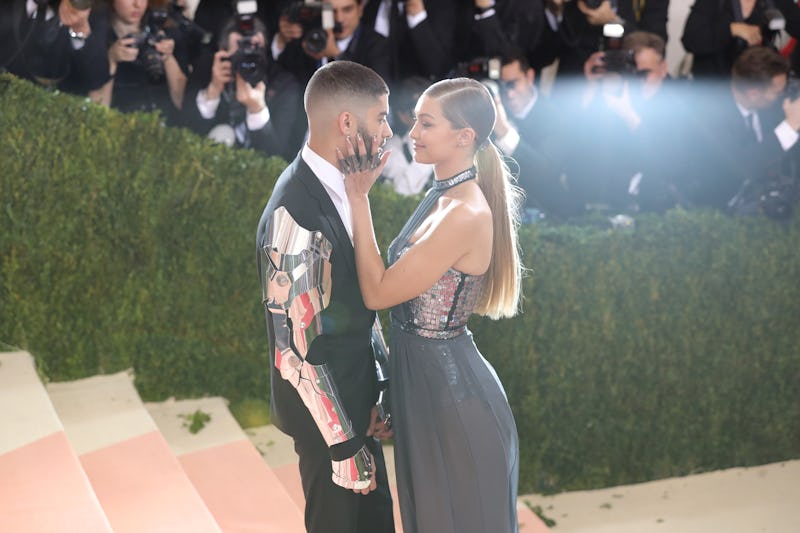 Neilson Barnard/Getty Images Entertainment/Getty Images
Couples on the red carpet are one of the greatest things in life. They're cute, they're in love, they are dressed well and/or wearing a decorative robot arm. Well, the last thing may have only been the case for Zayn Malik at the Met Gala last year, but you get the idea. While most of us Zayn and Gigi Hadid fans probably hoped that the beautiful couple would grace the red carpet together this year, unfortunately we only got to see Gigi this time around. According to Refinery 29, Zayn is dealing a foot injury at the moment and is badly hurt enough to need a wheelchair. This could explain his absence from this year's fashion extravaganza.
Having said that, though, Gigi shined on her own in a Tommy Hilfiger gown paired with fishnet tights (why not?) and stilettos. Her red carpet hairstyle even featured a swoopy bang that Zayn/One Direction fans can surely appreciate. And even though Zayn didn't make it to the 2017 red carpet, it's worth considering that even if he did, there's virtually no way his look could have compared to last year's when, let me remind you once again, he wore a literal robot arm on the red carpet. I mean, no way at all. So it makes sense that he would play it safe, maybe, especially if he's recuperating from an injury.
If you're missing Gigi and Zayn on the red carpet, here are some photos from last ear (and Gigi's dress from this year) to warm your heart. Better luck next year, right?
A classic robot look.
So high fashion!
I mean, honestly, who needs a date when you're wearing this?