This Workwear-Inspired Collection Will Make You Actually Want To Wear Khakis Every Day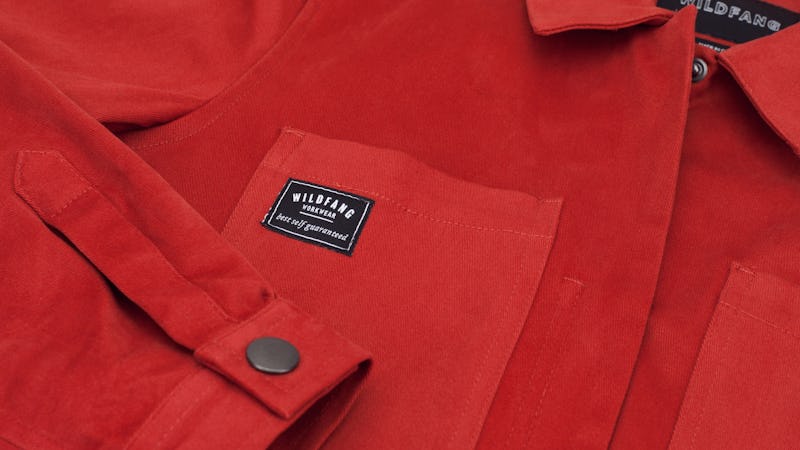 Courtesy Wildfang
Wildfang has transformed the power suit and helped create conversation with graphic tees. Now, Wildfang's Workwear Collection is making khakis cool again. Whether you're looking to amp up your day-to-day uniform or just looking to try something new, this brand has you covered — literally.
Wildfang has taken function and comfort to a whole new level with its latest jumpsuits, cargo jackets, and khaki pants. Think all the pockets and loops that you could possibly imagine, but way more Instagram-friendly. The four-piece collection is small and mighty. Each piece comes in multiple colors and, the best part of all, actually wearable.
"We know our girls love the look of the traditional chore coat or coveralls, but it's nearly impossible to find those silhouettes cut for a women's frame," Tarayln Thuot, creative director of Wildfang, tells Bustle. "Not to mention the fabrics are often stiff and uncomfortable. Enter the Wildfang Workwear collection with classic silhouettes and details, but soft AF and fit for her."
Heck, this might even inspire you to do that much-needed home renovation instead of just watching HGTV all day. Or just have you to trading in your flower crown and booty shorts for festival season.
The entire collection launches on April 5 on the Wildfang website. It will be exclusive to the website, so you're going to want to head over and shop fast. The line ranges from $128 to $198. The most affordable item in the collection is the utility pants, while the top-priced item is jacket. While that's not exactly the most affordable, this badass brand is worth the splurge.
The line is extremely versatile. You could throw on a crop top with the overalls or wear them with a sweatshirt. Whether your style is a bit edgy or minimalist, there's a way to rock this line. That's no coincidence, either.
"These are pieces our girl wants to wear on the daily, so we chose neutral colors that would go with anything in her wardrobe, no matter the season," Thout tells Bustle. "A rich army green and a deep slate blue round out classics like khaki and black."
Wildfang is much more than just a brand. Every collection that comes out is a fresh and new for the fashion world. The items are almost always ones that you love, but made more fashion-forward than you've ever seen before. The Workwear Collection is now different.
When it comes to style it's not about what you wear, but how you wear it. Wildfang knows that. The brand doesn't give you a look, but everything you need to make one. Plus they have tons of different graphic tees and crops that will look incredible with the current line.
This isn't the only comfy tomboy-esque line from the brand. Wildfang teamed up with Publish to come up with streetwear styles that are super easy to move around in. There's button-ups, jacket, and comfy sweats. You know, just in case you're looking to make a whole new wardrobe for spring.
Of course, all good things must eventually come to an end. This collection is limited edition from Wildfang. Mark your calendars for April 9 and go take a few bucks out of your savings account. The brand is typically pretty good with making sure everyone has a chance to get their hands on the items though.
The versatility of this collection is just too good. Let's be honest, you probably never knew that you'd want to buy khaki ever again. That's the power of Wildfang, my friends. They take classic staples and make them even better.