Bernie Sanders Would Fit In With The Women's March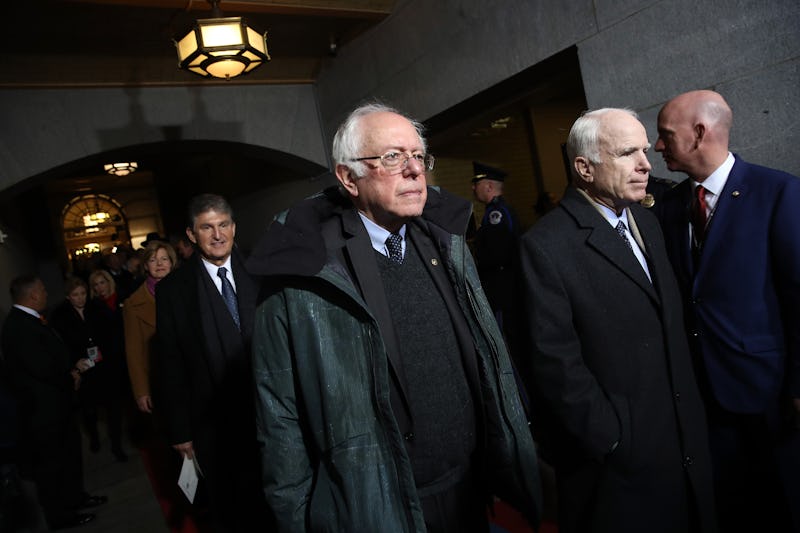 Win McNamee/Getty Images News/Getty Images
On Saturday, women from across the country — and maybe even around the world — will converge on Washington, D.C. to show their support for diverse populations and female empowerment. The Women's March on Washington is shaping up to be a historic event during a historic inauguration weekend, but its exact guest list remains up in the air. Many famous feminists have RSVP'd yes to the event, but it's still unclear if Sen. Bernie Sanders will be at the Women's March.
The Women's March seems to be right up Sanders' alley. He's an avid feminist, having supported issues like equal pay and reproductive rights throughout his presidential campaign. Beyond just his feminist side, Sanders is an activist. His campaign had a truly grassroots feel, given his unique connection with small donors and young voters. The Women's March will blend both grassroots organization and feminist advocacy on Saturday, and it's hard to believe that Sanders would miss it.
Still, it may be too early to tell if Sanders will be in attendance. He hasn't publicly announced whether or not he'll be there. If he does attend, he will likely only be there as an average participant. The Women's March organizers released a list of the event's speakers on Wednesday, which includes Planned Parenthood president Cecile Richards, filmmaker Michael Moore, and iconic activist Gloria Steinem. It does not, however, include Sen. Sanders.
Recently, Sanders and his team have been hard at work organizing a different kind of grassroots event. On Sunday, he attended a rally in Michigan to support the Affordable Care Act. As Republicans take steps to repealing President Obama's landmark health care legislation, Democratic lawmakers, including Sanders, have launched a campaign to #SaveTheACA from repeal and replacement.
On Friday, Sanders did attend the inauguration of President Trump. Prior to the inauguration, Sanders shared a message with his supporters on Twitter, urging them not to give up, despite the "tough day" ahead. His response after the swearing-in ceremony had concluded shared the same sentiment.
Saturday's Women's March should be a less tough day for Sanders' supporters and feminists everywhere, as women's rights and the rights of marginalized populations are publicly celebrated. Big names such as Beyoncé, Amy Schumer, and Katy Perry have expressed their support for the event, and performers like Janelle Monae will set the mood for the occasion. Even if Sanders doesn't attend the event in Washington, D.C., he could attend a local event in a different part of the country.