Jamie Chung's Experience With Racism In Hollywood Shows How Screwed Up The Industry Still Is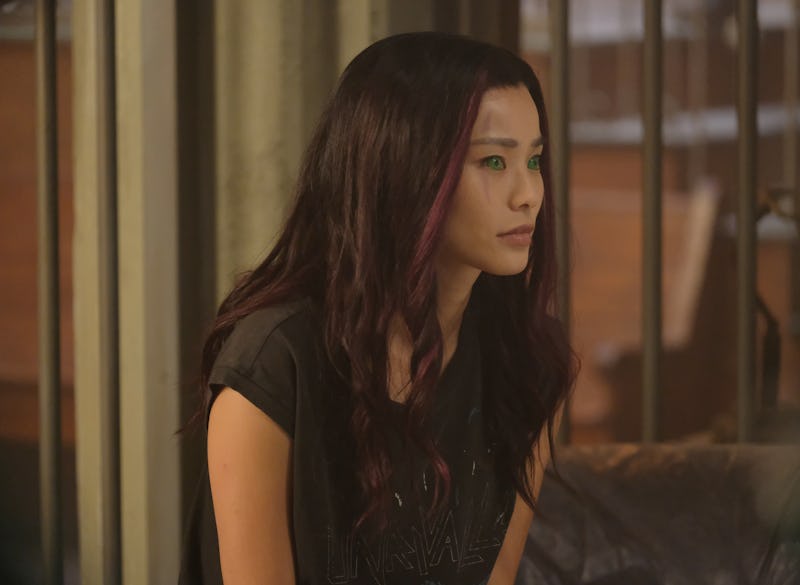 Eliza Morse/FOX
There are outsiders, and then there are X-Men. In The Gifted, Jamie Chung plays Blink, a mutant who prides herself on being a loner when she's reluctantly brought into an underground community of persecuted individuals. While all of them live outside of society, Blink struggles to connect with even people who are like her. But Blink's relationship with Thunderbird (Blair Redford) on The Gifted could change her perspective on solitude. Unfortunately, that relationship doesn't happen organically. Chung knows exactly why their relationship is a bit of a moral conundrum.
"She develops a rapport with Thunderbird, a natural friendship," Chung says, when we sit down ahead of The Gifted's New York Comic-Con debut. "And she was tricked into believing that there was something more. So now she has the tough choice of letting her feelings just go, like, 'I think I like this person, so I'm going to just go with it' versus, like, 'Wait, do I like this person or am I tricked into liking this person?"
The problem arises during the third episode of the Fox series. In order to inspire Blink to use her portal powers to save Thunderbird (aka John Proudstar) and Eclipse (aka Marcos Diaz) from some fascist pursuers, another mutant named Dreamer plants one of her own memories into Blink's mind. It's a memory of Dreamer kissing John back when they were a thing, which understandably amps up Blink's sense of urgency. But it also strips away some of her agency.
Chung's sense of their relationship is that Blink was already starting to care about John. But it's Dreamer's decision — and Dreamer's own feelings for Thunderbird — that increases the intensity of Blink's feelings. The memory is now, essentially, Blink's, but she didn't come by it organically. It's a dynamic that Chung is excited to explore.
"So there are these moral and ethical complications to their relationship," the actor says. "It's kinda cool."
The moral dilemma of Blink's emotional arc is made more intense by her general disinclination to align herself with anyone. The way that this new group will challenge her to open up is Blink's "main story arc," Chung says, at least for this first season.
"Who she belongs with, who's her crew, who are the people that she can trust, what is her fight? Like, is she just constantly going to be on the run, or is she going to stop and fight?" the actor asks. "I think there's a pivotal moment in Episode 107 where something happens to her and she does decide, ultimately, this is my fight, and I choose to stay and fight." Chung contrasts this upcoming moment to Blink's introduction in the pilot, where she simply feels a reluctant responsibility to help retrieve Lorna, who was caught by Sentinel Services because the group was helping Blink.
Just a few episodes in, the role is already more developed than it was when Blink was adapted from the comics into a minor character in X-Men: Days Of Future Past. Fan Bingbing plays the character in the film, but she doesn't have much screentime. That didn't leave Chung with much in the way of material, but that was no problem for the actor.
"I think there's so much more to play with, because if [the character] was overdeveloped, it would have been difficult to kind of stray from that, and the fans really take notice," she says. "But the way we explain it is, you saw a version of Blink at her full potential [in the movie.] The great thing about our Blink is she's still trying to figure it out. She just has a hard time going from A to B."
It's hard for Blink to trust other people and move about the world in that way, but it's also physically hard for her to do what she does. Chung mentions how you can see the effort when Blink tears open a portal, but that it will become less painful for her as she hones and becomes more comfortable with her power. Every fantastical world needs guidelines, and The Gifted's is no different. To ground the action, Chung says that there are defined "rules" for how Blink uses her mutation.
"She can't portal somewhere she's never seen before. She can't portal unless she can physically see where she's going. If the portal closes too quickly, what happens then? You will lose a limb," the actor says. "I like that we take the time to tell the story of the trials and tribulations of, what if a power goes wrong, how a power develops, what happens if a power is used for the wrong reasons?"
Those are the logistics of the story, and while they definitely contribute to the realism of it, Chung is one of many X-Men fans who appreciates the mythology mainly for its eternally relevant social commentary.
"It's a story about minorities," says Chung. "It's a story about a minority group who are being shunned by society simply because they're different and feared. I think it's important to show and correctly reflect what society looks like, versus what [a creator thinks] society should look like."
Chung expresses some hope that The Gifted's diverse cast is part of a bigger movement in media representation, citing the success of black-ish and Fresh Off The Boat as proof that audiences are hungry for realism. But what still frustrates the actor is the sense of tokenism in the industry, and the conversation that predates the casting of a non-white actor.
"'What's too much, what's too little? But we already have an Asian person, so we can't do an Asian male lead,'" she says, imagining how that conversation goes. "So it's always going to be up for discussion, which is really annoying. And disturbing, instead of having the best actor. But we are limited in those ways. It is still an uphill battle, and it's very frustrating."
And though audiences and diverse creatives may see wins in some areas, there are ongoing issues like whitewashing Asian roles (see: the backlash to Scarlett Johansson's casting in Ghost In The Shell and white actor Ed Skrein stepping down from Hellboy when he realized that the character is Asian in the comics), as well as the appropriation of Asian imagery. Though she says she loves the film and filmmaker Denis Villeneuve, Chung submits the Ryan Gosling and Harrison Ford sci-fi sequel Bladerunner 2049 as a recent example of the persistence of those problems.
"You see all the signs of you know, a post-apocalyptic Los Angeles: the signs of the Korean spas or the Korean bank," Chung says. "But there was not one Asian in that movie. That was weird. And in the original Bladerunner, there was."
In Season 1 of The Gifted, Blink chooses to "stay and fight." And despite the ongoing frustrations of being an actor of color in the business, Jamie Chung is choosing to stay and fight too.