Kavanaugh's Comments Since The Assault Allegations Show How Likely He Is To Withdraw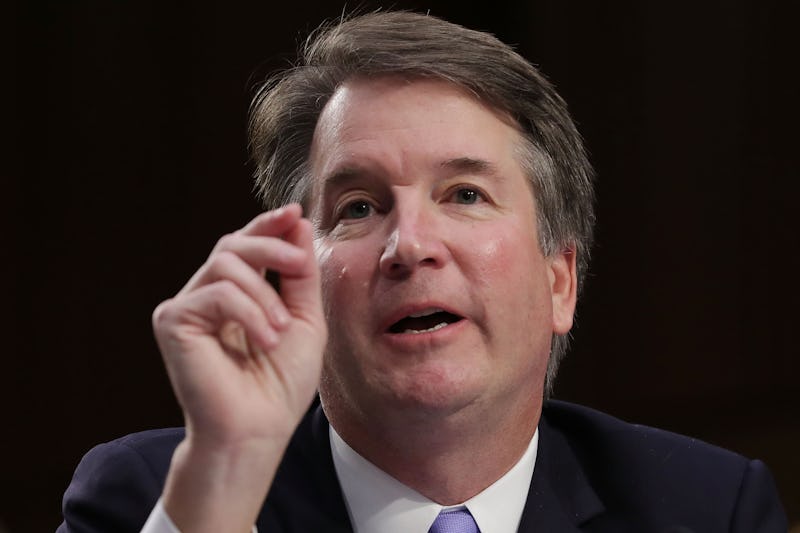 Chip Somodevilla/Getty Images News/Getty Images
President Donald Trump's pick for the Supreme Court is one of the latest high-profile men to face sexual misconduct allegations in the #MeToo era. Even decades-old accusations can lead to the end of careers, but Supreme Court nominee Brett Kavanaugh isn't poised to withdraw his nomination to the United States' top court, according to his statements. Among vehemently denying the allegations, Kavanaugh has made no mention of stepping down.
"I am willing to talk to the Senate Judiciary Committee in any way the Committee deems appropriate to refute this false allegation," he said in a statement Monday.
Professor Christine Blasey Ford first went public on Sept. 16 with an allegation that Kavanaugh attempted to rape her at a party when the two were in high school. In an interview with The Washington Post, Ford detailed the alleged attack, saying she worried Kavanaugh "might inadvertently kill" her.
Kavanaugh has denied that any such incident occurred, saying in a statement, "This is a completely false allegation. I have never done anything like what the accuser describes—to her or anyone." Maintaining his innocence, Kavanaugh has agreed to testify in front of the Senate, saying he will "defend [his] integrity".
Another allegation of sexual assault against Kavanaugh came out the week after Ford's, this time by Deborah Ramirez, a woman who attended Yale with him. Kavanaugh has also vehemently denied her allegation. On Monday, Kavanaugh sent a letter to the top members of the Senate Judiciary Committee, calling the allegations "character assassination" and adding that he "will not be intimidated into withdrawing from this process."
Later that day, Kavanaugh and his wife Ashley Kavanaugh went on Fox News to publicly defend himself against the allegations — an unusual move for any Supreme Court nominee. In the interview, he called the allegations "smears" and vowed again to defend his integrity.
According to a poll by CNN conducted in early September, Americans have been divided on Kavanaugh since before the sexual assault allegation. The statistics, released Tuesday, say 38 percent of Americans think Kavanaugh should be confirmed, 39 percent say he shouldn't, and the remainder are unsure.
The vote on Kavanaugh's confirmation was meant to take place last week, but the hearing was canceled, allowing time for Ford to testify about her allegation before the committee. Ford and her lawyer called for an FBI investigation into the allegation before the hearing despite Republicans dismissing the need for a probe. According to Ford's lawyer, an investigation will "ensure that the crucial facts and witnesses in this matter are assessed in a non-partisan manner, and that the Committee is fully informed before conducting any hearing or making any decisions," CNN reports. In their latest letter, Ford's lawyers identified an FBI investigation as a "strong preference," not a requirement, for her testimony.
After days of negotiation, both Ford and Kavanaugh agreed to testify before the committee on Thursday, Sept. 27, at 10 a.m. ET — without an FBI investigation into the allegation.
On Wednesday, a day before the hearing on Ford's allegation, a third allegation of sexual misconduct was made public by a woman named Julie Swetnick. Kavanaugh again denied the allegation, but calls for him to withdraw grew louder.
Although he has adamantly said that he would not step down from the nomination process, if Kavanaugh were to withdraw, Trump would choose another Supreme Court nominee. For the Republicans trying to secure a conservative judge before midterm elections, this is not an ideal option.
Right now the GOP holds the Senate majority, meaning if Kavanaugh's nomination came to a vote, he would likely be confirmed. This year's midterm elections are fast approaching, however, and Democrats may retake the majority following the Nov. 6 elections (although the new Congress wouldn't begin until the following January).
If Trump were to select a new Supreme Court nominee, restarting the entire nomination process, it would be unlikely the vote could take place before these elections. This delay, combined with the possibility of a Democratic majority in the next Congress, would threaten the Republicans' chances of confirming a conservative judge.