'Grey's Anatomy's 300th Episode Will Be Full Of "Nostalgia," So Does That Mean Cristina's Coming Back?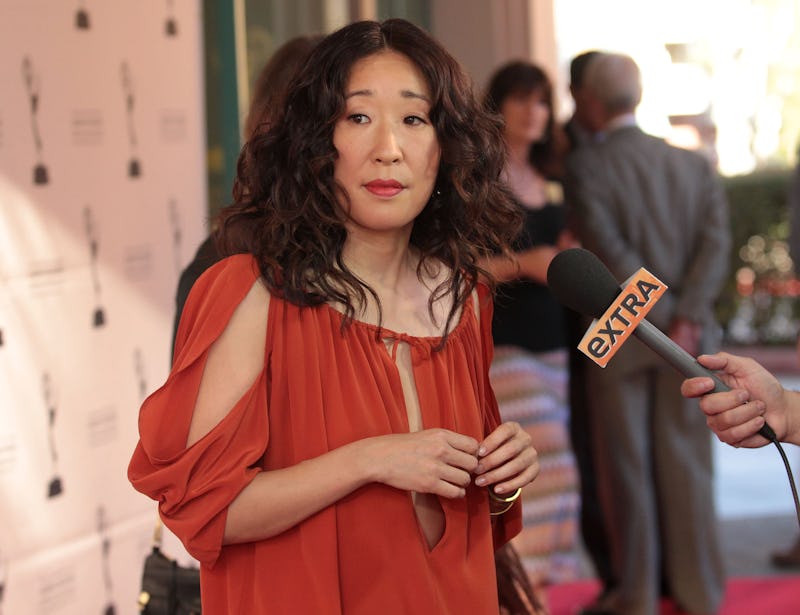 Frederick M. Brown/Getty Images Entertainment/Getty Images
It's the question viewers have asked every year for the past four years: Will Cristina Yang return to Grey's Anatomy this season? Fans have been clamoring for the return of the fan-favorite character played by Golden Globe-winning actor Sandra Oh ever since she jetted off to Switzerland in the final moments of the Season 10 finale. Yes, I'm sure she's having fun being literally the most successful cardiothoracic surgeon in the world at her shiny new facility in the Alps, but that doesn't stop fans from wishing she would reappear in the halls of Grey Sloan Memorial Hospital once more.
If Dr. Yang was ever to return, now would seem to be the perfect time — a fact that fans seemed to have picked up on. The seventh hour of Season 14 will signal the show's landmark 300th episode (yes, really), titled "Who Lives, Who Dies, Who Tells Your Story" after a song from the popular Broadway musical Hamilton. What better way to celebrate such a milestone than by bringing back one of the show's most beloved characters? Co-showrunner Krista Vernoff did tell TVLine that the anniversary episode would be all about "nostalgia," that the theme is "the ghosts of our past," and that she and her fellow writers "have found a way to pay some small tribute to everyone who has been here before."
Vernoff, before returning to Grey's for Season 14, served as head writer and executive producer on the ABC medical procedural for its first seven seasons before departing to work on spinoff Private Practice and then Showtime's Shameless. Vernoff was integral to setting the tone of those early seasons, earning several Emmy nominations including one for penning the memorable Season 2 episode "Into You Like A Train." It makes sense that one of the show's original writers would be open to the idea of bringing back one of the show's original actors.
Adding fuel to the fires of speculation was the fact that Cristina did make an appearance of sorts in the Season 14 premiere, as Meredith was bragging about a study her "person" had published and flashed the article to her colleagues, complete with conspicuous headshot of the famous doc.
Oh recently had a gig on ABC's anthology series American Crime; but that show was just cancelled after its third season. And since the premiere also brought back another long-absent former series regular — Kim Raver's Dr. Teddy Altman — who also happened to be Cristina's friend and mentor during their Grey Sloan days — it seems like a triumphant Dr. Yang resurgence is all but inevitable at this point, right?
Not too fast — don't break open the celebratory tequila just yet. It turns out that Season 14's pictorial reference to Cristina was just part and parcel of the season's emphasis on nostalgia, and not a wink-wink tease of her impending return. "I would give anything for a visit from Sandra Oh," Vernoff told TVLine's Michael Ausiello recently when asked about the possibility of a Yang-aissance. "Do you know her? Can you call her and talk her into it?"
While I'm sure many fans would be happy to ring Oh up and beg her to return to Grey's, the sad fact is that such a return doesn't appear to be in the cards this year. American Crime may be over, but that doesn't mean Oh's schedule is clear; she's already been recruited to headline BBC America's assassin thriller Killing Eve, premiering sometime in 2018. Whether it's her schedule for that new series that's keeping Oh away from Grey's or some other commitment, she won't be stopping by Grey Sloan for the upcoming 300th episode.
"That would be a fine occasion for a visit," Vernoff told Ausiello, "but it's not happening. So I don't want people imagining or hoping it will and then being disappointed." Not only will Cristina not appear in the anniversary hour, but Vernoff also put the kibosh on any possibility of Dr. Yang appearing in Season 14 at all. "Sandra may one day come back for the end [of the series] or something, but she's not coming back this season."
Fortunately, Oh seems to remain open to the possibility of returning someday — just not right now. "I told [Shonda Rhimes], 'If you guys want to finish it out however you want to finish it out, I'd be more than happy to come back. And if it doesn't fit in that way, I totally understand. I just want you to know that I'm available,'" Oh told The Hollywood Reporter shortly after her departure from the series back in 2014. "Who knows! I might be doing something fabulous and it might not work out but I did say, 'Yes, of course I would.'"
Fans might have to wait until the end of the series to see Dr. Yang again; and given how Grey's is still going strong with virtually no end in sight, they might be waiting quite a while. But based on Oh's comments, it seems inevitable that Cristina will appear again eventually… it's just a matter of dancing it out and waiting for the right moment.