'Dance Moms' Has A Fresh Energy That Could Carry It On For Seasons To Come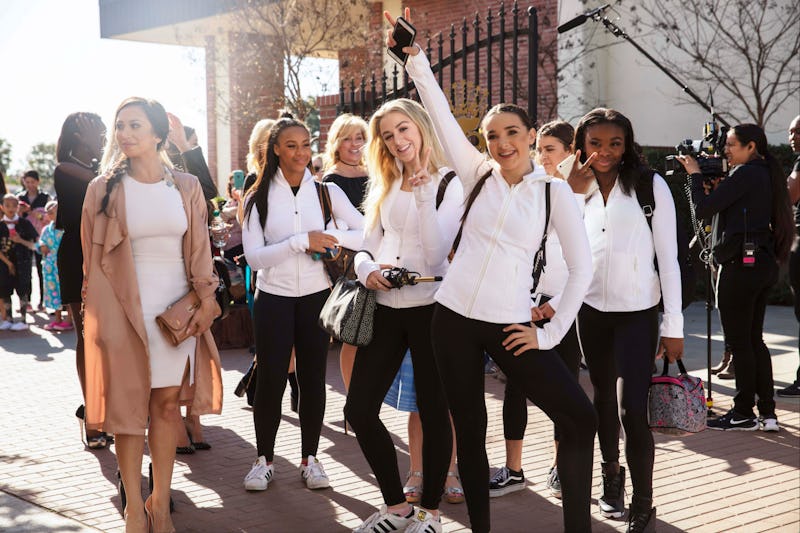 Richard Knapp/Lifetime
Dance Moms was all fun, games, and dance competitions when it began — but things have gotten more complicated over the years. Back in March of 2017, Deadline reported that Abby Lee Miller would not be returning, which made some question whether the show was headed for an end. But new blood, in the form of dance instructor Cheryl Burke, has added life back into Dance Moms, possibly giving it legs to dance on for awhile longer. The young dancers are in awe of the Dancing With The Stars pro, the moms seem content with her teachings, and Cheryl herself seems excited about the position. So, will there be a Season 8 of Dance Moms? Cheryl's new energy makes the show's future bright.
According to TV Guide, Dance Moms will be airing a two-episode finale (episodes 26 and 27) Oct. 24. Futon Critic repots that there will be a two-episode recap special the following Tuesday on Oct. 31. This wrap of Season 7 will tie the storylines up in bows, while leaving room for a potential Season 8. There have been many changes to Dance Moms recently, and the future of the show is still being decided. Based on past patterns of the show, a potential return would most likely be in January if Lifetime decides to go ahead with another season.
Cheryl has brought a different flavor to Dance Moms. While Dance Moms will always be Abby's baby, the dancing pro was excited to step into the role. The dancer is not new to reality TV dancing, having been a pro on Dancing With The Stars for a whopping 20 seasons. Cheryl went on The Real to discuss her new job. She said,
"The girls and the moms are all amazing and I'm just so happy. To be able to help them and kind of be their mentor throughout. You know they're turning into adults soon so they really need to have a mind of their own and be prepared for the real world."
Seeing as the show has smoothly transitioned Abby out, there is no reason to end the show so long as the girls and Cheryl want to continue.
The Season 7 finale looks like it will be exciting, focused on whether the girls can win a group performance at nationals without Abby. Unfortunately, Abby's departure became a main focus on the series this season, particularly with regards to whether the studio had legs without her. The drama surrounding her departure overshadowed the dancing and usual fun mom drama for a bit.
But now, Cheryl has stepped in and the dancers seem to love her. Dancer Kendall Vertes spoke on the Teen Choice Awards carpet about Cheryl joining the show. She said,
"She's amazing. I love her so much. And she gets us because her schedule on Dancing With The Stars is exactly like ours. So she knows how to get it done and she's great. And she's nice about it."
While some of the dancers are getting older and may be ready to move on soon, the magic of Dance Moms is the ability to bring in new young dancers. While the show could end at any point, it has the ability to keep going as well.
The Dance Moms season finale airs Oct. 24 at 8 p.m. on Lifetime. Tune in for all the drama and dance. And, while the network hasn't spoken either way about a return for Season 8, these dancers won't stop unless the music does. And even then, these talented dancers could probably dance without music. Whether there's more Dance Moms or not, there's no stopping these young women.