Your Favorite 'Crazy Ex-Girlfriend' Couple Are Contemplating A Huge Relationship Step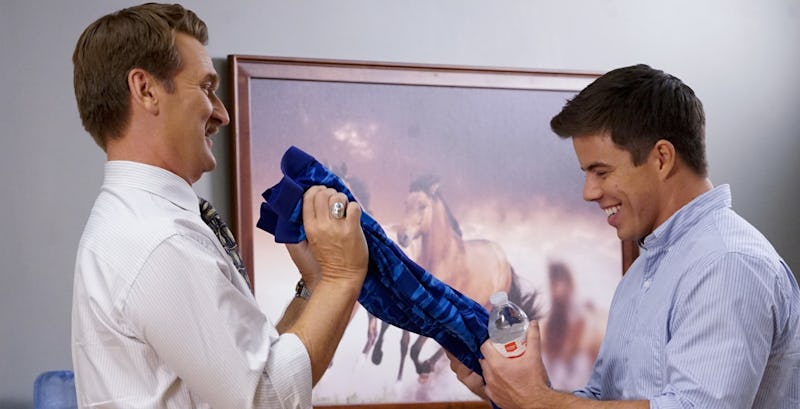 Robert Voets/The CW
While the biggest drama of the Crazy Ex-Girlfriend Season 2 finale was that Josh Chan left Rebecca at the altar to become a priest, they might not be the couple you are most worried about. Darryl wants to have a baby with White Josh and considering that Josh looked less than enthused at this idea, your favorite couple of the CW series will probably be facing their own issues when Season 3 premieres on Oct. 13. Darryl had shown how much he loves being a father when he sang "I Love My Daughter" about Madison back in Season 1, but White Josh is in a different emotional state than his partner. So although there's a chance that Darryl and White Josh will become parents on Crazy Ex-Girlfriend in Season 3, it just may end up being the biggest point of contention in their relationship to date.
When Darryl and White Josh went to Electric Mesa in "Why Is Josh's Ex-Girlfriend Eating Carbs?," they dealt with their age difference with a meaningful conversation that led to Josh meeting Madison. But while Josh is great with Darryl's daughter, it doesn't mean that Josh is ready to have his own child. Yet after White Josh revealed that he doesn't really believe in marriage, Darryl responded to this news by accepting that they don't need to get married, but then immediately proposed another big commitment — that they have their own child together. Josh didn't seem very into the idea when Darryl brought it up at Rebecca and Josh Chan's wedding, but knowing Darryl's personality, he's not going to drop this baby plan anytime soon.
After a press screening of the Season 2 finale, "Can Josh Take a Leap of Faith?," IndieWire reported that Crazy Ex-Girlfriend showrunner Aline Brosh McKenna discussed the possibility of Darryl and Josh having a baby together. "White Josh lives in an empirical world ... he doesn't understand people who are motivated by things which are irrational to him," she said. "And Darryl is really the opposite of that. Darryl has a lot of flights of fantasy and lives in certain fantasy worlds. So, I think this conflict about their future really encapsulates Darryl's idea of, like, 'Oh this is exciting and this would be fun and let's grab at it!' And White Josh has more of a calculated view of the world."
Brosh McKenna continued by saying, "White Josh would never do anything without really doing a very strict cost-benefit analysis, but he kind of messed up by saying, 'Having kids, I get. Marriage I don't get.' I think the second that Darryl heard that, there was like a little cauldron started to boil in the back [of his mind]. So, we'll see. But we love writing for them."
Brosh McKenna's statements indicate that White Josh won't drastically change his identity and jump at the notion of becoming a parent, but her words also seem to confirm that this potential baby is going to be a continuing plot point for them come Season 3. And if you're worried that the tension surrounding Darryl's baby suggestion could result in a breakup, take comfort in the fact that she noted that the writers love to write for this couple. Plus, with Rebecca's love life being in a constant state of disarray and Paula's marriage suffering from Scott cheating on her last season, fans need a steady romance to root for — especially a romance so endearing as Darryl and White Josh's.
Although Darryl and White Josh are inevitably not going to see eye to eye on this major life change in Season 3, have faith that this pair will figure out what's best for their relationship in a mature way. And as things have a way of moving crazy fast on Crazy Ex-Girlfriend, don't think it's out of the question that Josh and Darryl could have a baby before this season is over, which hopefully means another not-creepy song about how much Darryl loves his children.