Hulu's 'Freakish' Is All But Guaranteed More Episodes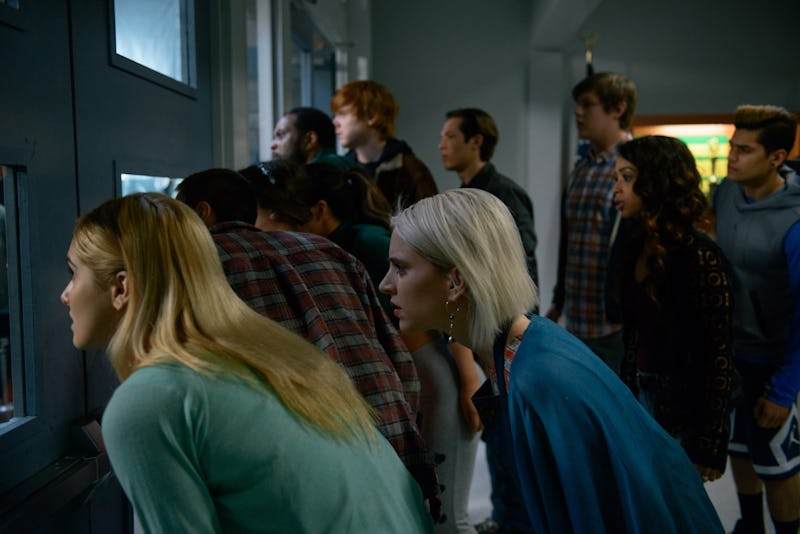 Alex Lombardi/Hulu
Hulu's instantly popular Freakish series debuted its second season on Oct. 18, and fans of the show are so excited. "#Freakish season two is on #Hulu so goodbye world," one fan wrote on Twitter as she set off to marathon it. "Omg #FreakishOnHulu is getting my heart rate up," wrote another. The show seems to have struck a chord with its audience, and once fans blow through the new episodes, they're going to have one big question in mind — will Freakish return for Season 3?
Somewhat unsurprisingly, there aren't any solid answers yet. Given that it's so soon after the premiere, there's likely still analytics to be examined and ratings to be dissected before Hulu makes a decision. IMDB still only lists two seasons for the show, and doesn't show anything more in production yet, but if Freakish's devoted fan base's immediate reaction to new episodes is any tell, more could soon be on the way. As for when, there was a year of time between Seasons 1 and 2, and the streaming site seems to favor October for this ghoulish release. If the series gets picked up for a third run, fans can likely expect it in October 2018.
This genre of mystery and sci-fi focused young adult television has been on somewhat of an uptick in recent years, with shows like the CW's Riverdale and Netflix's Stranger Things being massive successes among both young audiences and adults. Hulu would no doubt want to take advantage of this cultural trend. The characters on Freakish are also played by many YouTube and Vine stars, making it a social media-savvy millennial's dream, probably.
TV shows featuring stereotypical high school tropes have always been popular, but it's even more interesting when the characters seen in an expected light. What are these everyday high-schoolers like when presented with a murder like on Pretty Little Liars or Riverdale? How do nerdy middle school kids react when they have to take insane government matters into their own hands on Stranger Things? That's what Freakish creator and writer Beth Szymkowski says keeps the show fresh.
"They are high school age, but I don't think anybody is ready for an apocalypse," she told Entertainment Weekly. "I don't know that I would be much better than they would be. I think the interesting thing about the show is, we take high school skill sets, high school characters, the tropes — the cheerleader, the brainy kid, the bully — and see what they're like when they're not in their element."
Despite the zombie-like dangers outside, Szymkowski said the Breakfast Club-esque situation is what truly makes the show interesting. Teenagers who likely wouldn't have ever become close in any normal situation are thrust together in a world that requires them to trust one another.
"It all comes down to the characters and putting characters in situations that stretch who they are while still struggling with the interactions of being teenagers, and I think that naturally gives it a freshness," she told EW. "It's a survival story, but it's more about how the kids have to put aside their preconceived notions of each other to move forward."
However eager they may be, audiences will likely not see any real information on if Freakish will be picked up for a third season for a few months, but fans should keep the faith — the show combines all the teenage drama one could want with genuine thrills and scares, mixing two of the most popular tropes a young adult show could ask for. If past networks' successes with programs of this nature are any indication, Hulu will be keeping a close eye on Freakish.