How HR-7 Will Affect Private Health Insurance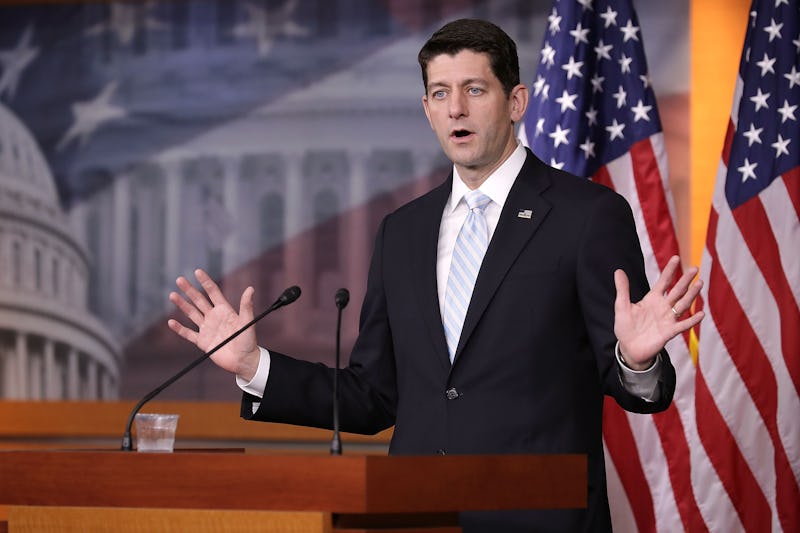 Chip Somodevilla/Getty Images News/Getty Images
The GOP is on the attack, passing anti-abortion legislation during President Donald Trump's first full week in office. And that's just days after millions of people, mostly women, marched in Washington, D.C., and across the country to protest this same legislative agenda. But let's get to the brass tacks: will Paul Ryan be able to get himself between you and an abortion? Financially maybe. Even with a private health insurance plan, HR 7 may affect you, and if so, the costs of getting an abortion out of pocket are large.
You may have read that HR 7 is making the Hyde Amendment permanent. While that's true, there's so much more to it. The Hyde Amendment is an appropriations rider that has been passed every year since the 1970s to prevent federal funds from being used to perform abortions, essentially through Medicaid. If HR 7 became law, that would be true permanently, without the need to pass a law each year. That's really bad and unjust. But for the first time ever, this could affect women with privately administered plans, too.
It will depend where you get your insurance from. The law prohibits Obamacare funds from subsidizing plans in the exchanges that offer abortions, and it won't give any tax credits to small business that buy plans with abortion coverage, either. So if you've been benefitting from Obamacare to get your insurance — either directly or through your employer — this will probably affect you. If you buy your own plan outside of the exchange or have a larger employer, you're likely fine — for now.
Because having several different types of plans within and outside of the exchanges would have higher administrative costs, you could see insurers remove abortion coverage from plans outside of the exchanges and Obamacare rebates, too. "What that would do to other plans, we don't really know," Laurie Sobel, associate director for women's health policy at the healthcare think tank the Kaiser Family Foundation, told The Guardian about the abortion regulations.
Essentially in the past, Obamacare mandates required contraceptives to be included under individual plans, but not the group equivalent. So to make things easier, insurance companies made the coverage the same for them all. "With very limited exceptions, health insurance companies essentially did the same thing with everybody," Sobel told The Guardian. "That is worrisome in terms of, if abortion coverage was restricted in the marketplace, insurance companies might just adopt that policy across the board."
So even if initially you're fine, you could find that in future years your policy doesn't have abortion coverage. That's huge because an abortion can run about $575 if you pay cash for it — a huge expense for anybody, even those who can afford private insurance.
For women on Medicaid, the cost is even more burdensome, amounting to a third to two-thirds of their income, depending on when they get the procedure done. That's not OK.
So call your senators today. Let them know you oppose HR 7 for both its effect on private insurance and Medicaid — because every woman should be able to get an abortion, no matter how much money they make.