Here's How Hurricane Irma Is Likely To Impact College Football Season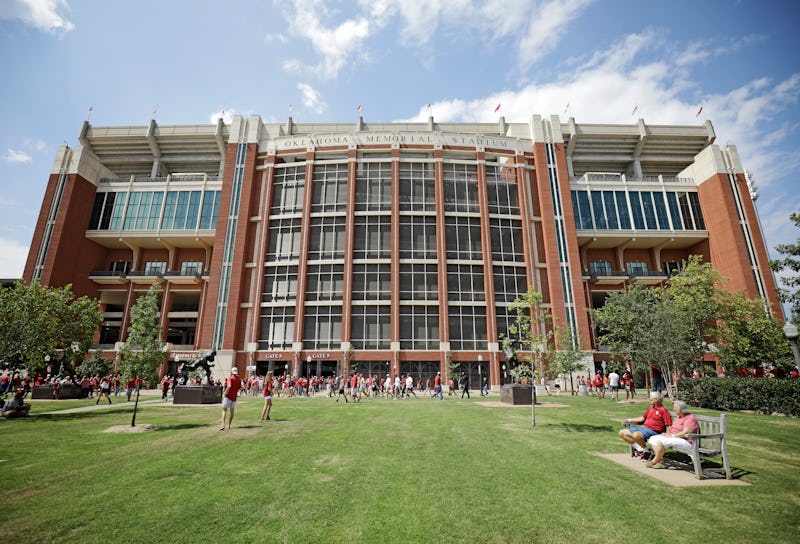 Brett Deering/Getty Images Sport/Getty Images
On Wednesday morning, at 2 a.m. ET, the Category 5 tropical storm Hurricane Irma made landfall in the Caribbean, according to the National Weather Service. The eye of the storm passed over the small island of Barbuda with maximum sustained 185mph winds, and it's already earned the title of the most powerful Atlantic Ocean hurricane in recorded history. As forecasts project the storm to make possible landfall in Florida later this week into the weekend, some have wondered will Hurricane Irma affect college football?
While certainly, college football might not be the first concern on people's radar, the path of the storm could greatly affect games schedule over the weekend.
On Wednesday morning, an update from the National Hurricane Center warned "the chance of direct impacts from Irma later this week and this weekend is increasing in the Florida Keys and portions of the Florida Peninsula. However, it is too soon to specify the timing and magnitude of the impacts."
While there is no guaranteed window of time for Hurricane Irma to hit Florida, the state has been preparing for the storm to approach over the weekend, and possibly, sooner. In anticipation for the storm, a handful of college football games could be rescheduled. Leading the charge, the University of Central Florida rescheduled its game against Memphis. Originally, the game was slated for 8 p.m. ET Saturday, but now it's been moved to Friday at 6:30 p.m. in hopes that it will preempt the storm.
Under similar concerns, the Miami hurricanes canceled a game at Arkansas State because of Hurricane Irma. Since the game was scheduled in Arkansas, the issue was not one of safety during the game itself. Rather, the game was canceled due to concerns over the ability to return to Florida during the Hurricane Irma aftermath, and all of the uncertainty around the forecast.
Originally, the Florida State Noles were scheduled to play University of Louisiana in Tallahassee on Saturday night at 7 p.m. However, on Wednesday morning it was announced the game will now start at 12:15p.m. due to Hurricane Irma.
Both Florida Atlantic University and the University of South Florida are on the road this weekend, with FAU slated to play Wisconsin while USF is playing at UConn. Much like UCF, their main concerns are configuring safe travel plans home after the storm hits. At the time of writing this, both teams are going forward with their game plans.
In Gainesville, the Gators are set to play the Northern Colorado Bears at 7:30p.m. Saturday night. Taking the wait-and-see approach, Steve McClain, Florida's senior associate athletic director for communications shared concerns in a statement.
"We continue working with university and government officials to monitor the progress of Hurricane Irma and determine the impact of the storm on our events in Gainesville this weekend,'' McClain said. "Additionally, we are communicating with the Southeastern Conference office and keeping them updated."