Here's Why South Carolina Declared A State Of Emergency Ahead Of Irma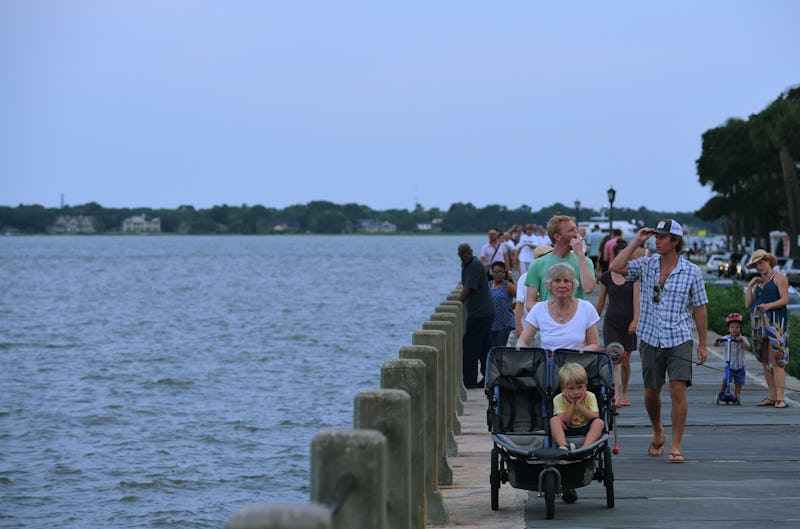 MANDEL NGAN/AFP/Getty Images
Residents in southeastern states have been closely watching forecasts mapping the path of Category 5 Hurricane Irma. Named the most powerful Atlantic Ocean hurricane in recorded history, Irma has caused at least 10 deaths in the Caribbean since making landfall Wednesday morning, and it's expected to hit the U.S. this weekend. While Florida prepares for the storm under a state of emergency and evacuation orders in some parts, neighboring states to the north have been keeping equally alert. Faced with the possibility of life-altering conditions, many are wondering will Irma hit Charleston, South Carolina?
According to a forecast posted by the National Weather Service on Wednesday afternoon, there is "increasing confidence" that South Carolina will be impacted by Hurricane Irma. However, predictions will be more specific once the storm has made landfall in Florida and forecasters can monitor its path. This expected development will determine the potential level of risk for the city of Charleston, as well.
In anticipation for the possibilities the record-breaking storm presents, South Carolina Gov. Henry McMaster declared a state of emergency on Wednesday. The executive order itself focuses on signal boosting state agencies to coordinate emergency relief efforts ahead time. But McMaster also urged residents to "pretend that a Category 3 hurricane is arriving tomorrow morning and get ready."
As of Thursday morning, no evacuation orders have been issued by the South Carolina Emergency Management Division. However, McMaster warned that orders could come by Friday. "Now is the time to prepare. When it's too late, it's too late and that's when we have a lot sadness," McMaster said at the S.C. Emergency Management Division headquarters on Wednesday. "When we say 'go,' it's time to go."
According to an update from The National Hurricane Center posted late Wednesday night, there is potential that Irma might scale eastern Florida before making landfall as a major hurricane somewhere between Georgia and the Carolinas early next week, possibly as early as Monday. Preceding the hurricane, tropical-storm force winds could hit the Carolinas by Sunday.
While it's too early to say for sure whether Charleston, or the state of South Carolina will be forced to reckon with the record-breaking storm head on. As of now, the entire state is bracing for the worst, just in case.
"This could easily be the most costly storm in U.S. history, which is saying a lot considering what just happened two weeks ago," Brian McNoldy, a hurricane researcher at the University of Miami told ABC 11. So, in answer to the question: will Irma hit Charleston? The jury is still out, but rest assured its residents are bracing for it.