Puerto Rico Is Bracing For "Catastrophic" Damage From Hurricane Irma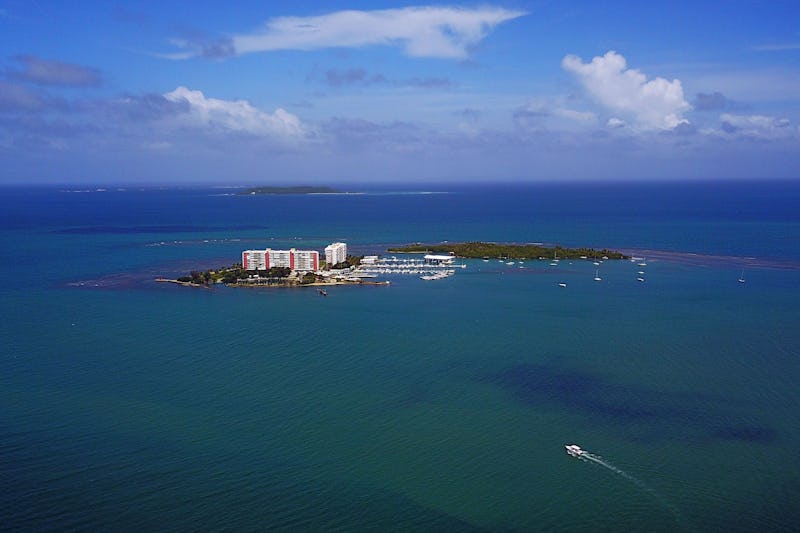 RICARDO ARDUENGO/AFP/Getty Images
Early Wednesday morning, around 2 a.m. ET, the Category 5 Hurricane Irma made landfall in the Caribbean, hitting Barbuda with 185mph winds, according to the National Hurricane center. As the storm continues to move onto it's next target — with landfall in Puerto Rico projected as a possibility, many are wondering will Hurricane Irma hit San Juan, its capital?
In anticipation for the possible affects of the hurricane, Gov. Ricardo Rosselló declared a state of emergency in Puerto Rico on Monday. Roselló announced that the government would close down after noon on Tuesday, in preparation for the storm.
"The magnitude of this storm has never been seen before in Puerto Rico," Rosselló told the CNN affiliate, WAPA. "Although we hope that this hurricane will not greatly impact Puerto Rico, we are bracing for what could be a very catastrophic event." Rosselló added that the U.S. territory has put aside funds in case of an emergency, and currently, there is $15 million put aside for the island's budget.
As for the San Juan, the National Weather Service posted a public alert at 5:30a.m. ET warning that "very dangerous winds (75 mph+) from Irma may arrive near San Juan around this afternoon." The capital certainly isn't precluded from the widespread state of emergency, and preparations being made.
Since Puerto Rico has already been struggling with power supply issues, the potential threat of the Category 5 Storm could have even longer lasting effects. Ricardo Ramos, the director of the Puerto Rico Electric Power Authority had predicted the possibility of four to six months of power outages.
On Tuesday, Ramos told local radio station Notiuno 630 AM that he predicted power could be restored to most parts of the island within a week of the tropical storm. However, he also said he expects potential long term exacerbated electricity problems, following a landfall from Hurricane Irma.
According to the National Hurricane Center the Category 5 storm is "potentially catastrophic," and the potentially dangerous conditions could be aggravated if the tropical storm hits islands at high tides.
While Puerto Rico prepares for the possible effects of the storm, people in Barbuda are already facing the reality, following the storm's landfall early Wednesday morning. According to the CNN meteorologist Jenn Varian, the eye of Hurricane Irma was larger than Barbuda itself. The Associated Press reports the storm blew the roof off Barbuda's police station "forcing officers to seek refuge in the nearby fire station and at the community center that served as an official shelter."
According to the National Hurricane Center, the tropical storm is due to possibly hit Puerto Rico on Wednesday night.