Julian Assange Wanted This For Chelsea Manning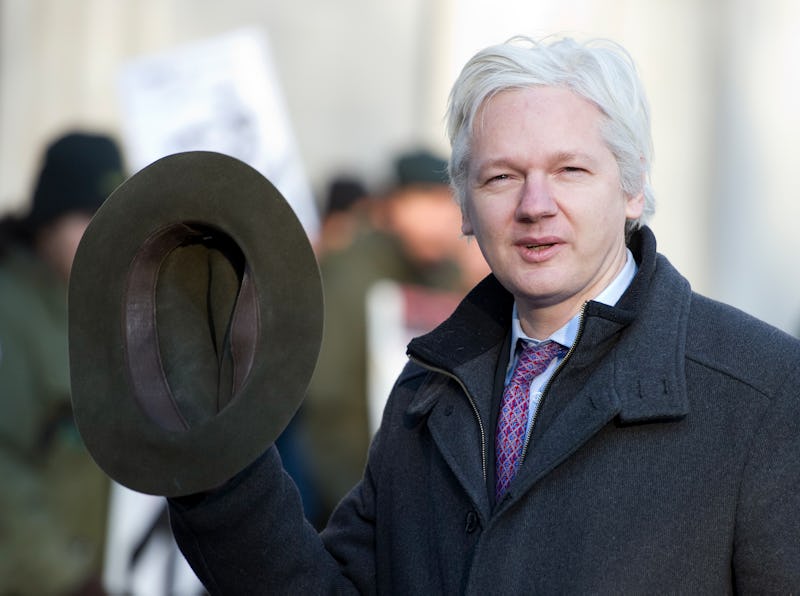 MIGUEL MEDINA/AFP/Getty Images
In his last week as president, Obama commuted the sentences of several people, including Chelsea Manning, who was charged with leaking government documents to WikiLeaks. The former army intelligence analyst landed a 35-year prison sentence for reportedly giving the documents to the organization.
In the days leading up to the announcement, WikiLeaks' founder and editor-in-chief Julian Assange said he'd agree to extradition if Manning received clemency for her actions. But now the commutation has been granted, will Assange be extradited?
In a tweet on Jan. 12 — just five days before Obama commuted Manning's sentence — WikiLeaks wrote that if Obama were to grant Manning clemency, Assange would agree to being extradited back to the United States, something he has been avoiding for years. Assange currently lives in London's Ecuadorian embassy; the country granted him asylum in August 2012.
Sweden has sought the extradition of Assange in relation to sexual assault allegations made against him back in 2010, which he has denied and claimed were "politically motivated." Assange was held in the U.K. that year after Sweden put out a warrant for his arrest; the warrant was recently upheld in September 2016.
The United States, however, wants him to be extradited on possible charges of espionage under the Espionage Act for publishing the leaked diplomatic cables, something that could land him the death penalty if he were to be charged and convicted. According to BBC News, Assange has said he "fears being extradited from Sweden to the U.S. and put on trial" for releasing those documents.
Now, whether or not Assange will follow through on this tweeted statement is up in the air. It's doubtful that Obama commuted Manning's sentence based on the idea that Assange would be extradited — especially considering Obama commuted more than 200 other inmates' sentences and pardoned 64 people — but it's certainly possible.
Assange was also in the news recently for WikiLeaks' actions regarding the U.S. election. The organization published emails from the Democratic National Committee and faced accusations it was trying to influence the election. Assange asserted that he did not have similar material from the Republican National Committee, and that it "would be unconscionable for WikiLeaks to withhold such an archive from the public during an election."
Assange has long known this day could come — not necessarily Manning's commutation, but at least the idea that he might face extradition (he (probably) can't live in the Ecuadorian embassy forever). And while he might be celebrating the clemency Manning was granted, he might not be excited about what this could mean for his own fate.