Meghan Markle's Royal Wedding Makeup Will Be Super Special For One Key Reason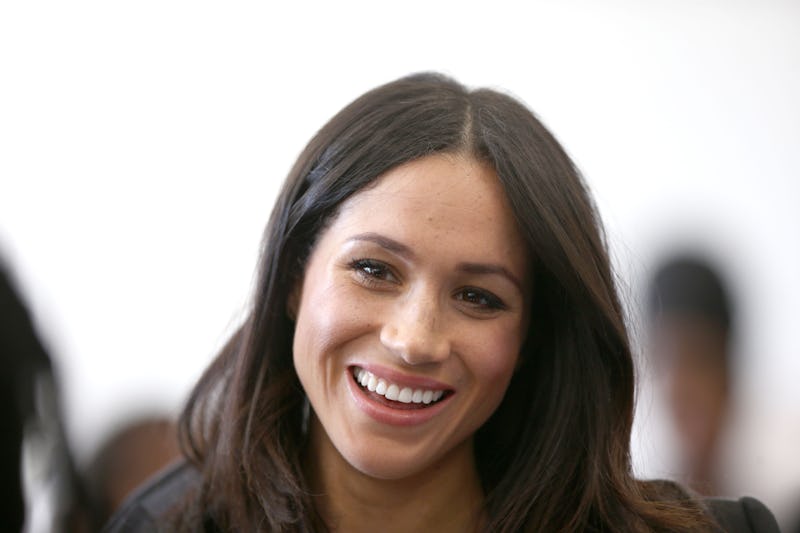 WPA Pool/Getty Images Entertainment/Getty Images
When it comes to royals, only so much can be left up to tradition. There are a lot of rules to be followed, but some aspects are all up to bride — no matter how royal she might be. According to Express UK, Meghan Markle will do her own makeup for the Royal Wedding. After all, Kate Middleton did do her own makeup for her wedding day, so she might as well keep the tradition alive.
Markle is no stranger to the fashion and beauty world. She's had people going crazy over messy buns and trying to figure out which lipstick she's wearing. So it only makes sense that she would do her own makeup for the big day. Well, not exactly all by herself.
An unnamed source tells Express UK that the soon-to-be royal will be flying two of her American friends over to help her do her makeup the day of the wedding. Because if there's anyone to trust to help you when the entire world will be watching, it's your bffs.
"She's got two friends doing it for her from America. They're not professionals – just close friends of hers," the insider revealed to Express UK exclusively. "They are coming to stay at Windsor Castle ahead of the wedding, where they will be put up in the staff accommodation."
Markle is no stranger to other people doing her makeup. After all, she was an actress on Suits for seven seasons. She's also no stranger to doing her own makeup, either. The bride-to-be owned her own lifestyle website called The Tig, which is now defunct, where she talked about tons of beauty items. Basically, she knows a thing or two.
"I think there is something really special about doing your own makeup for your wedding. It's almost like a meditation so to speak. Spending a little time by yourself and doing the makeup dance before a big life event. I love it," makeup artist Jamie Greenberg tells Bustle.
"But with that being said, you have to be able to do your makeup. This is going to be a crazy event with millions of eyes watching so maybe it would be great to have someone she really loves do her makeup. It will be fun to see what she decides."
While Greenberg does have a good point about millions of eye being on her, Markle's rumored decision makes so much sense. If anyone is going to be honest about whether or not your eyeliner is even, it's going to be your close friends.
Before Express UK had news from the unnamed source, they had top celebrity beautician Lesley Reynolds weigh in on whether or not Markle would do her own makeup. She apparently thought the answer would be "definitely not," but her reasoning makes sense with the new info too.
"I think she would have her own team over from the US to ensure she looks her best on the big day," celebrity beautician Lesley Reynolds tells Express.
Apparently the "team" isn't really a set of beauty experts after all, but a team of friends. Tomato-tomahto.
As far as how she will do her makeup, the world won't know until she steps out of the car on May 19. The only thing that is for sure is that she will be wearing neutral nail polish. Other than that, there's no word on what she will look like. That's the exciting thing about beauty — you can change it from day to day.
No matter what Markle will look like, it will be an epic moment in beauty. It will be interesting to see if she decides to go natural like she typically does or pile on the heavy liner like Middleton did for her big day.