Meghan Markle's Wedding Attire May Pay Tribute To Princess Diana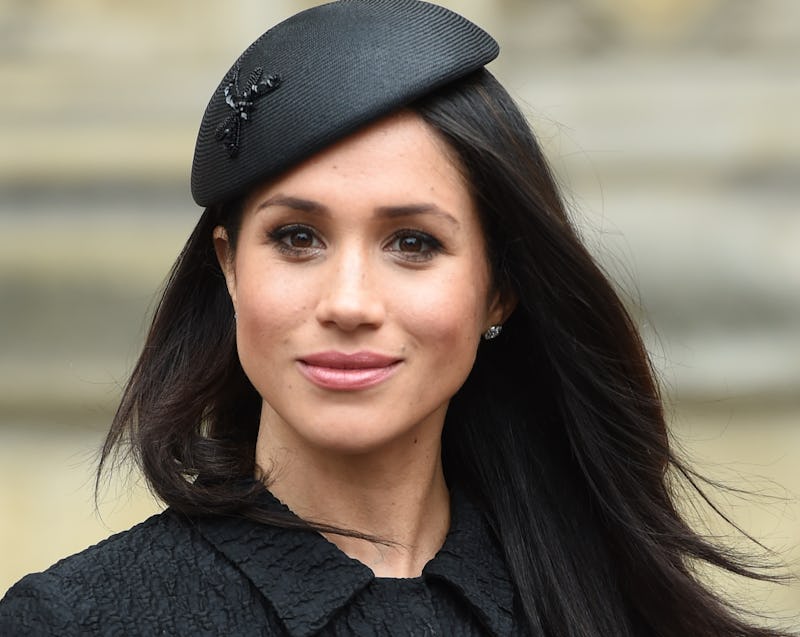 WPA Pool/Getty Images Entertainment/Getty Images
The royal wedding is coming. While the wedding is obviously not for the next heir to the throne, Meghan Markle and Prince Harry's wedding is still a major event for royal enthusiasts. Those who do love the wedding of the British monarchy may wondering if Markle will wear any part of Princess Diana's own wedding dress for her big day. Considering that dress details for Markle are being kept under lock and key, there's no way to know for sure, but there are some educated guesses that fans of the next member of the royal family can make.
There have already been some fashion and accessory connections between Markle and Prince Harry's late mother Diana. Perhaps the most well-known is Markle's engagement ring. While Duchess Kate Middleton wears Princess Diana's original sapphire engagement ring, Markle's also honors the late member of the family. When Prince Harry designed his fiance's ring, he added a diamond from his mother's personal collection. Now, part of Diana's wardrobe is already with Markle and will presumably be with her on their wedding day.
Will there be more homages to Diana, though? Perhaps wedding history and Markle's previous sartorial choices will clue fans in on what to expect.
While not part of Markle's dress, there's a theory that she may pay homage to Princess Diana via her bouquet. How? No, she won't be carrying a bouquet of brooches like those you've seen on Pinterest. This bouquet is all about the florals.
Meghan is rumored to potentially carry a bouquet featuring white garden roses, a member of the rose family that was actually named in honor of Diana. They're sometimes referred to as "The Princess of Wales." In addition to this tidbit, the flower, with its white hue, was rumored to be one of Diana's favorites. In fact, on the 20th anniversary of Diana's death, Kensington Palace dedicated an entire garden of white flowers to the late princess, and those florals included white roses.
Markle's style choices could also be a clue that she may wear a portion of Diana's gown. She's already honored her before via her wardrobe. During Commonwealth Day, Markle attended a service at Westminster Abbey with fiance Prince Harry, and while there, she chose to work a simple but meaningful white beret designed by Stephen Jones, the same designer who created Princess Diana's own berets.
In yet another tribute to Diana, she also wore one of the late Princess's favorite designers. Markle's coat was created by Amanda Wakeley, a designer Diana began working with when she was only 19 years old and not yet married to Prince Charles. Wakeley is also one of Markle's soon to be sister-in-law's favorite designers as well.
While no sartorial choices have been a direct replica of something Diana has worn, there seems to be plenty of evidence that it could happen. After all, Markle is already wearing one of Diana's diamonds in her ring. There's certainly the possibility that her something old, something borrowed, or even something blue could be from Prince Harry's late mother's own wedding day.
The other question, though? Will Prince Harry wear anything of Diana's? While the obvious and potentially easiest choice is for Meghan to honor the late princess, she is, after all, Prince Harry's mother, and his honoring her would make just as much sense.
Only time will tell if Markle or Prince Harry choose to wear a piece of Diana's wedding dress for their big day. The good news, though, is that royal fans don't have long to wait. Markle and Prince Harry's wedding is right around the corner. Mark your calendar for May 19, royal lovers, it's going to be a big day.