Will Poulter Dressed As Sid From 'Toy Story' For Halloween & Their Resemblance Will Freak You TF Out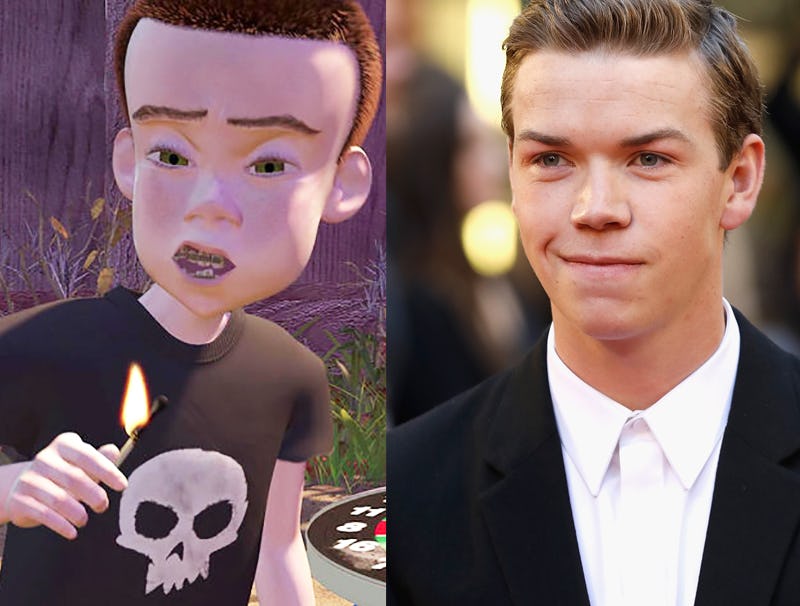 Getty Images/Walt Disney Studios/Pixar/Bustle
You can have the perfect Halloween costume or you can send the perfect Halloween message, but probably not both, right? Well, dare to dream big, because actor Will Poulter dressed as Sid from Toy Story and used his costume to draw attention to an anti-bullying campaign. (That sound you just heard was the bar being seriously raised.)
Poulter is a 24-yea- old British actor, who you might have seen in movies like The Maze Runner, We're the Millers, or The Revenant. Or, even if you haven't seen those movies, he might be familiar in a different way to fans of Toy Story. Unlike the first three films listed, Poulter doesn't actually have anything to do with the popular Pixar series. He wasn't one of the voice actors, but he's long been linked to it by fans who think he bears a striking resemblance to one of the film's most infamous characters: Sid.
Maybe you see it, maybe you don't, but it's a comparison that's followed Poulter a fair bit recently. During a 2016 appearance on the Jonathan Ross Show, he jokingly referred to his appearance as "Tintin haircut" and "eyebrows of Satan," and said that the combination had led to him being mistaken on the street for Sid. (Although how she explained away the British accent and the whole "not actually a cartoon character" thing remains a mystery.)
As the neighborhood bully, Sid isn't exactly the most beloved character in the films, so it would've been easy for the Brit to brush off or even be offended by the supposed similarities. But, instead, he's elected to embrace the comparison, and he's now using his unofficial doppelgänger to shed light on an important cause.
For Halloween this year, the actor donned fake braces, Sid's signature skull t-shirt, and equipped himself with the proper props. In his right hand, there's Woody, of course, and, in his left, the magnifying glass that the bully used to focus the sun's rays and fry the wind-up cowboy. Short of being animated, Poulter could not look more like the Toy Story antagonist.
But as perfect as the costume is, the caption and the timing are even more spot-on. As the actor pointed out in the screencapped Note he included with the photo of himself in costume, this is the moment to highlight these issues. October is Bullying Prevention Month in the United States, and Anti-Bullying Week begins on Nov. 13 in the U.K. and wraps up on Nov. 17. There's no better time to encourage his followers to check out @antibullyingpro and to join Poulter in working "to make school a safer and happier place for young people."
Because Poulter is also an ambassador for Anti-Bullying Pro, a program designed to help educate on how to stand up to bullying. He's not the only celebrity who gets the word out about this campaign, but he gets serious kudos for taking the task so seriously. For many of us, Halloween is a night off from our responsibilities, an excuse to show up at a party wearing something silly.
But the good-hearted actor didn't take even one night off from his duties as an ambassador. He folded them right into his regular life and gave his followers a dash of humor and self-deprecation in the mix — as well as seeing him in a getup that his fans have wanted him to wear for years.
Poulter walked that fine line between perfect costume and perfect message better than we've ever seen anyone do it before. Sid the bully isn't quite off the hook yet, but we're pretty sure that Will Poulter just won Halloween.