Why 'Stranger Things' Fans Should Start Preparing For The Series' End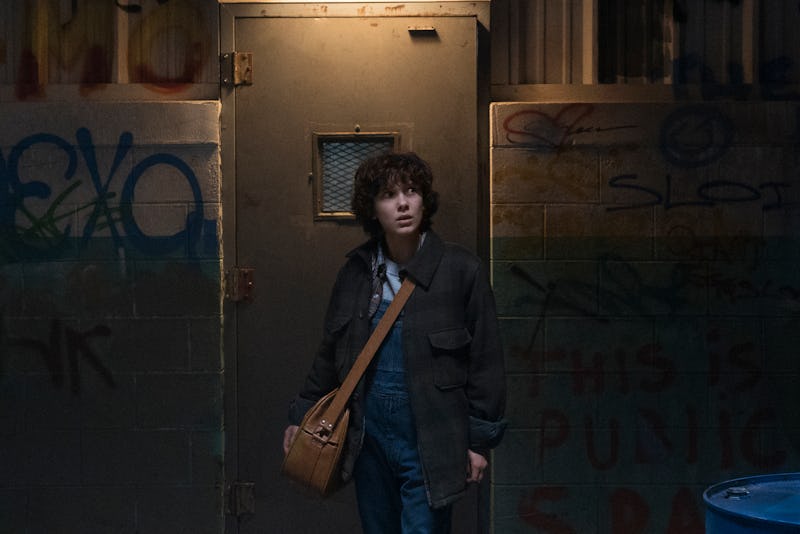 Tina Rowden/Netflix
Netflix cruelly made viewers wait six weeks after its first season premiere to announce that Stranger Things would return for a second season. So we might as well start the anticipation early this time around: Will Stranger Things return for Season 3? The sophomore season of the sci-fi sensation may not have even hit the streaming service yet (it will on Friday, Oct. 27), but fans are undoubtedly already itching to know the fate of their favorite show.
UPDATE: On Dec. 1, The Hollywood Reporter reported that Netflix has officially renewed Stranger Things for Season 3. A release date has yet to be announced.
EARLIER: When discussing their early plans for Season 2, the show's twin brother creators Matt and Ross Duffer told Entertainment Weekly that they planned to go rewatch some of their all-time favorite sequels: The Empire Strikes Back, The Godfather Part II, Aliens, Toy Story 2, Evil Dead 2, and Temple Of Doom. But do you know what all of those sequels have in common? None of them were the final films in their respective franchises; each one of them spawned even more sequels. So will Stranger Things 2 get its own follow-up like its many inspirations?
While Netflix has yet to release any sort of official statement about the show's future (any such announcement will likely wait until after the premiere in order to extend buzz as long as possible), the Duffer Brothers themselves have all but confirmed that Season 2 won't be the end of their stint in the fictional town of Hawkins, Indiana.
In November of last year, executive producer Shawn Levy revealed in an interview with Collider that, even while still hard at work on Season 2, the Duffer Brothers were already coming up with plans for a tentative third season. "We are not gonna be caught off guard, and we don't wanna be making stuff up like the day before we have to write it and make it, so we are definitely optimistic and we have started thinking ahead," he told the site. The fact that the writers were crafting the second season with a third already in mind speaks to their level of confidence in actually getting that third season, considering that no one wants a beloved series to end on a cliffhanger that's never resolved.
But how far past Season 2 will Stranger Things last? In February, Matt Duffer told Entertainment Weekly that he and his brother don't envision their story having a super-sized lifespan. "I want it to have a really finite ending," he said. "I don't want it to be one of those shows that runs out of gas and they lose it because they're losing interest. You wanna end when you're on top." His twin Ross agreed, teasing that Season 2 will "lay the groundwork for further seasons" — about four or five in total.
In a development that's likely to distress Stranger Things fans everywhere, Ross later refined his plan to the lower end of that estimate. "We're thinking it will be a four-season thing and then out," the Duffer brother told Vulture in an interview this August, the same in which he and his twin confirmed that Season 3 would indeed be happening, official statement from Netflix notwithstanding. According to the Duffers, they simply can't keep making so many terrible things happen in Hawkins for much longer than four seasons. "I don't know if we can justify something bad happening to them once a year," Matt said. "They're going to have to get the f*ck out of this town!" Ross chimed in. "It's ridiculous!"
So when can fans expect Season 3? The show took a slightly longer-than-normal hiatus between its first and second outings, with Season 1 premiering in July 2016 and Season 2 debuting in October 2017. If another 15 months elapses before Season 3, then fans could expect it to land on Netflix around January 2019. A 2018 without Game Of Thrones or Stranger Things?? Say it ain't so!
"The fans online are like, 'What's taking so long!'" Ross lamented to Vulture in the same interview about the reaction to the prolonged wait for Season 2. But he asserts that "there's a handcrafted quality to Stranger Things" that would be lost if Netflix rushed the team into production in order to stick to a strict schedule. Good things come to those who wait… and stranger things come to those who wait patiently.