This New Netflix Anime About A Bloodthirsty Human Weapon Looks Pretty Intense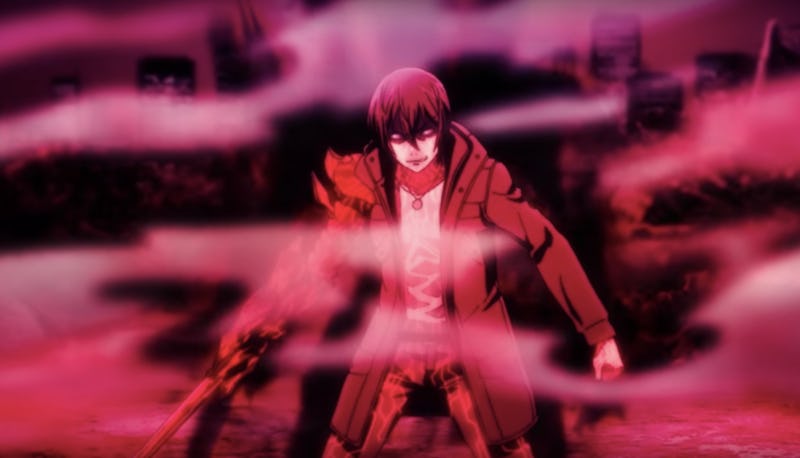 Netflix
Released on Netflix on March 23, Sword Gai: The Animation is the latest newest in a string of anime titles brought to you by the streaming service. Fans of the genre may have devoured the first season already, but will Sword Gai be renewed for a Season 2? Although there is not yet much evidence that the show will be greenlit for an additional season, there is one major clue that's pretty encouraging.
According to the Anime News Network, Sword Gai: The Animation is an adaptation of a manga, which tells the story of Gai, a young man who gains tremendous abilities following an accident. The source material, written by Toshiki Inoue, Osamu Kine, and Keita Amamiya, was published in 2012. Here's the official Netflix synopsis of the anime version:
"A weapon that has drawn the blood of countless victims becomes legend, and at times takes on a life of its own. When such a weapon's human host is filled with hate and murderous intent, he becomes a demonic combination of weapon and man that thirsts only for slaughter.
An organization has faced these dangerous beings over the centuries. A young man named Gai is destined to live as a weapon. As humans are enthralled by their weapons' power, epic battles unfold with the fate of humanity in the balance in this battle action fantasy."
For a TV series based on a manga, comic, or book, a good sign of it having the potential to get another season is whether or not there is enough source material to warrant it. While the writers for the TV series can of course, just create their own content inspired by the illustrated story, they wouldn't have to for Sword Gai. That is because the manga it is based on not only had a run from December of 2012 to October of 2015, but it is a story that is still being developed through a sequel manga. The sequel titled: Sword Gai: Evolve, debuted in November of 2015 and is currently ongoing, per Anime News Network. That represents over five years of material, which is more than enough to warrant a second season of the anime, at minimum.
Of course, this is just the latest in a series of new anime set to come out in 2018. Netflix has made a massive commitment to anime and fans of them, promising 30 new anime before 2019. Other titles that have already released this year have included Fate/Apocrypha, Devilman Crybaby, Children of the Whales, A.I.C.O. Incarnation, and B: The Beginning. This is just a small sampling of what's to come, especially if this new anime wave is deemed successful by Netflix.
Netflix is a business looking to make a profit; and anime series, according to Frost & Sullivan analyst Dan Rayburn, are a potential cash cow. In an interview with Wired, Rayburn illustrated two major benefits to producing anime over live-action series. The first benefit of anime is that there is an audience that is not geographically specific. Or, put in another way, there are fans of anime all over the world. Despite anime being an inherently Japanese art form, fans of anime speak countless languages, and live around the globe. The second benefit of anime is the cost benefit. Animated TV and movies on average aren't as expensive to produce as live action. "Typically [anime is] cheaper to produce," Rayburn said. "You're not paying all that cost that goes into sets and stars and all that. You're paying for all the people who have to produce it, but it's at a much, much lower cost."
With so many new anime series set to air, there will undoubtedly be shows that do not receive a second season. However, with Sword Gai the chances are good, if for no other reason than there's plenty of story left to adapt. So while it is much too early to know the fate of the show, this may be one Netflix anime experiment that has a long life ahead of it.