Taylor Swift's 'Reputation' Could Be The Next Big Visual Album That Fans Will Love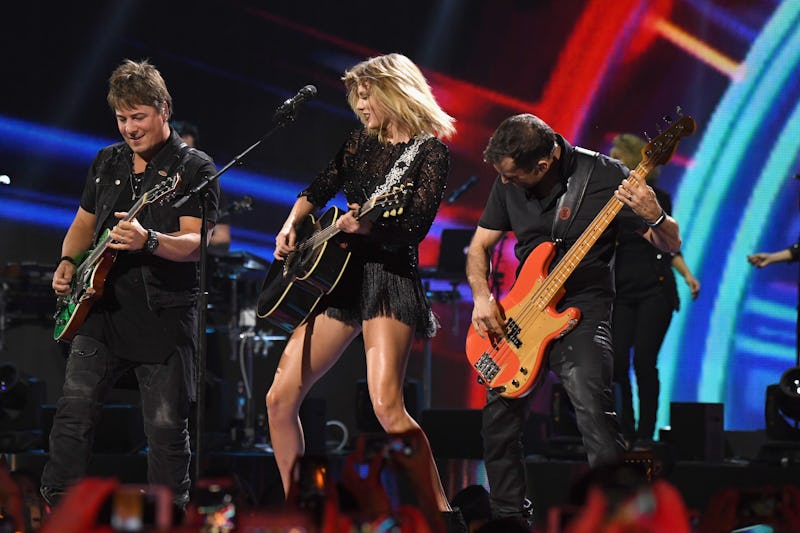 Larry Busacca/Getty Images Entertainment/Getty Images
On Monday, Oct. 23, Taylor Swift teased her brand new music video for her single "...Ready For It?" from her upcoming album Reputation. The futuristic video will premiere on Thursday, Oct. 26. Swift has always been known for her epic music videos and it's possible that Taylor Swift's Reputation could be a visual album, just like Beyoncé's acclaimed Lemonade. Could Swift be taking a page from the book of Bey? The country-turned-pop singer previously released a visually-stunning music video for Reputation's first single "Look What You Made Me Do" back in August.
Of course, Beyoncé's Lemonade is the gold standard of visual albums — a gorgeous and renowned work of music and film that was released in 2016. But it wouldn't hurt to have another visual album in this world from another talented artist, would it? And if it's going to come from anyone, such a visual album would be likely to come from Swift, who has previously given us epic music videos for her songs "Bad Blood," "Wildest Dreams," "Out Of The Woods," and "Blank Space," among many others. The music video for "Look What You Made Me Do" has so many symbols and imagery, which definitely got people talking about who and what she was referencing in each shot.
Earlier this month, The Telegraph reported that Swift was shooting a music video that would pay "homage" to her boyfriend, actor Joe Alwyn and their relationship, and the video would show "all of the locations are places she has been to with Joe." The reported locations include Kentish Delight, a kebab shop in Kentish Town, North London, a stint on one of London's night buses, and the British actor's local pub. This sounds like an entirely different music video than one that was teased for "...Ready For It?" — unless it takes place in a futuristic, sci-fi version of London, England. You never know. Or maybe that just means there's another visually cool music video by Swift that will have an entirely different aesthetic.
What made Beyoncé's Lemonade such a masterpiece to behold was that it wasn't just cinematic, but the work as a whole had a cohesive story and addressed several themes and messages. Of course, that is something that becomes apparent when Lemonade is viewed as a whole, but each song and video can also be enjoyed on its own as well. As for the music videos and songs for Reputation, we probably won't know how both "Look What You Made Me Do" and the upcoming video for "...Ready For It?" will fit into the bigger picture of the album, whether it's visual or not.
Fans, though, have definitely been speculating about themes of Reputation since the release of "Look What You Made Me Do." One popular theory is that Swift included 15 different personas at the end of the music video — and those 15 Taylors represent a song on Reputation, which will have 15 tracks. It could just be a mere coincidence...or it could be some genius meticulous thematic story planning by Ms. Swift herself.
If that theory proves true, then fans could be treated to an album that chronicles the journey of Swift's career through the years, with videos helmed by her frequent collaborator, director Joseph Kahn. The result could be a feast for the eyes and ears for loyal Swifties and new fans to enjoy and love.
Even if Reputation isn't a visual album, Swift will no doubt give us a collection of songs and music videos that we will be talking about and listening to on repeat until Reputation's Nov. 10 release — and beyond.