Why This Massive Animated Movie Hit Is Getting A New Life On Netflix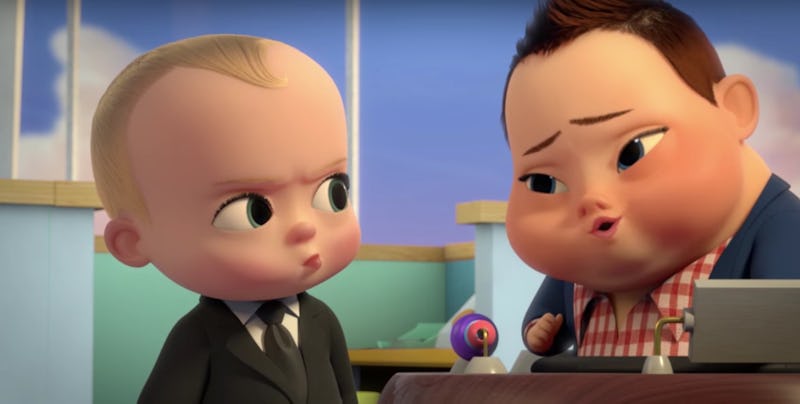 Netflix
Good news if you find babies in business suits charming: in addition to a planned movie sequel, Boss Baby now has a TV series spinoff. But will The Boss Baby: Back in Business return for Season 2 on Netflix? While the streaming service has yet to announce future plans of the series, there's reason to be optimistic.
Fans can expect the debut season of the TV series to pick up right where the movie left off. (Except without Alec Baldwin in the lead role; JP Karliak provides the voice of the Boss Baby on Netflix.) Here's the synopsis, from a Netflix press release:
"Boss Baby, with the help of his big brother and partner-in-crime Tim, continues to navigate the cutthroat corporate jungle gym of Baby Corp., while angling to achieve the near-impossible: the work-life balance of a modern career baby."
The trailer below also indicates that there's a new threat in this spinoff. While babies were concerned about being usurped by puppies in the movie, kittens are the enemy this time.
So, the (baby) formula for the franchise seems to be working. Competition for love and affection will have to be managed in some way. Perfect task for a baby who's a born leader, right? Even with a below average critical rating from Rotten Tomatoes, a second season seems likely. The film it's based on did get nominated for an Oscar, after all, and it earned over $500 million in worldwide box office sales. But beyond the Academy Award nomination and financial success, there's also a productive relationship between Netflix and DreamWorks, the studio responsible for The Boss Baby and the series.
That relationship between DreamWorks and Netflix has seen the creation of a number of series, many that have spawned multiple seasons, spinoffs, or both. The partnership started with Dragons: Race To The Edge's first season on Netflix in 2015. Since then, there have been six seasons in total. That partnership has also led to legendary director Guillermo Del Toro launching three different series on Netflix, including: Trollhunters, 3 Below, and the upcomingWizards.
This is just the latest in a long line of animated films and series for Netflix that's unlikely to stop any time soon. Apart from all of the previous DreamWorks projects which Netflix has been a part of, Netflix has also made a commitment to distribute 30 new anime movies and TV series this year, per The Japan Times. Moreover, even more American-style animation is set to premiere this year, according to that same Netflix press release mentioned above. Those shows will include: Trolls: The Beat Goes On, The Epic Tales of Captain Underpants, Harvey Street Kids, and She-Ra.
If there is to be a new season of The Boss Baby, fans may even already know what it may focus on. During the trailer for Season 1, a pie chart representing all of the love in the world is flashed on screen. Kittens are way up there, but they're not the only enemy depicted on the graphic. Besides kittens and puppies, there are also sizable slices of love belonging to fish, birds, and spouses. It's likely that one of these will be the primary conflict for the Boss Baby and his friends in Season 2 of the series.
With Netflix's recent dedication to animation, the history of its relationship with DreamWorks, and the success of the original Boss Baby film, it seems likely that a renewal could be coming soon. But Netflix will also be gauging how audiences — in this case, families — respond to the series spinoff. Adaptations don't always fly, but the Boss Baby series seems to be right in line with its predecessor.