How TV Viewers Could Help Solve The Disappearance Of Maura Murray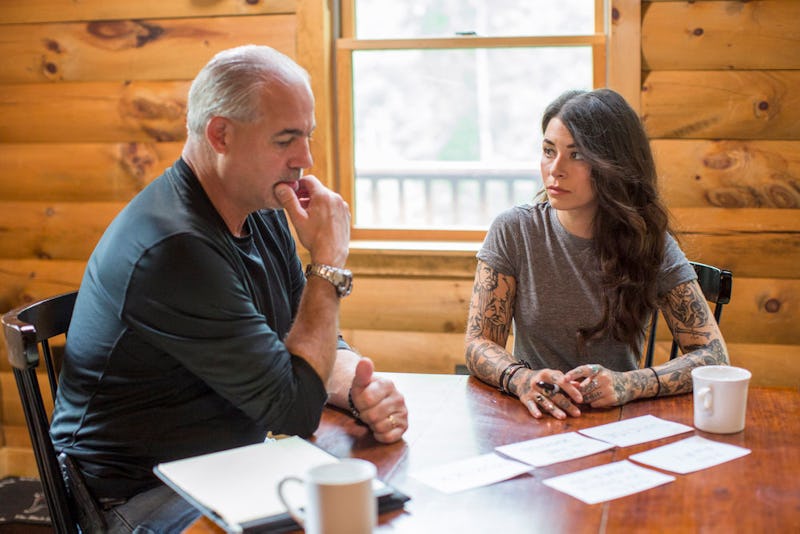 Scott Eisen/Oxygen Media
When University of Massachusetts student Maura Murray disappeared after crashing her car in northern New Hampshire in 2004, she left behind one of the most mysterious missing persons cases in American history. Where she was headed, why left without telling anyone, and what ultimately happened to her are questions that still plague law enforcement, internet sleuths, and, above all, Murray's family. Now, with the new Oxygen series The Disappearance of Maura Murray, investigative journalist Maggie Freleng and former US Marhsal Art Roderick have brought fresh eyes to the 13-year-old case. But as the season ends its run, and Freleng and Roderick continue to hunt for answers, fans may be wondering if The Disappearance of Maura Murray will return for Season 2.
It hasn't been announced yet whether Freleng and Roderick will continue their televised investigation into Murray's case. However, the pair is hopeful that by doing the show, the mystery of what happened to Maura might soon be solved, rendering a second season unnecessary. "We just wanted to bring attention to the case," Freleng shares in a phone interview with Bustle. "I mean, we really do want to find Maura and help the family ... we think with this really public national spotlight now, we're hoping that will happen."
Roderick agrees. "We think somebody knows something out there, and we're hoping that with the national spotlight on this case, somebody will pick up the phone and call the New Hampshire state police," he tells Bustle in the same interview.
Part of what makes the Murray case so fascinating for viewers and internet sleuths alike is the sheer number of unanswered questions that continue to shroud the case in mystery. As reported by the Boston Globe, Murray wrote to her professors to be excused from class due to a death in the family, even though no such death had occurred. She packed clothes and toiletries in her car, bought alcohol and withdrew cash from her bank account, and headed north to New Hampshire. She told no one where she was going, or why. After Murray crashed her car into a tree on Route 112 in Haverhill, New Hampshire, the same Globe piece reports that there was a seven to 10 minute window between when the accident occurred and when the police arrived on the scene. What happened to Maura in that short period of time has baffled law enforcement, podcast hosts, journalists, and the Murray family alike.
During its limited-series run, the Oxygen series sought to explore all the possible answers to the mystery of Murray's case, as well as sort through rumors and theories about her disappearance that abound on internet chatrooms and true crime forums. "I think we did a really good job at getting down to the bare facts of this case," explains Roderick, "and that was one of the first things we talked about when we came into it, is trying to weed through all the innuendo, rumor, false information that's out there, and I think we did."
Freleng and Roderick also share that their investigations allowed them to come to a conclusion about what they believe might have happened to Murray. "We didn't go into it like thinking any particular theory, because we didn't really know too much about it either, we did all of the work on the ground, on camera," shares Freleng. "So you know, our opinions changed a lot of the time, and we do come to what we think is the most realistic conclusion at the end and you'll just have to wait to see."
Even if The Disappearance of Maura Murray doesn't return for a second season, fans of the show should hope that one season was enough to give the case the exposure it needs to be solved. Perhaps someone who knows something will come forward, and render a second season completely unnecessary. For Freleng and Roderick, but especially for the Murray family, the ideal outcome of the series is to finally get some answers.