Louisiana Is Next In Tropical Storm Harvey's Path & It Isn't Taking Any Chances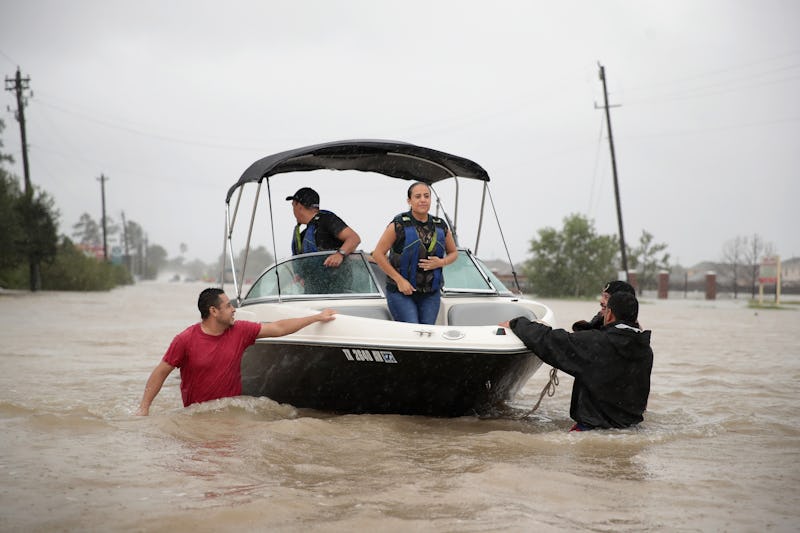 Scott Olson/Getty Images News/Getty Images
Since making landfall in Rockport, TX on Friday night, Hurricane Harvey has brought devastating winds and flooding to the greater Houston area. And now, as the storm's course continues north towards Louisiana, people in cities including Baton Rouge are bracing themselves for Tropical Storm Harvey. Though the storm would ideally decide to simmer down or take the path of least destruction, the Harvey storm tracker suggests otherwise.
While some rain has already hit Louisiana, The Weather Channel warned state residents of the storm's effects in the coming week, saying "Baton Rouge, Lake Charles, and New Orleans could all see periods of heavy rain." It warned that "isolated tornadoes are also possible."
During a news conference on Monday the Louisiana Governor John Bel Edwards warned residents to prepare themselves for the possibilities. He told residents that Harvey "does remain a named tropical storm and it's going to drop an awful lot of rain. In all likelihood, the worst is yet to come for Louisiana. We do have a long way to go with this particular storm."
While speaking at the news conference, Edwards also told constituents that current updates predicted Southwest Louisiana would see between 10 and 15 more inches of rain by Friday. There have been no reports of Harvey damaging homes in Louisiana as of yet, but Edwards cautioned residents that the possibility may rise as the week continues.
On Monday morning, President Trump issued a federal emergency declaration for five parishes in southwest Louisiana, including: Beauregard, Calcasieu, Cameron, Jefferson Davis, and Vermilion parishes. In effect, this permits FEMA to coordinate with the Department of Homeland Security on prompt and preventative disaster relief efforts. It also means the government will foot the bill for as much as 75 percent of the emergency response.
"Specifically, FEMA is authorized to identify, mobilize and provide at its discretion equipment and resources necessary to alleviate the impacts of the emergency," read the White House statement.
On Monday evening, the National Hurricane Center warned that rains on the South Carolina coast could graduate into a full-fledged tropical storm within 24 hours, essentially breathing life back into the active remnants of Hurricane Harvey.
To circle back to the original question or whether or not Hurricane Harvey will hit Baton Rouge, it has yet to be seen. Baton Rouge isn't located in the five parishes that have been officially stated as emergency, however, at this point the state of Louisiana is on the lookout for heavy rains and potential tornadoes. Vigilance is key, but hopefully, it won't be necessary.