2 Women Who Know What It Takes To Win A Nobel Prize Weigh In On Trump's Chances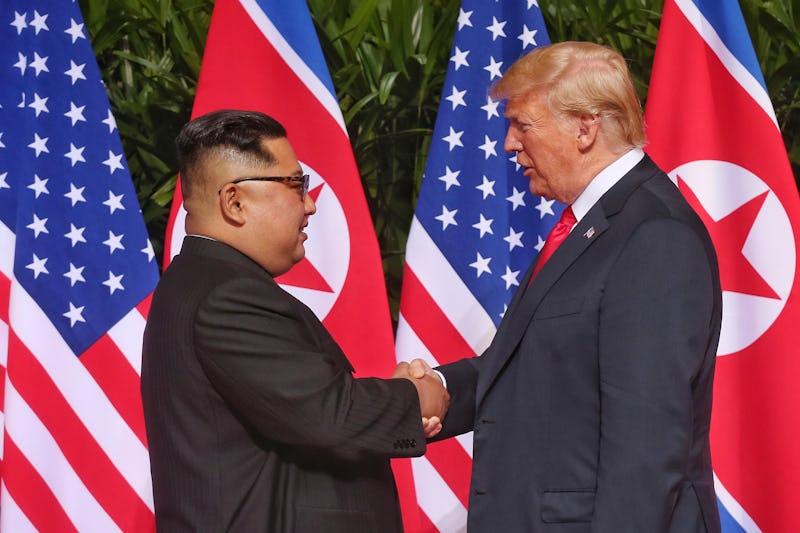 Handout/Getty Images News/Getty Images
Last month, President Trump was nominated for a Nobel Prize for his peace building efforts on the Korean peninsula — and not for the first time. Trump was endorsed by two separate groups, and although the deadline for this year's prize has already passed, these nominations make him eligible for consideration next year. So how could Trump actually win a Nobel Peace Prize and make a difference on the Korean peninsula? Two women involved in Nobel Peace Prize-winning work tell Bustle what Trump would have to do to pull it off, and predict he's a long shot to win the prize even if he succeeds.
18 House Republicans and two far-right politicians in Norway nominated Trump for the award, citing the recent summit between Trump and North Korean leader Kim Jong Un in Singapore. While Trump and Kim's meeting was historic, it was only a first step, according to Rebecca Johnson, founding president of the International Campaign to Abolish Nuclear Weapons (ICAN), which won a Nobel Peace Prize for its work last year.
"An agreement like that is a piece of paper until it is made to work," Johnson tells Bustle. "It provides the ground for the discussions but the discussion has to build on it."
Steps to continue peace negotiations, like Secretary of State Mike Pompeo's recent visit to North Korea, yielded few results and mixed reviews. Pompeo said the meetings were "productive," while North Korea described the Americans' attitude as "regrettable" and even referred to Pompeo as "gangster like." While the process is just beginning, it's clear that Trump has his work cut out for him.
Don't Go It Alone
"What we need is for the talks to continue," says Johnson. "The leaders needed to be recognizing their peoples' mutual needs and interests and desires for both a peace treaty and to have complete nuclear disarmament across the peninsula."
Johnson tells Bustle that the United States and North Korea could agree among themselves to rid the region of nuclear weapons. But she notes that a successful peace treaty must involve other countries, like China, that have been at the negotiating table in the past and will be critical to establishing a long-term solution.
Trump has not engaged other leaders in his efforts so far, though. Johnson says the possibility of the United States continuing the process alone "would be a massive mistake in terms of the effectiveness and sustainability of the outcome."
Mairead Maguire, a Nobel Peace Prize laureate known for her work in Ireland, tells Bustle it's not just the voices of other leaders that need to be included. The U.S. "need(s) to recognize the North and South Korean people," she says. "We will have to stop in the West feeling that we've got to impose on other people."
Let The Locals Into The Process
Peace negotiations are often long processes that require skillful diplomacy. "I'm most worried about Donald Trump in all of this," says Johnson. "Because I think he is most likely to have a short fuse, if it isn't happening as quickly as he wants he can blow it."
If Trump were to abandon the process, it's likely that dialogue would continue without him. It's happened before: Maguire and Johnson were part of a group, Women Cross the DMZ, that marched through North and South Korea when Trump first canceled his meeting with Kim back in May.
"Over 30 women's organizations were in the square calling for peace, and so when we heard the next day that the American administration and Trump had cancelled the meeting, they decided to go ahead with it themselves and encourage their politicians," says Maguire. North and South Korean leaders went ahead and met without Trump.
While the attention so far has focused on the world leaders doing the negotiating, both Maguire and Johnson stressed that the Korean people, especially women, are significant agents of peace.
"Women are great peacemakers, they're great at reconciliation, they're great at understanding emotions in a situation and...making peace through that," says Maguire.
Accept That The Work Is More Important Than The Prize
Trump may already be nominated for a Nobel for his efforts to denuclearize North Korea and bring peace to the region, but there's more that the committee will take into account than the recent negotiations.
"The Nobel committee has to abide by the will of Alfred Nobel. There are certain stipulations for anyone who gets the Nobel Peace Prize," Maguire says.
Those requirements include promoting fraternity among nations and peace dialogues across the globe. When individuals are considered for prizes, their whole persona is taken into consideration, not just the work that earned them the nomination.
"It would make a complete mockery of any understanding of peace and security to even consider someone who has the kind of reputation of misogyny and assault on women that have been associated with Donald Trump's name over many many years," Johnson says.
In addition to Trump's alleged history of sexual misconduct, which he has strongly denied, his position as the president of the United States, which has the most powerful military in the world, could weigh against him. Barack Obama was outwardly criticized for his position as commander in chief when he received the prize in 2009.
The last time a Nobel Peace Prize was awarded for peace building efforts on the Korean peninsula was in 2000, to activist Kim Dae-Jung. Relations between the two countries have been strained for nearly 70 years and although several attempts at restoring peace have been made, none have succeeded.
"It would be best if people would stop talking about giving out prizes," says Johnson. "There's a lot of work to be done before anyone deserves any prizes. "