These Harry Potter Kitchen Utensils Will Add Some Magic To Your Meal Prep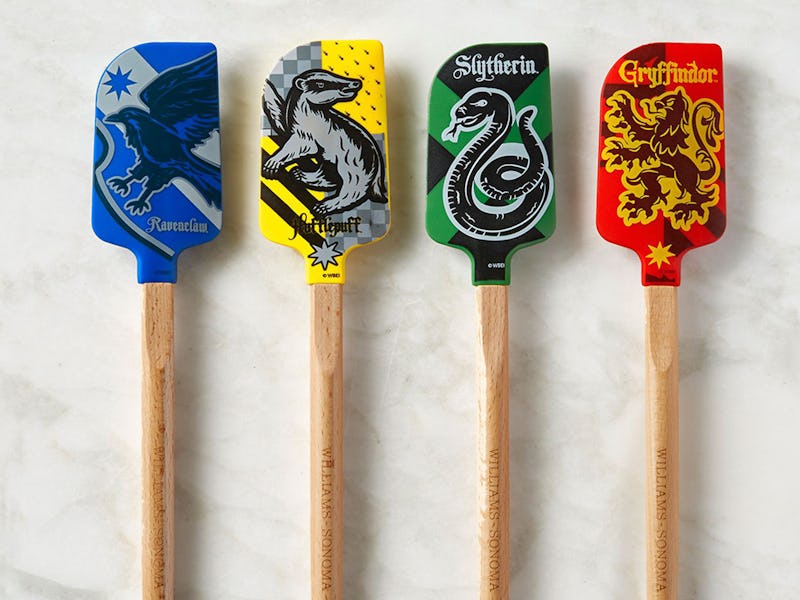 With the end of the year in full swing, a lot of us will be spending a lot more time in the kitchen. From the Thanksgiving meal to your best winter bakes, you'll be cooking more than you probably have all year. And now, you can have a little magic on your side with the insanely cool Williams Sonoma Harry Potter cookware line. Though the line is super small, containing only a spatula and an apron (sized for both kids and adults) it's exactly what you need to start your HP cooking collection off right.
But first, you need to figure out your House affiliation, because the designs are decidedly Hogwarts-esque. Each spatula and apron feature the colors and crests for one of each of the four houses; and while we can't say whether the House you're in will affect your cooking abilities one way or the other, its still a crucial first step to getting your bake on.
The Harry Potter spatula if of course the tool of choice when it comes to pies, cakes and bars, and for $12.95 you can use yours to whip up all of the above...not to mention some pumpkin pasties, peppermint humbugs or one of those famous Hogwarts treacle tarts that Harry loves so much. And the back of each spatula also features an adorable snitch that will make catching your favorite recipes a cinch.
Harry Potter Spatula, $13, Williams Sonoma
And for those who tend to get a little messy when they're toiling over a hot stove all day, Williams Sonoma have totally got you covered with their Harry Potter aprons. Feel free to let the flour fly, spill some sugar and don't fear the inevitable grease that comes with crafting the perfect sausage roll because your wizard's robes will be more than safe under one of these beauties. And even better, you can get some of the little witches and wizards in your life to help out, too, because there are kids size aprons on the market as well. Adult aprons are $39.95, while the kid-sized styles are $24.95.
Harry Potter Adult Apron, $40, Williams Sonoma
There's never been a better time to pull out those cookbooks (whether they're Harry Potter themed or not) and get cracking on those recipes both tried and true, and that you've been wanting to try for ages. Consider this cookware your little dose of felix felicis...you just can't go wrong when you've got HP on your side, right? To check out the entire line for yourself, head over to Williams Sonoma.