Women Could Hold More Than 100 House Seats After The Midterms — But There's A Catch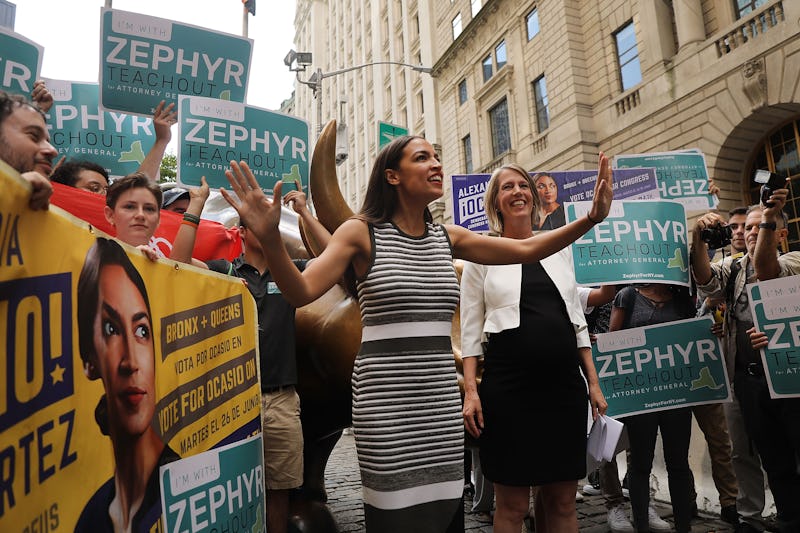 Spencer Platt/Getty Images News/Getty Images
Midterm elections could give the House of Representatives quite the shake up. According to a new analysis by NBC News, a record-breaking number of women could enter the House this year in elections poised to dramatically change the legislative body — but only for one party.
This year's midterm elections could see voters electing more women to the House than ever before, according to a "race-by-race analysis" conducted by NBC News. Currently, a total of 84 women serve as representatives in the House. But according to NBC News, 30 to 40 women could be elected to the legislative body in the midterms, potentially pushing the number of women serving in the House up to more than 100.
Those elections could also set a new record for the highest number of women elected to the House in one year, NBC News has reported. The current record of 24 women was set in 1994, when backlash to Clarance Thomas' confirmation as a Supreme Court justice spurred more women to run for office. This year, a number of women have been motivated by Donald Trump's presidency to run for elected office.
But, according to NBC News' analysis, the potential to set a new record regarding women in the House isn't being fueled equally by both political parties. "The impending surge is being driven entirely by Democrats," NBC News has reported. What's more, its analysis showed that the number of Republican women serving in the House "is actually poised to decline."
Fifty percent of all non-incumbent Democratic candidates running for the House are women, according to NBC News. Across the aisle, however, women make up just 18 percent of non-incumbent Republican House candidates.
With 61 female representatives, the Democratic Party also currently has more women serving in the House than the GOP, which has just 23 female representatives. The high number of female candidates running as Democrats in the midterm elections could serve to boost the party's total number of female House members by more than one-third, according to NBC News' analysis.
Republicans, however, could see their share of female House members decline by one-third thanks to retirements, potential job changes, and re-election campaigns designated to be at-risk. According to NBC News' analysis, two female GOP House members are retiring from office at the end of this year, four have opted to run for different offices, and three were deemed to be "at severe risk" of losing their re-election campaigns. In sharp contrast to Democrats, NBC News identified only three states — New Mexico, South Carolina, and West Virginia — where Republican women might win seats in the House.
NBC News' race-by-race analysis follows surprising upsets by Alexandria Ocasio-Cortez in New York and Ayanna Pressley in Massachusetts. Both women defeated veteran Democratic congressmen in primaries to become the Democratic nominee for the House of Representatives in their districts. And according to Fortune, a lack of Republican contenders on the ballot in Pressley's district is expected to result in her becoming the first African-American women to represent the state of Massachusetts in Congress.
But those races could be just the beginning for women in the House. According to the NBC's recent analysis, women could walk away winners in Pennsylvania, Texas, Florida, Michigan, Minnesota, and Virginia.