More Than 200 Women From Christine Ford's High School Showed Their Support For Her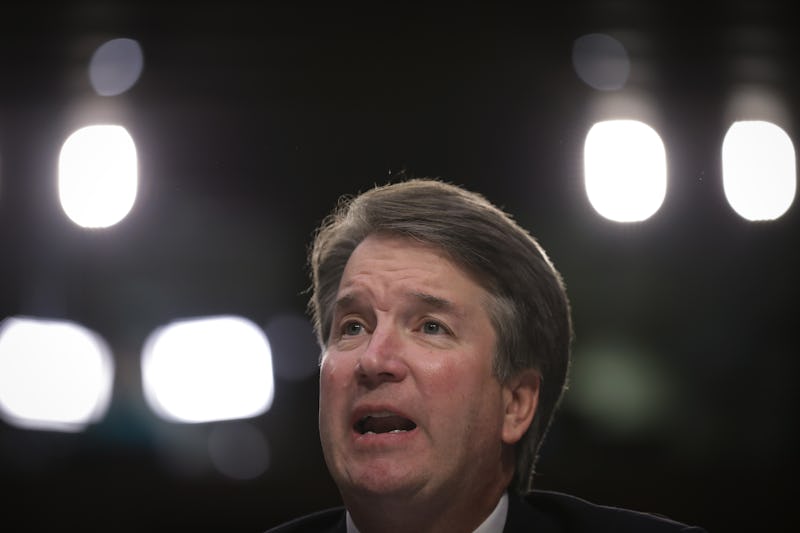 Drew Angerer/Getty Images News/Getty Images
Over the weekend, a woman publicly accused Supreme Court nominee Brett Kavanaugh of sexual assault, which he has categorically denied. On Monday, a group of alumnae from Christine Ford's high school wrote a letter supporting her and stating that they believe her accusation.
"We believe Dr. Blasey Ford and are grateful that she came forward to tell her story," a public draft of the letter reads. "It demands a thorough and independent investigation before the Senate can reasonably vote on Brett Kavanaugh's nomination to a lifetime seat on the nation's highest court."
On Sunday, Ford publicly accused Supreme Court nominee Kavanaugh of sexually assaulting her when they were in high school. According to her accusations, which she shared first with The Washington Post, she was 15 and Kavanaugh was 17 at the time of the alleged incident. Kavanaugh has denied that he assaulted Ford in any way.
"This is a completely false allegation. I have never done anything like what the accuser describes — to her or to anyone," Kavanaugh said in a statement, per NBC News.
The alumnae behind the letter of support are from Holton-Arms School, a private all-girls school in Bethesda, Maryland. Sarah Burgess, an alumna who graduated in 2005, told HuffPo that, as of late Monday morning, more than 200 fellow alumnae had signed on to the letter.
The letter's authors wrote that "Ford's experience is all too consistent with stories we heard and lived while attending Holton," and said that "many of us are survivors ourselves."
The letter of support for Ford stands in contrast to a separate letter, written by 65 women who purport to have known Kavanaugh while in high school. That letter was sent to judiciary committee chairperson Sen. Chuck Grassley, and ranking member Sen. Dianne Feinstein, and in it, the authors and signatories vouch for Kavanaugh's character and behavior toward women.
"We are women who have known Brett Kavanaugh for more than 35 years. ... For the entire time we have known Brett Kavanaugh, he has behaved honorably and treated women with respect," the letter reads.
That letter praises Kavanaugh, describing him as a great student and athlete with many friends. Though it doesn't directly mention Ford's accusations, the letter's timing and contents do not appear to be a coincidence.
"Throughout the more than 35 years we have known him, Brett has stood out for his friendship, character, and integrity," the authors wrote. "In particular, he has always treated women with decency and respect. That was true when he was in high school, and it has remained true to this day."
Politico attempted to reach out to each of the letter's signatories, and five explicitly said that they stood by the letter's contents, including one who affirmed her support on Twitter. Two declined to comment, according to Politico, and nearly two dozen have not yet responded at all.
As of Monday afternoon, the Senate Judiciary Committee is still scheduled to vote on Kavanaugh's nomination on Thursday. If things move forward as planned, the full Senate will likely vote on his nomination the following week. There is currently a movement requesting that the Judiciary Committee vote be delayed, but thus far, the schedule has not changed.