More Than 1,000 Women From Yale Signed An Open Letter Supporting Ford & Deborah Ramirez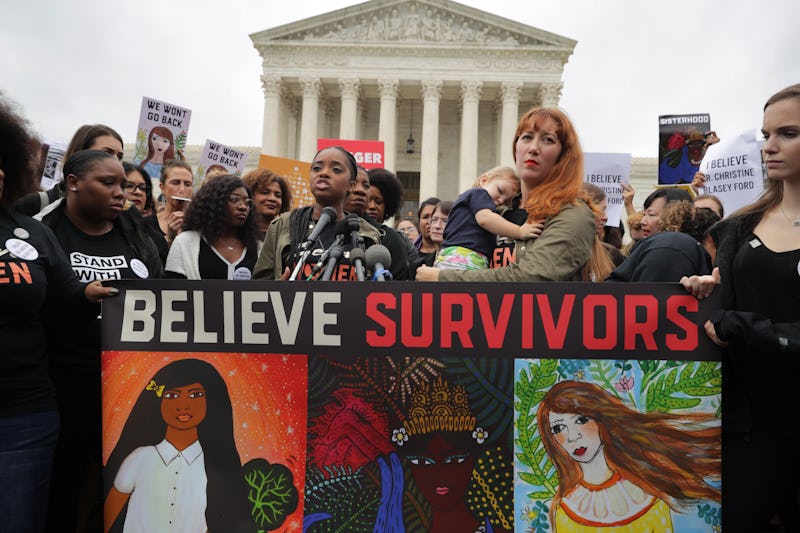 Chip Somodevilla/Getty Images News/Getty Images
As Supreme Court nominee Brett Kavanaugh grapples with two separate accusations of sexual assault, both of which he has denied, those backing his accusers continue to write letters demanding that their allegations be taken seriously. And now, as of Monday afternoon, more than 1,000 Yale alumnae have signed a letter supporting Kavanaugh's accusers requesting that the Senate fully investigate their allegations. Kavanaugh's second accuser, Yale alumna Debbie Ramirez, went public with her allegation in a Sunday report published by the New Yorker.
Ramirez alleges that Kavanaugh thrust his penis into her face at a party when he was a freshman at Yale, and that she touched it when she pushed him away. The assault allegedly took place after a group of students had been playing a drinking game, and according to Ramirez, several other people were in the room at the time. Ramirez was a devout Catholic, per the report, and was deeply uncomfortable with what she claims transpired.
"I wasn't going to touch a penis until I was married," she said. "I was embarrassed and ashamed and humiliated."
Kavanaugh denies this ever happened. "This alleged event from 35 years ago did not happen," Kavanaugh said in the statement after the report was published online.
Hours after the open letter was published on Medium, more than 1,000 Yale alumnae signed it, demanding that Ramirez's allegations be fully investigated.
"We are coming forward as women of Yale because we have a shared experience of the environment that shaped not only Judge Kavanaugh's life and career, but our own," the letter reads. "We are committed to supporting all women who have faced sexual assault, not only at Yale, but across the country."
The letter characterizes signatories as interested in hearing out all women who come forward with stories of sexual assault. Though short, it gets straight to the point:
We demand that her allegations be thoroughly investigated and that she be treated with fairness, and given an opportunity to tell her story. We also demand that the Senate Judiciary Committee delay any vote on Judge Kavanaugh's nomination to the United States Supreme Court until all allegations against him have been investigated, all witnesses have testified under oath, and his nomination has been thoroughly vetted.
Former Yale students aren't the only ones rallying around Kavanaugh's accusers, either. On Monday morning, approximately 250 current Yale students congregated in one of the university's law buildings as part of an effort to draw attention to the seriousness of the allegations against him, according to The Daily Beast. Kavanaugh is a graduate of Yale Law, as well as Yale College, and protest participants told The Daily Beast that gathering in one of the school's main hallways "was a really powerful experience."
Christine Blasey Ford, Kavanaugh's first accuser, also received support from former classmates. Alumnae from Holton-Arms, where Ford attended high school at the time she claims she was assault, argued that Kavanaugh only being 17 at the time of the alleged incident did not warrant the accusation being dismissed.
"In light of Christine's experience, we hold our elected officials responsible for conducting a more thorough and comprehensive review of this Supreme Court nominee," they wrote. "Having taken this courageous step, Christine deserves your due consideration on this serious matter."
While the future of Kavanaugh's confirmation process is uncertain, those who grew up around both him and his accusers continue to use their collective clout to make sure that the allegations remain at the center of public discussion. Above all else, they are making clear to lawmakers that they should not take such accusations lightly.