Women In Hollywood Have Something To Say About Those Harvey Weinstein Accusations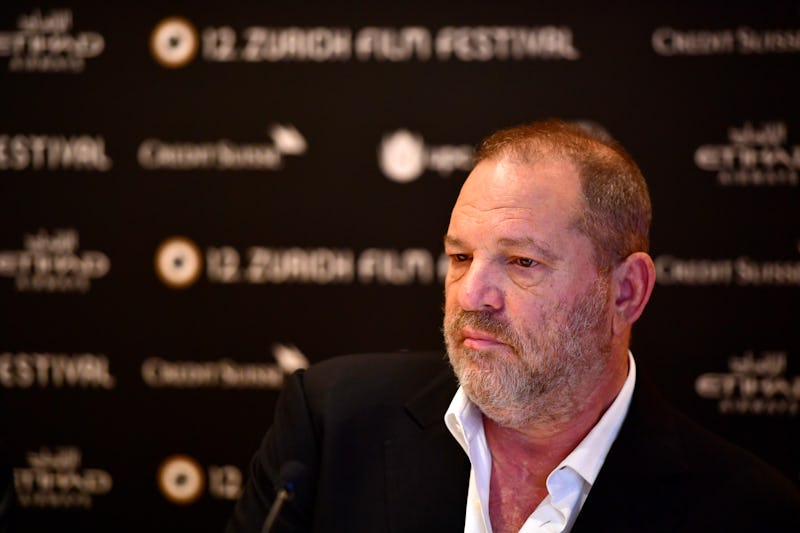 Alexander Koerner/Getty Images Entertainment/Getty Images
As news continues to emerge surrounding the accusations against Harvey Weinstein, responses from women in Hollywood have begun to roll in, already demonstrating the magnitude of the still-unfolding story. Their reactions come on the heels of a New York Times' report detailing nearly three decades of sexual harassment allegations against Weinstein, a prolific film producer known for movies including Pulp Fiction, Good Will Hunting, and Silver Linings Playbook. The claims reportedly originate from women who range in age from their early 20s to late 40s and live in different cities.
Wesintein's lawyer, Lisa Bloom, said in a statement to Bustle that he "denies many of the accusations as patently false." Weinstein's rep also acknowledged the claims in a separate statement to Bustle, saying that he was working with therapists and planned to take a leave of absence from his company to "deal with this issue head on." He continued:
"I appreciate the way I've behaved with colleagues in the past has caused a lot of pain, and I sincerely apologize for it. Though I'm trying to do better, I know I have a long way to go."
Shortly after the Times published its expose, Weinstein's attorney, Charles Harder, told The Hollywood Reporter that Weinstein plans to sue the publication, claiming the story is "saturated with false and defamatory statements" and that it "relies on mostly hearsay accounts and a faulty report, apparently stolen from an employee personnel file, which has been debunked by nine different eyewitnesses."
The women of Hollywood, however, aren't focusing on Weinstein, but on the women who spoke out in the piece, and the many others whose reported stories have gone untold.
Amber Tamblyn Hailed Their Strength
"Heed the mantra and never forget: Women. Have. Nothing. To. Gain. And. Everything. To Lose. By. Coming. forward," wrote the Two and a Half Men alum, whose been an active proponent for sexual assault survivors.
Lena Dunham Applauded Their Bravery
Rose McGowan Called For Allies
McGowan, who, according to the Times, is one of at least eight women who received a settlement from Weinstein, asked men to stand up as allies. She also tweeted this pointed but deliberately veiled comment.
Ashley Judd Let The Report Speak For Itself
Judd, who claimed to the Times that Weinstein propositioned her 20 years ago during a business meeting in his hotel room, simply tweeted the article.
It's worth noting that these allegations continue a troubling trend for Hollywood. Last year, more than 20 women came forward with sexual harassment allegations against former Fox News chief Roger Ailes, causing him to step down. Then in June, after more than 50 women accused Bill Cosby of sexual assault, Andrea Constand's case against the actor — for which Cosby pleaded not guilty — ended in a mistrial. Also within that time frame, both Taylor Swift and Kesha were embroiled in sexual assault cases; Swift won, while Kesha ultimately dropped her abuse charges against Dr. Luke, who repeatedly denied her claims, after a two-year stall.
Outside of Weinstein's purported lawsuit against the Times, it doesn't seem like this story involves any outstanding legal battles, but it's nonetheless a critical addition to the ongoing conversation about sexual assault, gender imbalance, and the potential abuse of power. The reality of the matter is that these kinds of claims are not uncommon, and these accusations, though powerful, likely won't be the last of its kind — which is why it's so crucial that we pay attention. If we let accusations fade to the background, it will only allow ignorning claims of this nature to become more normalized, and these women in Hollywood are helping to prevent that.
If you or someone you know has been sexually assaulted, call the National Sexual Assault Telephone Hotline at 800-656-HOPE (4673) or visit online.rainn.org.