Women Running For Governor In 2018 Aren't Just Breaking Records — They're Shattering Them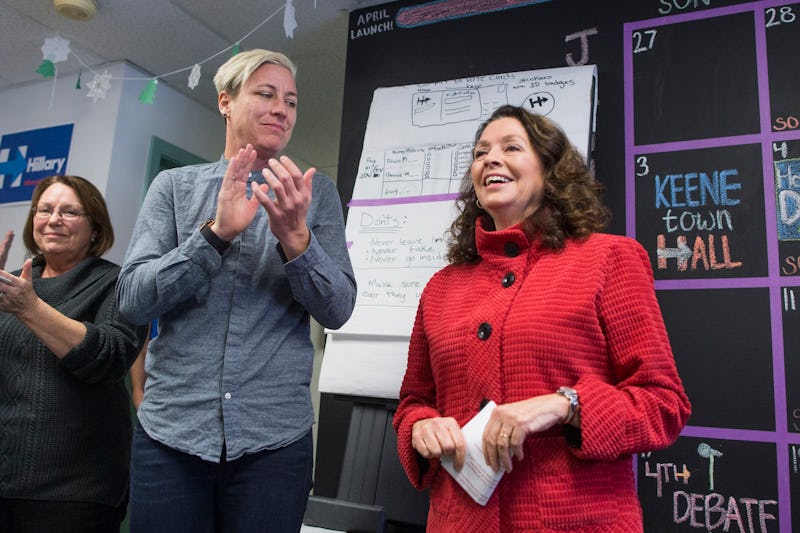 Scott Eisen/Getty Images Entertainment/Getty Images
Just six states' governors mansions are currently occupied by a woman, but this year's gubernatorial races could double that number. Women running for governor in 2018 are shattering the previous record of women gubernatorial nominees in one election cycle, which was set in 1994 when 10 women won party nominations. With a handful of states still gearing up for this year's primaries, 15 women have already advanced to the general election in their respective races.
Molly Kelly was the latest candidate to do so after winning her Democratic primary in New Hampshire's race for governor on Tuesday. The former state senator is vying to unseat Republican Gov. Chris Sununu, one of the nation's most popular governors, according to Morning Consult's analysis.
Kelly's primary success follows a trend of women candidates from both parties successfully winning a nomination for governor across the country. Stacey Abrams, a Democrat running in Georgia, caught the nation's attention as she campaigns to potentially become the nation's first African-American woman to serve as governor. But voters in Hawaii, Idaho, Kansas, Maine, Michigan, New Mexico, South Dakota, Texas, Vermont, and Wyoming have also sent women candidates who don't currently hold the position on to November's general elections.
In Alabama, Iowa, and Oregon the women governors seeking re-election successfully advanced forward after their primary elections. These governors are included in the total of 39 women who have served as governor in 28 states throughout the years, according to the Center for American Women and Politics (CAWP).
That means 22 states have never been represented by a woman governor, and the country's never had more than nine woman governors serving at one time. Both those numbers could change come November.
While Kelly faces an uphill battle to replace Sununu, Politico predicts that women could win gubernatorial races in as many as 11 states that aren't currently led by a woman, potentially raising the total number of woman governors to 17.
Though these 15 women are already gearing up for November, candidates in New York and Rhode Island must first clear their state primaries this week. In New York, Cynthia Nixon is vying to unseat Gov. Andrew Cuomo in Thursday's Democratic primary, while Rhode Island Gov. Gina Raimondo faces a Democratic challenger when voters head to the polls on Wednesday.
As CAWP has pointed out, women of color are still largely underrepresented among the women running for governor. Only one current governor is a woman of color —New Mexico Gov. Susana Martinez — and she wasn't eligible to run for re-election this year. Roughly 70 percent of women who had filed to run for governor by May were white, according to CAWP's data.
Lack of diversity is a persistent problem across all levels of government, but this year's gubernatorial candidates are fighting to break all kinds of barriers. Along with Abrams' historic campaign, Vermont's Christine Hallquist became the first transgender person to ever win a major political party's nomination for governor last month.
"I'm certainly honored and humbled, but I will tell you — we know we're under the magnifying glass and everything we say will be scrutinized," Hallquist told Bustle the day after she won her Democratic primary. "We need to be perfect, and we will be perfect."
The governors class of 2019 could look very different if Abrams, Hallquist, and their fellow women candidates succeed in November.