More Than 200 Women Won Their Primaries — Here's What That Means For November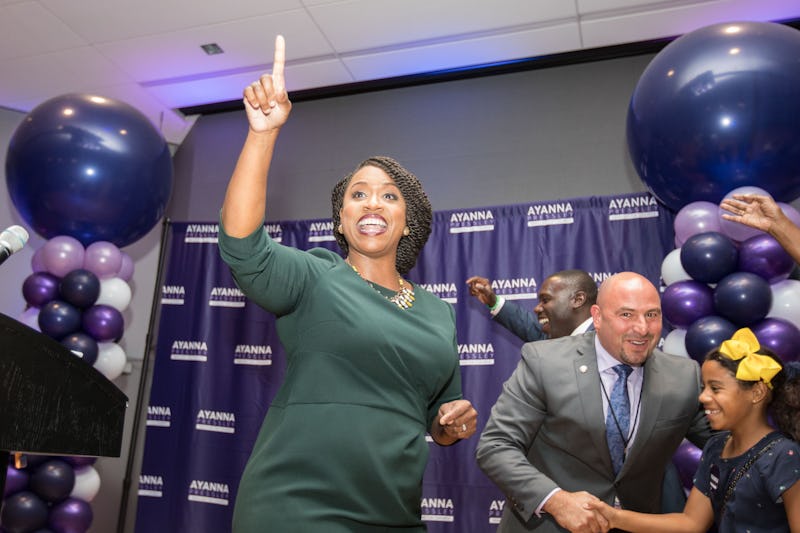 Scott Eisen/Getty Images News/Getty Images
The official "year of the woman" may have taken place back in the 1990s, but 2018 is certainly a contender to claim that label for itself. Across the country, women won congressional primaries in record-breaking numbers, a potential harbinger of notable gains for female representation in both the House and the Senate.
There will be a total of 256 women on ballots for the House and the Senate in states all over the U.S., according to CNN. Overall, there will be more female Democratic candidates than Republican ones, with 197 female Democrats winning their primaries and 59 Republicans. The numbers are also heavily skewed towards female candidates for the House — CNN reported that 234 women will have their names on ballots for the House, whereas only 22 will have a chance at the Senate.
There's particular potential for female gains in the Senate, though, because 13 of the women running are incumbents already, according to the Rutgers Center for American Women and Politics. There have never been more female senators than the 23 women serving now, so if the incumbents manage to hold onto their seats — as incumbents are likely to do, according to the Center for Responsive Politics' OpenSecrets.org — and even one of the female challengers or candidates running for open seats wins, that's a historic gain.
Even some of those incumbent seats could be difficult to hold onto, though, a Washington Post analysis revealed. According to the Post, any substantive female gains in Congress would require some serious luck. In the House, the number of women guaranteed or favored to win is just one more than the number of women currently holding office, but there are another 33 women in competitive races. On the Senate side, the number of candidates guaranteed or favored to win is one less than women already in the Senate.
There are also 33 female candidates who are absolutely guaranteed to lose — because, as the New York Times pointed out, they're running in races where the candidates for both major parties are women. That means that even in a miracle election where women won even the most unlikely races they were running in, only 223 could possibly win — and that is highly, highly unlikely to happen.
On the flip side, though, some women, by winning their primaries, have essentially already guaranteed themselves spots in Congress come November. Current Boston city council member Ayanna Pressley, for example, won a solidly blue district in a surprise upset, and she is almost guaranteed to become the first black congressperson from Massachusetts, according to Vox. Democratic socialist Alexandria Ocasio-Cortez, according to the New York Times, is also all but ensured to snag a Congressional seat.
And no matter how many women actually win their races, it's already clear that this unprecedented number of women running — and the unprecedented way in which these women are running — is already changing politics for future generations. According to NBC News, the women running this year have left behind the old "rulebook," which required any female candidate to be far more qualified and polished than a male counterpart. Even if many of these women end up losing their races, they will have already paved the way for someone else similar to run in 2020.