Women's March Turnout Updates Are In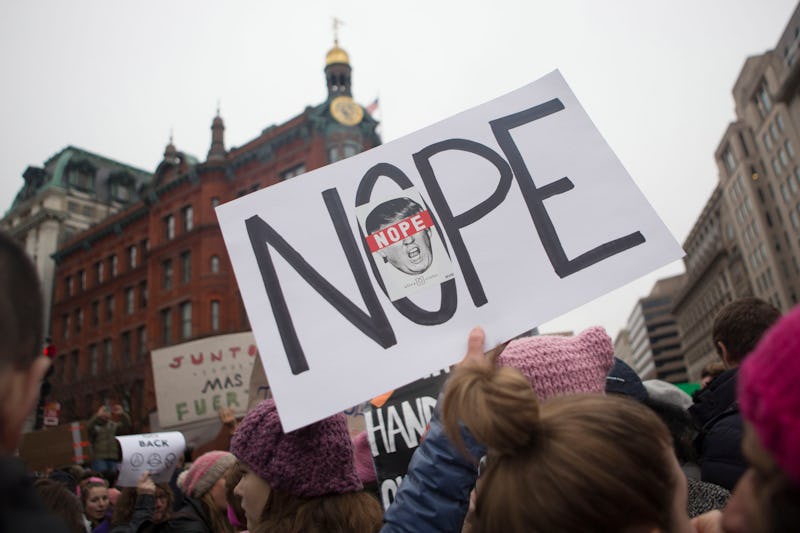 Jessica Kourkounis/Getty Images News/Getty Images
On Saturday, the Women's March on Washington stormed the nation's capital, attracting hundreds of thousands of supporters and easily dwarfing the number of people who attended President Trump's inauguration a day earlier. Although it's impossible to give an exact number, the latest Women's March turnout updates suggest that the protest drew almost half a million people, and perhaps more. That's two to three times more than the number of people who watched Trump's swearing in, depending on the estimate.
Crowd scientists analyzed footage and pictures of both events, and told the New York Times Sunday that they believe roughly 160,000 people watched Trump's inauguration. By comparison, they estimated that at least 470,000 people turned out for the Women's March on Washington; City officials who spoke to the Associated Press also pegged the Women's March attendance at 500,000. These estimates do not include the many, many people who attended Women's Marches in other cities and around the world on the same day.
If the New York Times' numbers are correct, that would mean that the anti-Trump protest drew three times as many people as the inauguration.
However, the Financial Times was a bit more generous to Trump, estimating that 250,000 people watched his swearing in. If that's the case, then Trump's inauguration attracted a little over half the number of people who went to the women's march. That would match numbers provided by a Metro official, who said there were roughly twice as many rail trips on Saturday than Friday.
Regardless of which estimate is correct, one thing is beyond dispute: A lot more people came out to stand united at the Women's March than came to celebrate Trump. Even if we go with the most generous estimate of Trump's inaugural attendance (250,000) and the most conservative estimate of the Women's March (470,000), that would still mean that the protest drew over 200,000 more people than the new president.
Needless to say, this didn't sit well with Trump and his people. White House press secretary Sean Spicer claimed Saturday that Trump's swearing in attracted "the largest audience to ever witness an inauguration, period," a verifiably false claim that was immediately debunked by numerous news outlets. When Trump advisor Kellyanne Conway was asked the next day why Spicer had made false statements to the American people, Conway replied that Spicer hadn't lied, but rather supplied "alternative facts." That response was widely (and rightfully) mocked, with #alternativefact quickly trending on Twitter.
The White House's apparent disdain for the truth notwithstanding, it's encouraging to see the Women's March put together such a well-attended event so quickly. Whether that momentum will be sustained is another question, but for the time being, the Women's March has made it impossible for Trump to ignore the depth of opposition to many of his policies.