Woody Allen's Movie Starring Selena Gomez Is Already Sparking Major Backlash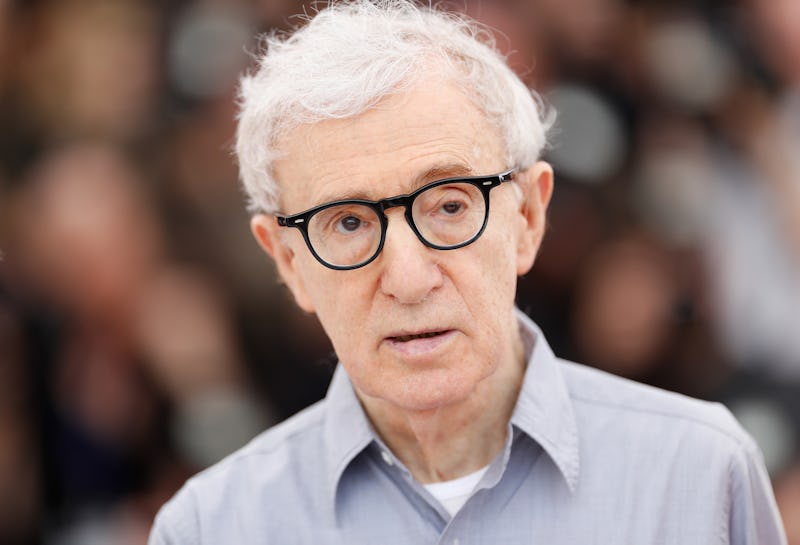 Pascal Le Segretain/Getty Images Entertainment/Getty Images
Even though it just recently started filming, Woody Allen's latest movie starring Selena Gomez is already causing controversy. That's because it's been reported by IndieWire and Page Six that Allen's new film reportedly includes a sexual relationship between a teenage girl and an older man. (Bustle reached out to Allen's reps for comment, but did not receive an immediate response.)
UPDATE, Oct. 27: A rep for Allen told Bustle via email that Elle Fanning's character is not 15 in the movie, nor is she believed to be. The rep also disputed the idea that Fanning's character argues that she's really 21:
"Elle [F]anning's character doesnt 'claim' to be anything. She IS 21. That was how it was written. No one in the film is sleeping with anyone under age."
EARLIER: According to Page Six, Allen's latest movie, which is reportedly called A Rainy Day In New York and is set for a 2018 release, focuses on a middle-aged married man, played by 44-year-old Jude Law, who is sleeping with a 15-year-old actress. In the film, 19-year-old Elle Fanning plays the role of the young star, who is reportedly one of many starlets Law's character, described as someone who "makes a fool of himself over every ambitious starlet and model" is sleeping with.
In one scene, according to Page Six, Law's wife, played by Rebecca Hall, accuses him of sleeping with Fanning's character, something the young woman doesn't deny. Instead, Fanning's character argues that she's really 21. The scene reportedly ends with her asking Law, "Were all these women for pleasure, or were you researching a project?"
While a movie that includes a relationship between a middle-aged man and a much younger woman would normally raise eyebrows, coming from Allen, this is an even more sensitive topic. His daughter Dylan Farrow accused him of molesting her as a child and detailed her account in a 2014 open letter published in the New York Times. (Allen has repeatedly denied these claims.)
In response to the news about the movie plot, one person tweeted, "The new woody allen film features a sexual relationship between a 15 year old and a grown man. 'separate art from the artist' my ass." While someone else wrote, "Woody Allen's New Film Includes a Sexual Relationship Between an Adult and a 15-Year-Old Girl," alongside a GIF that says "pretends to be shocked." Another person tweeted that Allen "is so f*cking brazen. You get accused of sexually molesting one of your daughters, you marry another one and then spend the rest of your life making movies about sexual relationships between adults and children."
The child molestation accusations, which were never prosecuted in a court of law due to "the fragility of the child victim," may not have hurt Allen's professional career, but they have impacted how some people see his movies, which often include an older man seducing a much younger woman.
In 1979's Manhattan, a then 42-year-old Allen played a man going out with a teenage girl, played by then 18-year-old Mariel Hemingway. In his 2009 movie Whatever Works, Larry David plays a middle-aged man who marries a younger woman, played by Evan Rachel Wood who was 22 at the time, 40 years younger than David. While these were movies, in 1992, Allen made headlines for his relationship with his then-girlfriend, now-wife Soon-Yi Previn, who was Mia Farrow's adopted daughter. She was just 22 years old when they first started dating — 34 years younger than Allen.
Even more recently, 2014's Magic In The Moonlight and 2015's Irrational Man each feature Emma Stone in a romantic relationship with older men. In Magic in the Moonlight, she's with Colin Firth, nearly 30 years her senior, and in Irrational Man she's having an affair with Joaquin Phoenix, who is 14 years older.
Complex's headline for the review of Irrational Man was "Woody Allen Should Retire," noting that the "older-man-younger-woman fantasy is troubling, especially in light of the filmmaker's recent controversy." Now it's another controversy that's making the news about Allen's latest movie even troubling: the recent sexual harassment and assault allegations against Harvey Weinstein in the New York Times and The New Yorker, which was reported by Allen's son Ronan Farrow. (A spokesperson for Weinstein told both publications, "Any allegations of non-consensual sex are unequivocally denied by Mr. Weinstein. Mr. Weinstein has further confirmed that there were never any acts of retaliation against any women for refusing his advances.")
Beyond the familial connection to the Weinstein story, Allen had his own relationship with the producer. According to the BBC, Weinstein was credited with reviving Allen's career in the '90s following the first allegations that he had molested his young daughter. Those allegations came to light after Farrow left Allen for having an affair with Previn.
Last week, when asked about the Weinstein at the premiere of his movie Wonder Wheel, Allen said he hadn't heard any allegations of rape and sexual assault against Weinstein. "The whole Harvey Weinstein thing is very sad for everybody involved," he told the BBC. "Tragic for the poor women that were involved, sad for Harvey that [his] life is so messed up."
Allen then warned against a "witch-hunt atmosphere" in Hollywood, where "every guy in an ­office who winks at a woman is suddenly having to call a lawyer to defend himself. That's not right either." Allen would later release a statement to Variety coming down more harshly on Weinstein, calling him "a sad, sick man."
Allen has yet to comment on the reports that his new movie includes a sexual relationship between a teenager and an older man. (Page Six said Allen's reps didn't respond to requests for comment.) But, whether Allen does or not, it won't stop others from talking.