You Can Now Buy Soylent At Some 7-Eleven Locations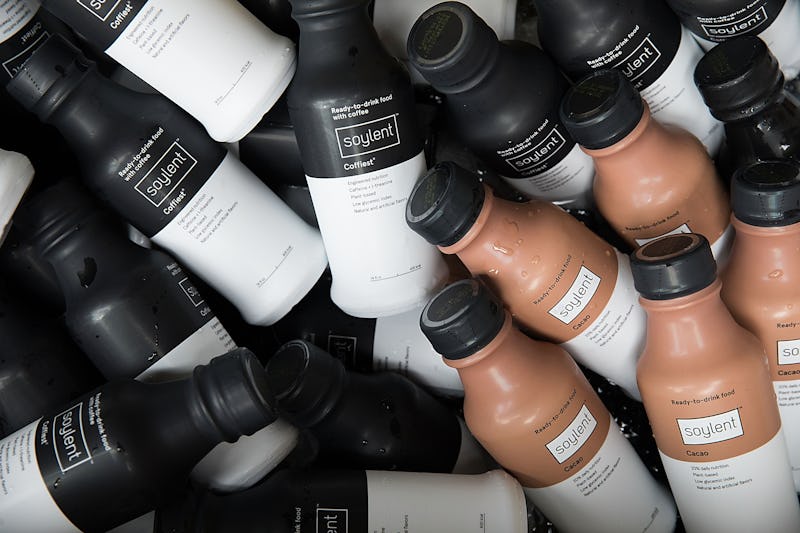 Rick Kern/Getty Images Entertainment/Getty Images
Growing up in "middle America," I associated 7-Eleven with summer-time Slurpees, always in my favorite Ú Red Cherry and Coca-Cola, swirled — always consumed in the sunbaked parking lot. The next generation of convenience store kids may have a slightly different experience, becausesome 7-Eleven locations have started selling Soylent.
On Jul. 10, Soylent will begin a retail trial run at 18 7-Eleven locations throughout Los Angeles, with three flavors — Coffiest, Cacao and Chai — presumably taking their place on the shelf next to other liquid supplements and meal replacements. "It is exciting that the demand for our breakthrough line of drinkable meals has moved beyond e-commerce," said founder and CEO Rob Rhinehart in a press release.
First introduced in 2014, Soylent, a meal replacement drink that promises 20 percent of your "daily nutritional requirements," quickly gained the attention of many. Soylent's website, for instance, features the tag line, "Eating isn't easy."
Soylent founder Rob Rhinehart gained inspiration for his product's name from his favorite book, the 1966 novel Make Room! Make Room! Set in a dystopian, overcrowded 1999, the world's masses survive on Soylent, made from soy and lentils.
Keeping with its namesake, one of the initial draws of Soylent was its inevitable necessity as global warming ravages farming and the human population continues to rise. Not only is it a complete meal replacement, Soylent is also plant-based, causing less of a strain on the environment.
Although its role as a dystopian meal replacement is (hopefully) far off, Soylent has instead become a cult favorite for people who prioritize convenience over all else. Curious? For the full list of 7-Eleven locations selling Soylent, check here.