This Is The Catchy, Feminist Rallying Cry You Need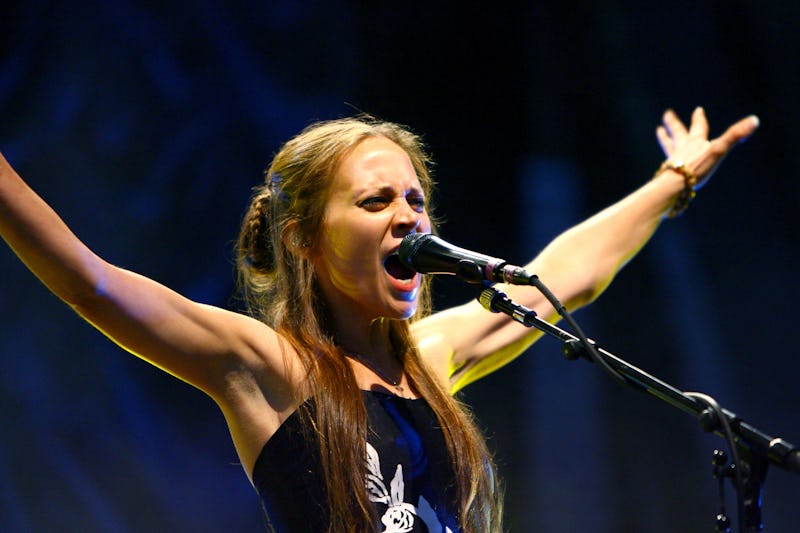 Scott Wintrow/Getty Images Entertainment/Getty Images
In a world cluttered with nonstop news alerts, social media updates, incoming emails, and all the other litany of distractions, Fiona Apple knows how to cut through the noise. Her latest release is entitled "Tiny Hands," and yes, it is about the President-elect's meme-generating fingers.
Set to coincide with the Jan. 21 Women's March in Washington, D.C., Apple doesn't attempt to tell a long or complex story in this one-minute tune. Rather, she sums up what millions of women no doubt feel about Trump's (most?) controversial election scandal: "We don't want your tiny hands/anywhere near our underpants."
The track, produced by Michael Whalen, samples the infamous comment Trump made back in 2005, when he told then-Access Hollywood host Billy Bush that women let famous men do anything to them, including "grab 'em by the p*ssy." That line is dropped into the track, woven between Apple's repeated statement.
"Tiny Hands" is meant to work like a chant, and its simple beat and repetition make it easy to remember. Zeroing in on the topic of decrying sexual abuse and harassment will also probably earn the track widespread favor from those attending The Women's March.
Apple has opened up on her views of Trump before, and there's no love from the singer toward the soon-to-be 45th POTUS. Back in December, Apple released a Christmas non-tribute to Trump, set to the tune of "Chestnuts Roasting On an Open Fire." Lines include "You'll cry creepy uncle, every time he [Trump] arrives," and "every working man is gonna cry/when they learn that that lech don't care how they live or if you die." Apple doesn't pull any punches here.
As Apple fans know, and many writers have pointed out, the '90s hit songwriter has stayed out of the celebrity spotlight for the better part of two decades. She's been the poster child for quintessential artistry, for producing music that is unconcerned with anything but itself.
And though Trump has proven a gravitational force too strong for even a recluse like Apple to ignore, her passion remains unchanged. Watching her Christmas song performance, it is impossible not to sense the genuine rage and sorrow behind Apple's notes. And though her declaration on "Tiny Hands" is simple, the clear-eyed, unemotional statement on repeat is one of maturity.
Here is a man who brags about sexual assault. Apple's response is resolute: "We don't want your tiny hands/Anywhere near our underpants."