These 25 Female Governor Candidates Won Primaries & Could Make History
Without federal abortion protection, governors are now the last line of defense.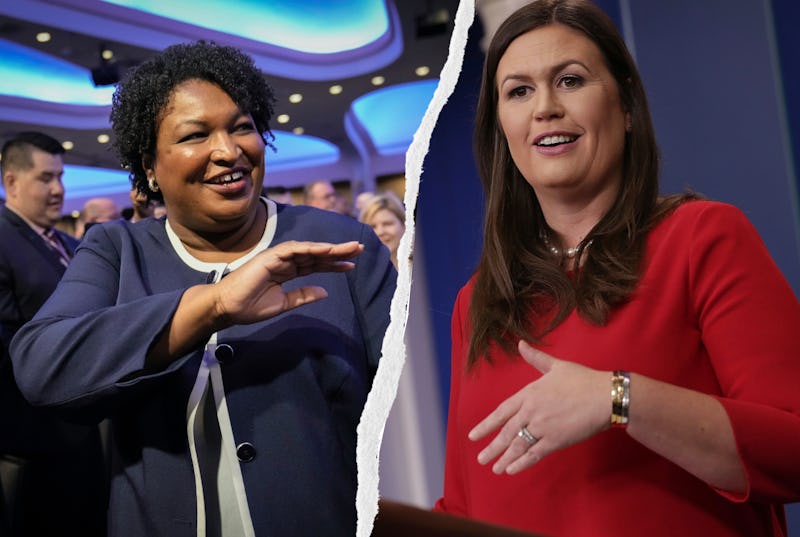 Drew Angerer/Getty Images News/Getty Images; Chip Somodevilla/Getty Images News/Getty Images
Next month, 36 states will elect governors. Twenty-five women have won their Republican or Democrat primary elections for the right to compete in those gubernatorial races, topping 2018's record of 16. In 2018, nine of those 16 were elected governor, which is the current record for most woman governors serving at once. If current projections prove true, this year's candidates would boost that number and diversify the position.
Every woman governor in U.S. history has been white or Latina. The current race is still overwhelmingly white, but candidates Stacey Abrams of Georgia, Deidre DeJear of Iowa, and Yolanda Flowers of Alabama could become the first Black women elected to the role. And we've only seen one LGBTQ+ woman — Kate Brown of Oregon, who identifies as bisexual — elected governor. That's poised to change this year, with three LGBTQ+-identifying women on the ballot. Two of them, Oregon's Tina Kotek and Massachusetts' Maura Healey, could make history as the nation's first lesbian governors.
When the U.S. Supreme Court overturned Roe v. Wade in June, jurisdiction over abortion access was punted to state governments, making this year's gubernatorial elections more important than ever since governors can be the medical procedure's last line of defense. Already, 13 states have nearly ceased all abortion services — and, as a reminder, the vast majority of Americans think abortions should be legal in some or all cases.
Below, we've included key information about the 25 women running for governor and their chances of winning.
This article was originally published on