Alison Leiby Doesn't Want To Be "The Abortion Lady" Forever
The comedian has fashioned her unremarkable story into a show. New Yorkers can't get enough.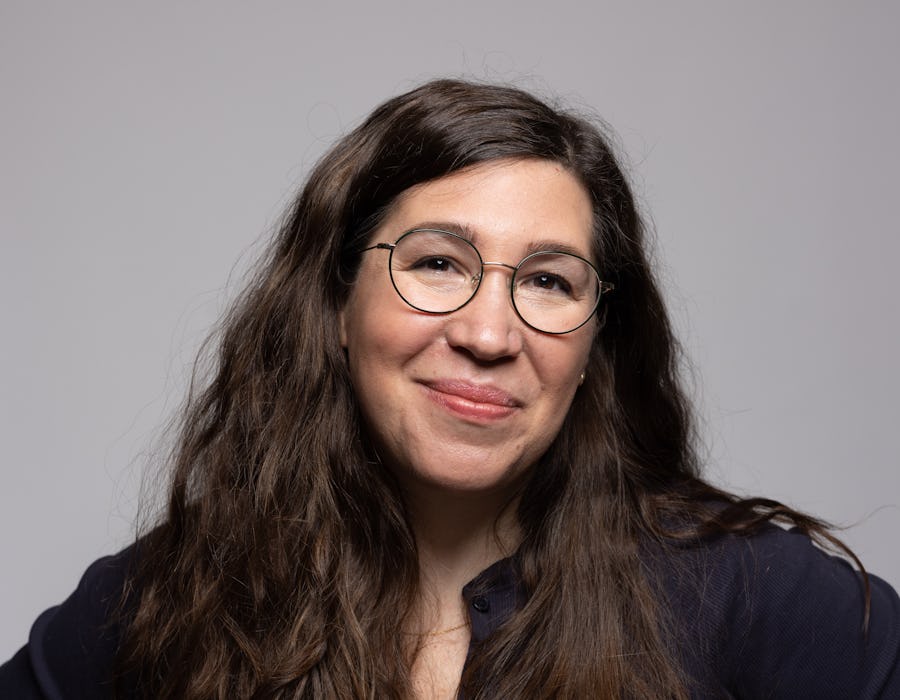 Arin Sang-Urai
Alison Leiby understands if you're not exactly eager to settle in for a comedy show about abortion, something she acknowledges in the title, Oh God, A Show About Abortion. But the Brooklyn-based comedian has always processed the more high-stakes moments in her life by talking about them, ideally on stage, in front of an appreciative audience. Why should this be any different?
Take, for example, her path to comedy, which started after a back surgery at age 19. Leiby had surgical complications from the procedure, including a blood clot. She calls the near-death experience "horrific," and although she was able to process it therapeutically, she couldn't fully move forward until she'd alchemized it into art. But life went on. She graduated from college, interned at The Onion, and worked a few odd jobs. "But I was still hung up on how to creatively process this huge moment from my life," Leiby, who's now 38, tells Bustle. Then, after listening to the storytelling podcast The Moth, she signed up for a storytelling class with Kevin Allison. During the final session, students were asked to perform what they'd been working on. For Leiby, talking publicly about the blood clot felt cathartic. It also served as a gateway to stand-up comedy.
Since then, she's racked up writing credits on shows like The Marvelous Mrs. Maisel and The Opposition with Jordan Klepper. And in late April, she premiered Oh God, A Show About Abortion at New York's Cherry Lane Theatre, which has been extended until June 30. When the show was still in previews, the draft opinion from the Supreme Court leaked.
A 2021 set for Comedy Central's stand-up series Tight Five
To be clear, the similarities between Leiby's back surgery and abortion stop at her creative response. "I came, I did it, and I kept going on with my life," she says of her abortion. "And it was like, well, that in itself is kind of the story. The mundanity of it was the thing that felt the most shocking." Of course, that's not the universal abortion experience, and that in itself is the point of sharing these experiences. "We only talk about abortion when it's in crisis, when it's being legislated away," she says in the show. "The more we talk openly and honestly about abortion, the less of a catastrophe it'll be."
Her 70-minute performance, which is presented by Ilana Glazer, is ultimately less about finding answers to some of the rhetorical questions she poses to the audience — "Why is it that in New York City in 2022, I can get Botox from my dentist but I can't get an abortion on demand from my OB-GYN?" — than it is about starting conversations. About abortion, sure, but also about how we talk about parenthood in 2022.
Leiby does not want children, and when she talks about this, she does so with a balance of self-assuredness and lightness. "We need to be more accepting and supportive of people who don't want a traditional biological family with a partner and children," she says. "We are an important part of society. I fulfill a lot of important roles for the children that are in my life," she tells me. "And I love kids. It's just a personal choice. And if we respect those choices a bit more, and take the pressure off of women, that [will make] abortion a bit easier to swallow for people, because it's not like, 'Well, you're not doing the one thing you're supposed to do.'"
"I don't know if I want to be the abortion lady forever," she says. "In a perfect world, this [show] wouldn't be interesting enough to see."
I'm perhaps most impressed by the balance Leiby strikes between telling her story without ignoring others' experience.
For example: Six out of 10 people who seek abortions are already parents, which Leiby mentions both in the show and in our conversation. Getting an abortion is not always an easy decision to make, nor is it always easy to access the procedure. She mentions she's been saying "women" throughout the show, although not only cisgender women get pregnant and need abortion care. Leiby acknowledges this deliberately toward the end of the show, "where it's not going to feel like, 'At the top, I'm going to get this out of the way.'"
In the last 30 minutes or so of the show, she talks more about her family. Leiby is an only child, and while she and her parents don't frequently discuss their personal lives, they do talk politics. It's clear she comes by her passion for advocacy honestly. Her mother, who attended the 1992 March on Washington, came to the opening night of Oh, God wearing a "Bans Off Our Bodies" pin. This would be touching enough on its own, but the kicker of the show is actually not about Leiby's abortion, but the reveal that her mother had one, too, before Roe v. Wade. She's rarely, if ever, talked about it.
Hearing about her mom's pre-Roe experience puts the context of the show in stark relief. Yes, Leiby performs the show in New York, one of the first states to codify the right to abortion, but in a few short weeks, Roe v. Wade is likely to be overturned and more than 20 states will likely ban or severely restrict access to the procedure. New York will likely become a safe haven for those seeking it. It feels like we're all bracing ourselves for the news.
Leiby's opening night welcomed attendees like Tituss Burgess, Sarah Cooper, and Cynthia Nixon.Daniel Rader
Leiby with longtime collaborator Ilana Glazer, who presents Oh God, A Show About Abortion.Dominik Bindl/Getty Images Entertainment/Getty Images
For now, Leiby is going to keep getting on stage six days a week (and twice on Saturday) to reiterate the importance of abortion access — no matter who wants one or why. "Any reason you need an abortion is an important reason. I needed an abortion 'cause I didn't want to be pregnant. That's enough," she says. On June 4, she and her best friend, pastry chef and writer Natasha Pickowicz, hosted a bake sale between her matinee and evening performance. Participating restaurants and chefs included Marlow & Sons, Claire Saffitz, Sophia Roe, Carla Lalli Music, Never Ending Taste, and more, and all proceeds were donated to the Brigid Alliance.
Leiby's also thinking about different ways to tell her story, be it a book or something else entirely. She's keen to write for TV again — eventually. "I don't know if I want to be the abortion lady forever," she says. "In a perfect world, this [show] wouldn't be interesting enough to see."