Katie Piper Is Still Figuring It Out, Too
How the campaigner found her purpose – even if a work-life balance remains elusive.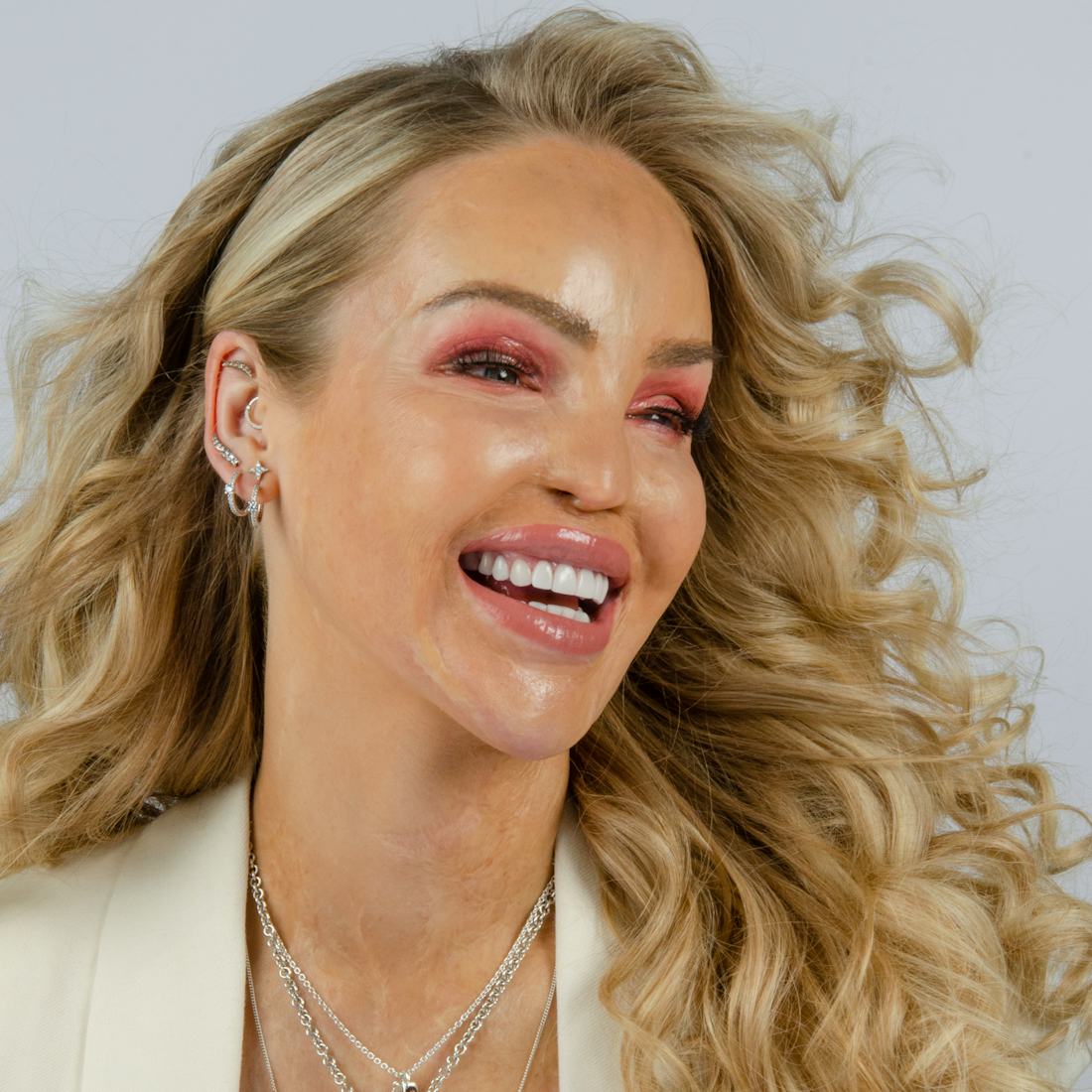 Pandora
Katie Piper has big plans for International Women's Day. Alongside the likes of model and activist Munroe Bergdorf, climate campaigning model Arizona Muse, Slay in Your Lane co-author Elizabeth Uviebinené, and Love Island alum Malin Andersson, the writer, campaigner, presenter, and Pandora ambassador will take part in Step Forward Summit at London's Design Museum on March 10, featuring panels, discussions, and conversations to empower women in the workplace. Piper's panel will be about the "power of authenticity and self-worth." But in truth, Piper and her work celebrate women every single day.
"There's the obvious figures," she says of the women who most inspire her, "the people that have nurtured me: my mother, my sister. But I actually think of the women I meet through my own charity, who have been afflicted with burns, often through things like domestic violence, who have had to carry on for the sake of their children. They've gone on to rebuild their lives. And you just think, wow. They don't necessarily have the biggest platform, but they're getting on with their lives, and going through extraordinary stuff, all the time. That resilience is very inspiring."
Piper's career as we now know it began in earnest with the BAFTA-nominated film Katie: My Beautiful Face. In it, she documented her experiences following a maliciously targeted acid attack that left her with serious injuries and permanent scarring. She has undergone hundreds of operations to repair the damage to her face and eyesight — a process that continues to this day — but most astoundingly of all, she has done it with the confidence, conviction, and positivity many could only dream of.
"I never relive it," she tells me of 2008's traumatic events. She's far more interested in platforming others, looking forward, and amplifying the work of her charity, the Katie Piper Foundation, and the inspiring individuals she meets along the way. In February 2022, she was awarded an OBE, presented to her by Princess Anne, for her services to charity. Even her partnership work, with Pandora, for instance, has a deeper meaning. "It's really great to work with a brand that gives me free range creatively," she explains. "I'm not Photoshopped; I'm not edited. I can actually be authentically myself. It means a lot, not just to me, but other people watching me as well. I think it's quite powerful, and it's an example to other brands."
Piper is currently between visits to the United States, where she's filming her upcoming documentary, Babies Behind Bars. As the title suggests, it will capture Piper in conversation with incarcerated women across the country as they navigate pregnancy during their prison terms. Since lockdown lifted, Piper has also been volunteering at a women's prison in the UK, too — something she finds hugely fulfilling. "I get to meet a lot of different women," she says, "a lot of them are victims themselves... Victims of domestic abuse, victims of drugs. It's rewarding and really insightful." Her experiences prompted her to dig deeper. "The ultimate question became: 'Should a child ever be in prison?'" she tells me. "The answer is in some states, that does happen; [they'll stay there] with the mother. In other states, they are taken away."
Though that particular project is still a while off — due to air in 2023 — Piper has also achieved another major milestone: her first children's book. Titled All You Need, the story follows Teeny Mouse and her quest to become braver and more courageous. No matter where she looks, Teeny Mouse can't seem to unearth a secret key to unlock her inner courage, but in the end, she learns that these qualities have actually been inside her all along. Piper sees the fable as a continuation of her work around affirmations.
"My own children, who are 5 and 9, have naturally been asking me questions, like 'What is an affirmation? How do I do it? Where do I find it?' I thought, 'You know what, I'm going to make something that they can use as a tool.' That's how the idea for the book was born. Within the text there are lots of 'hidden' affirmations for children to take on board and to help them start understanding how much power and control they have and how they can change their mindset."
"Affirmations are a big part of my life," she tells me. Three of the 13 books she has published are about exactly about that, in fact, including Start Your Day With Katie: 365 Affirmations for a Year of Positive Thinking, A Little Bit of Hope, and A Little Bit of Faith. Of course, affirmations are more mainstream today, but Piper has been passionate about the power of positive thinking and affirmations for more than a decade.
"I think whether people realise it or not, they've been affirming all their lives," she says. "Often, it might be negative affirmations: I don't look good enough; no one likes me; I'm going to get this wrong; they're not going to protect me," she adds, offering a handful of examples. "They're all affirmations, but they're just negative ones, and if we keep telling ourselves that, we end up believing that and we just fit into that mould. It's really limiting. I was brought to positive affirmations through a traumatic experience, where I needed to really change my mindset. I knew I needed to go up against something that felt bigger than me. What it taught me was: Actually, nothing's ever bigger than you."
Speaking to her, with her unbridled and infectious enthusiasm for life, I'm taken about by just how much she takes on and how she does it. How does she balance it all, I ask. "I don't!" she says, laughing. "I think it's really important to be honest because I hate reading those interviews where you feel like: 'Oh, some women have it all, and they're doing it so well.' And then you feel like you're doing it wrong. I'm always late to the school run, and I'm always rushing to sports day. I'm always replying to emails at 1 a.m. I can only do one thing really well: either career or home life. One suffers when the other one's going well. If anyone has the answer [to balance], please share it!"
As for what brings her joy, Piper is clear: "Family is a really big thing for me. My husband, the children, my immediate family, as well as my parents, the extended family. For Valentine's Day, I got some Pandora charms with everyone's letters on, a necklace for my husband and bracelets for the girls… Family, love, and health; that's the most important thing of all."