How Erin French Created A Culinary Pilgrimage To Rural Maine
In her debut memoir, the restauranteur charts her unlikely path to freedom.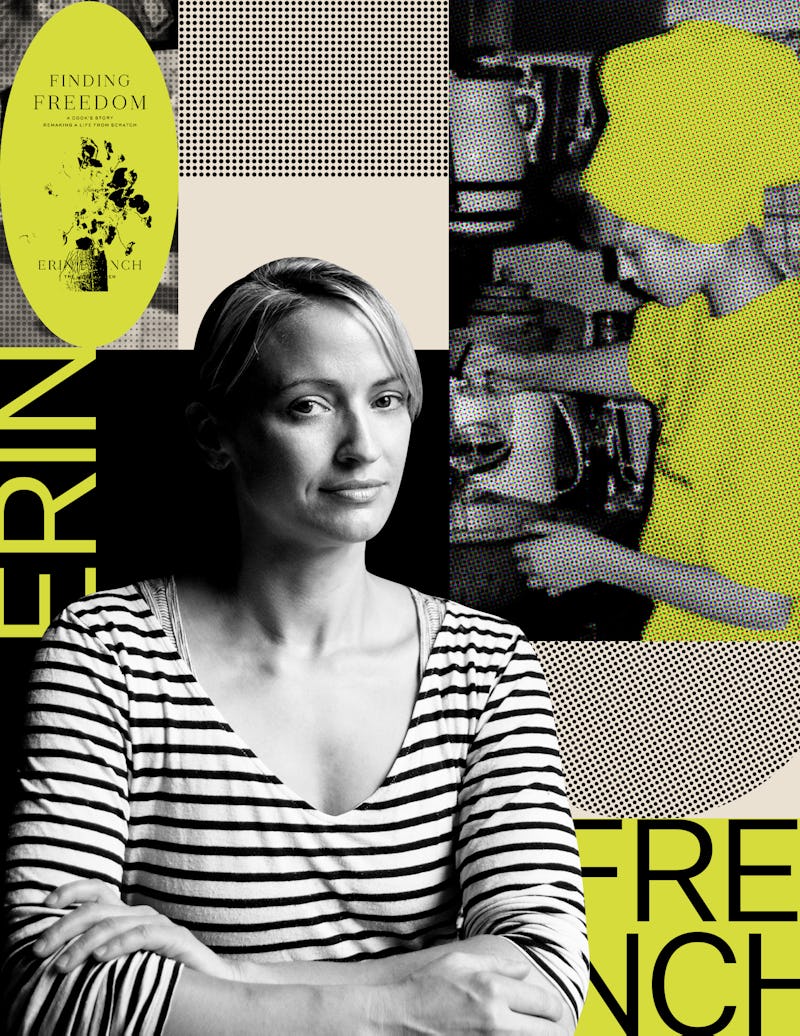 Greta Rybus; courtesy of Erin French
One afternoon in 2013, Erin French took her 11-year-old son, Jaim, hunting for wildflowers. She was staging and serving a pop-up dinner at a local farm that evening, and she needed centerpieces. With their rescue dog, Penney, the pair traversed a horseshoe-shaped cove in Maine's rocky coastline. As Jaim dug in the sand, French foraged for wild purple thistle before spotting some "mystery stalks" crowned with "lime-green baubles" that could round out the bouquets.
"That's quite an arrangement!" a friend remarked during dinner that night. "Is it a joke?" Unbeknownst to French, the mystery stalks were a local breed of poison ivy. It was too late to swap them out; the damage was done. She woke up the next day covered in rashes.
This poison ivy — beautiful from the outside but functionally toxic — was an apt if accidental metaphor for the previous year, when her first restaurant took off and her marriage fell apart. French, then 33, had recently left rehab for a prescription drug addiction. When she'd entered that spring, her ex had closed her restaurant, fired its staff, and set in motion a painful custody battle over Jaim. But that summer, she was starting over. She'd created a successful string of pop-up dinners, which she prepared in a 1965 Airstream trailer and hosted at local farms. She was proverbially mid-exhale.
These stories are some of many documented in French's unsparing new memoir, Finding Freedom: A Cook's Story; Remaking a Life from Scratch, which chronicles her young adulthood, addiction, and culinary reawakening. In sparse, conversational prose stacked with country-lyric analogies, she meets readers at her most vulnerable. Like Stephanie Danler's Stray and Michelle Zauner's Crying in H Mart, the book uses food to capture breaking points and days of wonder. Today, French runs the world-class dining destination The Lost Kitchen in her hometown of Freedom, Maine.
"Over the years, as people found snippets of the story, they'd come to me and share their experiences," says French over a video call in late March. "You couldn't imagine how low my life was. I knew I had something inside of me that I could offer to others, that could give them hope."
Finding Freedom is her first memoir, following a critically praised 2017 cookbook. She compares her writing process to composing a dish. "I trust in the ingredients," she says of her cooking. "Whatever's in season goes together." Writing a memoir, she realized, would come together because the stories already existed.
By 2014, French had saved enough money to open another physical space. "We thought we'd be this quiet, casual cafe in the middle of nowhere, and neighbors would come by," she says of The Lost Kitchen, which is located in a renovated mill. But patrons insisted otherwise. In 2017, the restaurant received 10,000 calls in just 24 hours on April 1 — the first day of the season — which crashed the phone lines. French pivoted. Now, aspiring guests mail postcards to Freedom, Maine, with their name and phone number, and reservations are confirmed through a lottery system. French selects 40 diners for each night to experience the prix fixe, multi-course menu. "I have 60,000 postcards sitting in my attic right now," she says.
On the postcards, people organically started sharing stories, and so at the end of each night, French reads guests' notes aloud to the group. "One woman brought her sister to dinner, because her sister was having her stomach removed due to cancer, so she had her last meal at The Lost Kitchen," she says. "Two sisters who discovered each other through an ancestry website met here for the first time."
Debbie Bamberger has been chosen twice from the lottery. She remembers grocery shopping in Berkeley, California, where she lives, when she received a phone call from Maine. "I pick up the phone and she goes, 'Hi, Debbie? This is Erin French,'" Bamberger says. "I was like, 'Oh my god, you're calling me yourself! I'm gonna pee!' I felt like the biggest star in the world was calling me on my phone in the middle of Whole Foods."
Bamberger, an artist and nurse practitioner at Planned Parenthood, says The Lost Kitchen's vibe differs from other fine restaurants. "It's an open kitchen," she says of the layout, "so it really feels like you're in Erin French's house." She describes her meals in superlatives, from "the most amazing cheese plate" to a bone marrow and cheese appetizer that was "the most succulent thing I've ever had." There was a "fresh celery and leek soup, with smoked ricotta, lobster, and brown butter" prepared in Bamberger's bowl, and lime-basil palate cleansers served between courses.
French never attended culinary school and prefers the title "cook" to "chef." Today, most of her staff are women, many of whom started out as friends. Her mother, Deanna Richardson, runs the wine cellar downstairs, where guests can preselect their drinks before dinner.
"Our back-of-house staff and dishwasher get paid as much as the front-of-house staff, which doesn't happen in normal restaurants," French says. "I knew the way I'd felt as an employee," she adds, a subtle reference to years spent working at her father's diner. "I would want to feel respected and enjoy going to work." (Of her decision to portray her father in a less-than-flattering light throughout the memoir, she says: "I wanted to be mindful of people's privacy, but when there's abuse or someone has done something that's harmful, that's fair game to talk about.")
As a practiced reinventor, French wasn't defeated by the COVID-19 pandemic. Last summer, she served outdoor lunches in lieu of dinners, to help comply with Maine's pandemic restrictions, and ultimately hosted about 12 outdoor dinners in three newly built private dining cabins. (Post-pandemic, she plans to use those spaces as lodging for out-of-town guests.) And to diversify their revenue stream, she also launched a farmers' market online, where customers could buy produce directly from farms that supply ingredients to the restaurant. "We moved over half a million dollars of local food," she says.
During our video call, French speaks over the squelch of plastic packing tape on cardboard boxes. For the holidays, she organized an online market featuring "Maine-made" goods from women makers, another pandemic side-business. The next market goes live April 17, so line cooks are now making UPS labels, and front-of-house staff take inventory. "We have an entire shipping department here," she says.
This summer, The Lost Kitchen will celebrate its 7-year anniversary. French, for her part, has turned down opportunities to scale the business despite its cult following. And now, instead of foraging for poison ivy herself, French sources centerpieces from one of her servers, Ashley Savage, who's also a flower farmer. "I have such a village here," she says of Freedom. "I can stay surrounded by a support system, grounded in this place."