Here's Why You Should Be Shopping GreenPan This April
They're so durable you can use metal utensils on it, and a bunch are dishwasher-safe.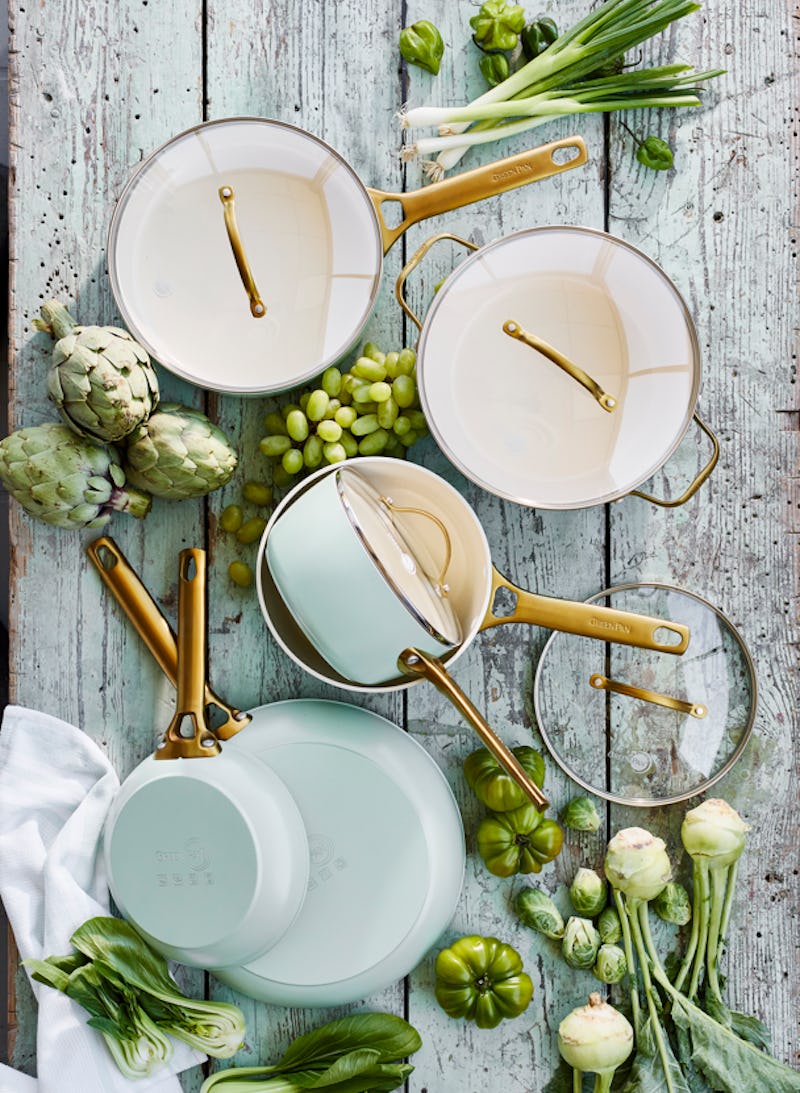 GreenPan
We may receive a portion of sales if you purchase a product through a link in this article.
Whether you're looking to upgrade your own cookware or snag a set for someone else (reminder: Mother's Day is just around the corner), you'll want to check out the brand GreenPan right now. Not only has GreenPan been perfecting its nonstick, non-toxic ceramic cookware for over a decade — for which it has won numerous awards for quality, innovation, and sustainability — but its pots, pans, and appliances come in gorgeous colorways that will take your kitchen decor to the next level. The brand is currently running a 30% off sale on its frypans, but deals go up to 40% off select items. Plus, in celebration of Earth Day, the brand will plant one tree for every order placed on its website for the entire month of April.
FAST FACTS:
The first toxin-free, nonstick cookware brand
Durably built to be scratch-resistant (even with metal utensils) and dishwasher-safe
Made with easy-to-clean ceramic coating
Free from PFAS, PFOA, cadmium, and lead
Sustainably built using recycled aluminum and solar power
For Earth Day 2023, the brand will plant one tree per every order placed in April
Why Use Ceramic Nonstick Cookware?
Traditional nonstick Teflon uses PFAS- and PFOA-filled plastics to create a slippery surface for cooking, but science has found that this cookware can release gasses and chemicals that may pollute our bodies and the environment. (As a result, they've since been deemed "forever chemicals" and can be found in tap water and inside the majority of Americans.)
GreenPan, on the other hand, uses a nonstick alternative made from sand and ceramic that's just as effective. It's also super durable and scratch-resistant enough that you can even use metal utensils on them (a no-go with Teflon). Plus, many of their offerings also oven-safe up to extremely high temperatures, lids included.
What Makes GreenPan Unique?
Originally, the GreenPan referred to a single Belgian-made frying pan. Released in 2007, it was coated in Thermolon— a nonstick alternative to Teflon, and one that wouldn't break down and leech chemicals into your food when exposed to high heat. Whereas most ceramic cookware brands advise that you hand-wash your pots and pans, many of GreenPan's products are even dishwasher-safe. Now, GreenPan is a brand that encompasses a huge range of different kitchen products, from saucepans and Dutch ovens to cake pans and even appliances like slow cookers.
The brand also uses sustainable manufacturing practices like using recycled aluminum, powering its factory with solar panels, and using recycled cardboard during shipping.
Shop GreenPan
"The best non-stick I've ever used. It brings me a lot of ease knowing I'm using non-toxic pans," one reviewer wrote. Another remarked: "Fantastic, durable cookware set! Truly nonstick and retains heat wonderfully." Scroll on for some of the best options:
Studies referenced:
Sajid, Muhammad, and Muhammad Ilyas (2017). PTFE-coated non-stick cookware and toxicity concerns: a perspective. Environmental science and pollution research international, https://pubmed.ncbi.nlm.nih.gov/28913736/
This article was originally published on