2000s Fashion Trends That Should Be Way More Popular In 2022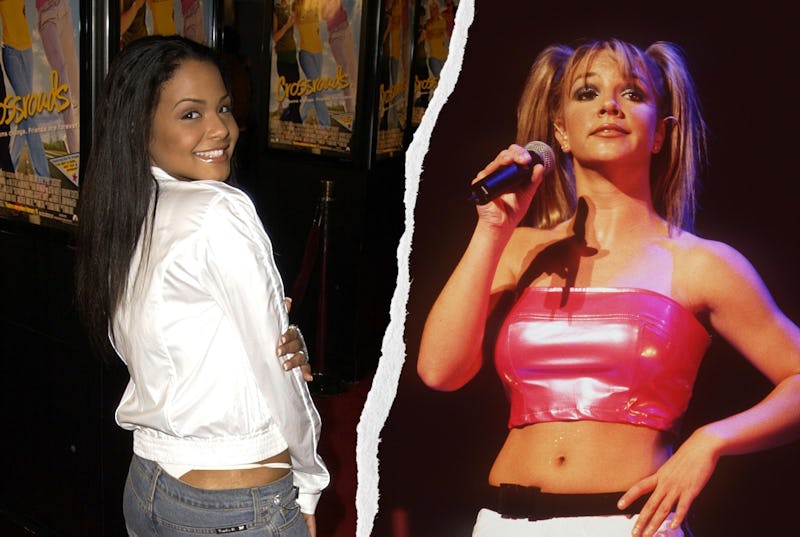 Getty Images
This year has been full of fashion trends from the early aughts. Flip-flops, bucket hats, hair accessories, and more have re-entered the lexicon with force, infiltrating nearly every part of the fashion industry. The only thing is, there are some key players that still remain absent from mainstream style. Several underrated 2000s fashion trends are still flying below the radar, but 2022 may just be the year they make their return. But, are you ready?
The early-aughts might not have been known as the most stylish decade in fashion, but there are some staples that you've likely re-discovered as of late. From Juicy Couture sweatsuits to low-rise jeans, these styles might even have become a go-to in your daily rotation at the moment. But are you missing the double-layer polo shirts, two-pocket denim, or tattoo choker necklaces? You're not alone. And it might be time to start mixing them in.
Ahead, you'll find 20 trends — from grunge to boho and everything in between — that you're going to want to bring back ASAP. So, what are you waiting for? It's time to take a deep dive into the 2000s trends that should have been more popular — and hopefully will be soon.
Jeans With No Back Pockets
In the 2000s, along with the popularity of low-rise jeans came denim with no back pockets. With the current wave of sartorial trends focused on paring down, why not do the same and embrace jeans without all the extra details?
Tattoo Choker Necklaces
Though chokers are coming back with great fervor, there's one style that's been largely left behind. The simple tattoo choker necklace was a symbol of the '90s and early aughts. It's slightly grungy, yet sweet, stretch-and-wear quality is a nostalgia nod that deserves a second chance.
Tube Tops
Tube tops were the ultimate throw-on-and-go of the Y2K era. I mean, you don't even have to slip your arms through straps! The true tube top enthusiast, however, will opt for a tight and slightly cropped pull-on top and not a tailored shirt without sleeves.
Baby Tees
The 2000s were rife with tops that were a mix between T-shirts and crops. Re-introducing...the baby tee. Today, you might pair one with high-waisted denim and silk midi skirts.
Polo Shirts
It's time to bring back the true prep staple of the early-aughts: the polo shirt. The decade called for one, two, or even three to be layered at a time — with a popped collar, of course. Whether you prefer a more oversized or a true-to-the-decade baby tee fit, I'm personally yearning for polos to hit their second wind.
Peasant Tops
The peasant top is a '70s revival, popularized a second time in the early-aughts. It's time to embrace it a third time. The peasant top is sweet, romantic, and great for casual looks in need of some personality.
Hair Clips
Be they snap clips, bobby pins, or butterfly flips, the early-aughts were filled with hair accessories. Next time you visit your childhood bedroom, dig through your bottom drawers for left behind hair accessories.
Visible Thongs
Though the '00s visible thong trend seems questionable at best, celebrities like Dua Lipa, Jennifer Lopez, and Hailey Bieber are making a strong argument for its return today. More Thong Content 2022!!!
Cargo Pants
One of Britney Spears' decades-old favorites is now being championed by Bella Hadid, Rihanna, and more style stars today. Pro tip? Go for a slouchier style that plays into the easeful look.
Low-Rise Jeans
We have spent the most recent decade raising the waistline of our pants to epic proportions and now, they're about to hit a low, with the revival of the (somewhat cringe-worthy) low-riser trend. Celebrities like Rihanna, Bella Hadid, Jennifer Lopez, and more are returning to their roots.
Studded Belts
In 2008, no emo kid would dare leave the house without their trusty studded belt. It was the quintessential accessory of the moody subgroup — evidenced best by singer Avril Lavigne. Former emos, it's time to revive the Hot Topic favorite.
Vests as Shirts
You're already well-acquainted with cardigans as shirts — vests deserve the same treatment.
Body Chains
Celebrities are slowly bringing this trend back on the beach, but in the early-aughts, body and belly chains styled with everything from baby tees and jeans to a cocktail dress.
Bubble Hems
The 2000s did it right when it came to volume, be it bell-bottom jeans or (you guessed it!) bubble-hem skirts and dresses. Fans of the trend included Lindsay Lohan, Paris Hilton, and Lauren Conrad (among others).
Capri Pants
It's actually quite ironic that the 2000s brought with it over-long flares (the kind you'd shred on the pavement) and ultra-cropped capris. Dua Lipa has already started wearing these, which means they'll (hopefully) be back on the racks of Zara very soon.
Halter Tops
From 2000 to 2010, we were tying everything around our necks — from halter tops to useless skinny scarves. Halter tops were the preferred strap design, when it came to tanks, dresses, swimwear, and even knits.
Crochet
While Coachella does its part every year to revive the crochet trend, it's getting nowhere near the love this whimsical style deserves. Though celebrities like Beyoncé went bold with tops and dresses alike during Y2K, it can easily mixed into your wardrobe today in a more subtle way.
Statement Belts
Thick, thin, embellished, and colorful belts alike were worn around both the waist or hips — usually atop a shirt or tunic. In short, it was more about the look than the function.
Moto Bags
Though many bags have made their comeback since 2000 (I'm looking at you, baguette!), the moto bag hasn't quite made the leap yet. Made famous by Balenciaga, that very bag is still sold today. That said, you can easily shop similar edgy, studded, leather satchels if you're looking for a new interpretation on the favorite.
Ruched Top Dresses
Consider this the nap dress of 2001. A ruched top allowed for not only a comfy fit, but also an easy throw-on-and-go look that pulled the wearer together instantly.
This article was originally published on