A Recap Of 2023's Wildest Fashion Moments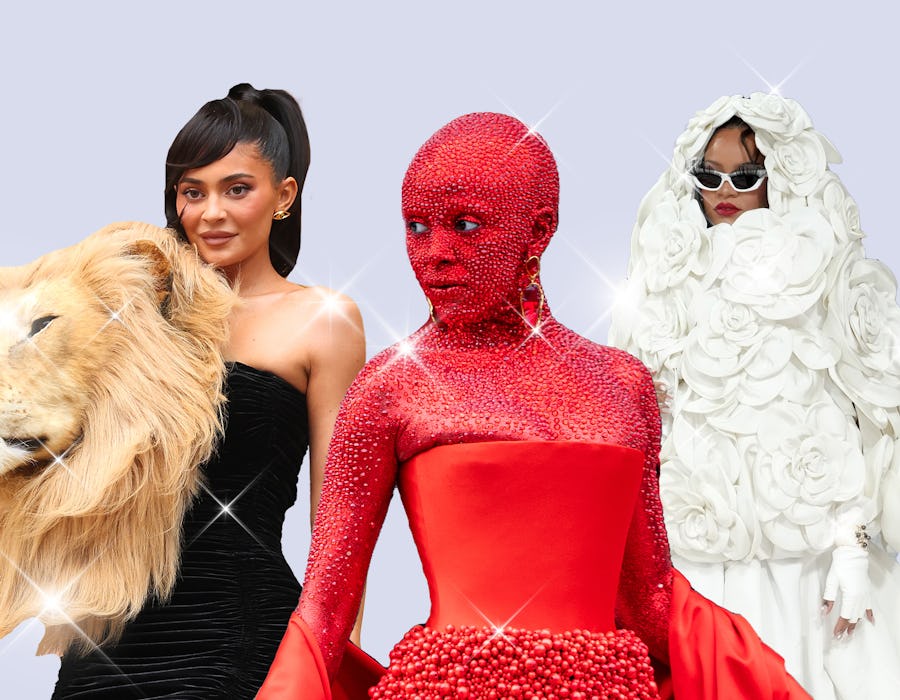 Getty Images
Ah, 2023. The year is officially coming to an end. And because the past 11 months have seen some truly wild and memorable style moments from the biggest stars, we at Bustle thought it was time for a recap.
Fashion darling Rihanna shows out year-round, to be sure. But her biggest style moment of 2023 was when she headlined the Super Bowl. Returning to the stage after a years-long hiatus, she debuted a fiery outfit designed to reveal her second pregnancy. The look was rivaled only by her dramatic Met Gala look, which she attended covered in 3D florals.
Meanwhile, Kim Kardashian, who's accustomed to making an annual splash, didn't disappoint with her Karl Lagerfeld-themed Met Gala ensemble, which harkened back to photoshoots past.
As expected, Doja Cat and Julia Fox — AKA fashion's biggest boundary-pushers — also served some memorable looks this year. But it was Kylie Jenner's lion head dress that was the most heavily memed.
Some style stars, like Margot Robbie and Sofia Richie, became major catalysts for the year's biggest trends: namely, Barbiecore (which started in 2022 and is only gaining traction) and "quiet luxury" (the supposed signature style of the one percent). Ahead, those and more of 2023's buzziest looks.
Kylie Jenner's Lion Head Dress
Following in her sister's footsteps, Kylie Jenner practically broke the internet (or, at least, my side of fashion Twitter) when she donned a scarily life-like lion head by Elsa Schiaparelli during Paris Couture Week.
As expected, the resulting memes about the creation were comedic gold. (And if you were wondering, she is a Leo.) Amid backlash, Jenner later confirmed the oversize corsage was "manmade."
Rihanna's Super Bowl Look
After years of waiting for Riri to perform again, she delivered at the 2023 Super Bowl. But it wasn't just an iconic performance she served. She used the stage and her all-red outfit to announce her second baby with A$AP Rocky. An undeniable moment.
The 'fit included a nippled breast plate and jumpsuit by Loewe, as well as a floor-length puffer coat and gloves by Alaïa
Rihanna's Met Gala Look
A best looks roundup simply wouldn't be accurate without multiple Rihanna mentions. At this year's Met Gala, the Fenty mogul wore an ensemble that was decidedly bridal —the polar opposite of her fiery Super Bowl ensemble.
Rihanna entered the venue on a whimsical note, wearing a hooded cape engulfed in oversized camelias (Lagerfeld and Chanel's symbol) and glasses equipped with faux lashes.
As she ascended up the museum's steps, however, she transformed. Rihanna tossed the eyewear and pulled her shrug down to reveal a low-cut Valentino ball gown. The "Diamonds" singer's maternity style has always been amazing, but this dramatic 'fit was one of her best.
Kendall Jenner's Cheeky Onesie
Kendall Jenner is no stranger to wild, wild looks — especially, at the Met Gala. Remember her slinky La Perla 'fit in 2017 or her crystal-encrusted naked dress in 2021? While the model tends to rock barely-there dresses at the famed fête, this year, she chose a Marc Jacobs onesie covered in black sequins.
The design featured a contrasting collar (à la Lagerfeld), dramatic floor-length sleeves, and lace-up platform boots. Further continuing the no-pants trend she spearheaded, the cheeky one-piece was presented sans pants.
Beyoncé's Tour Outfits
All hail Queen Bey! Her Renaissance World Tour 'fits have been blowing up the internet with each new performance. This Loewe look, which featured trompe l'oeil-style gloved hands, was perhaps the most talked about.
Keen-eyed members of the Beyhive even noticed that the look leaned into the "Renaissance" aspect of the album, referencing the body language of a wildly popular painting during that era: "The Birth of Venus" by Sandro Botticelli. Icon behavior.
Sofia Richie's Quiet Luxury
Sofia Richie isn't so much a one-hit wonder as a fashion phenom. Her much-talked about wedding in April catapulted her straight to it girl status. It also helped propel her signature "quiet luxury" style of low-key neutral ensembles and nondescript fashion items to the forefront of fashion.
One of the outfits that really cemented her status as the face of "stealth wealth" is this floor-length cream dress by Chanel. So chic, so effortless — and so expensive.
Doja Cat's Literal Head-To-Toe Red
According to her makeup artist, Pat McGrath, this look is called "Doja's Inferno" and — well, you can see why. To attend Paris Couture Week, the "Woman" singer matched her body to her bedazzled Schiaparelli skirt.
The beauty look required 30,000 crimson Swarovski crystals to envelope her body and bald head. The photos were transformed into so. many. memes. (Her Met Gala look, where she dressed up as Lagerfeld's cat, Choupette, is a definite runner-up for her wildest 'fit this year.)
Gwyneth Paltrow's Courtroom Style
Another of the year's buzziest style moments came from an unlikely place: court. During Gwyneth Paltrow's trial, in which she was sued for a ski collision in 2016, the Oscar winner wore a series of looks that captured the internet's attention.
From gray suit sets to cream turtlenecks, her immaculate neutral ensembles served "quiet luxury." She won the civil case, BTW.
Florence Pugh's Visible Thong
Queen of sheer dresses Florence Pugh has worn countless see-through ensembles in the last year or so. While last year's pink nipple-baring Valentino dress was the most talked about of the year, it was an exposed thong look that secured the title for 2023. She donned the undergarment beneath a shimmery, bejeweled sheer skirt during Paris Fashion Week.
Kim Kardashian's Pearls
Kim Kardashian always makes waves on the Met Steps. While last year's look — where she borrowed Marilyn Monroe's infamous "Happy Birthday, Mr. President" dress — was perhaps the most controversial to date, this year's choice wasn't spared from fashion Twitter discourse.
The SKIMS mogul stepped out in a Schiaparelli look that was essentially shapewear covered in strings of pearls. Shrewd fans were reminded of another outfit Kardashian wore years earlier: strands of pearls with nothing underneath. She donned the revealing look for her famous Playboy shoot ("You're doing amazing, sweetie!"), which aired on Season 1 of Keeping Up With the Kardashians.
Julia Fox's Horse Girl 'Fit
Julia Fox could easily fill the list of 2023's wildest looks, because she almost never wears anything that isn't controversial. During New York Fashion week, she made headlines daily with a series of especially daring looks.
This one was particularly buzzy: a hooded, gloved top, paired with a leather skirt with butt cheek cut-outs and a horsetail. (A horsetail!) As if that wasn't enough, she also touted a puppy-shaped bag for good measure.
Margot Robbie's Barbie Outfits
Margot Robbie, AKA Barbie herself, took Barbiemania up a notch during the film's press tour, where she recreated some of the Mattel doll's most iconic ensembles. Among her array of all-pink 'fits, a sparkly black evening gown was the most iconic of all.
The mermaid dress, designed by Daniel Roseberry for Schiaparelli Haute Couture, was inspired by the Solo in the Spotlight Barbie doll that came out in the 1960s.
Mud Wrestling At Fashion Week
Elsewhere at NYFW, another runway saw a different kind of performance: mud wrestling. After Alana Hadid (Gigi and Bella's sister) made her runway debut at Elena Velez, the models proceeded to engage in a fake fight on the muddied floor. It quickly lit up fashion Twitter.
Kourtney Kardashian's Kim Costume
Halloween 2023 was rife with remarkable costumes, including Paris Hilton's ode to "Toxic"-era Britney and Camila Cabello's take on The Princess Diaries. But it was Kourtney Kardashian who won spooky season when she trolled her sister Kim.
Kourtney donned Kim's most controversial (and ridiculed) ensemble of all time: the floral Givenchy dress she wore to the 2013 Met Gala. Smartly utilizing her own baby bump, she recreated the look to a T.
Kendall Showed Off Her Butt Crack
A risqué holiday campaign earned Kendall a second spot on this list. The 818 Tequila founder rang in the season with an ad that was festive and utterly NSFW.
For Jacquemus, Kendall flaunted her bare butt, wrapped with nothing but rainbow Christmas lights. The pic, which was reminiscent of big sis Kim's bum-flaunting Paper magazine cover, also broke the internet.
Taylor Swift's Eras Tour Gown
Taylor Swift is having an incredible year — romantically, financially, and sartorially. And while her Eras Tour itself brought a plethora of jaw-dropping, "bejeweled" confections, it was her look for the concert's movie premiere that had Swifties abuzz.
A light blue strapless affair by Oscar de la Renta, her look was a stunner, to be sure. But what excited fans most was how it was utterly (and intentionally) 1989-coded. The color, the hair, and that red lip classic thing? They were clearly 1989 (Taylor's Version) Easter eggs.
Kim Kardashian's Faux Nipple Bra
Less than a month ago Kim dropped a fashion bombshell in the form of SKIMS' Ultimate Nipple Bra — underwire equipped with pointed nipples built right in. Naturally, the item created waves among the style set.
If Kim's 2023 fashion ventures are any indication — which they often are — 2024 will be the nippliest year fashion has ever seen.
This article was originally published on