The Most Iconic Trends Inspired By 50 Years Of Hip-Hop History
The music genre has been serving us iconic 'fits for 50 years and I'll be recreating them forever.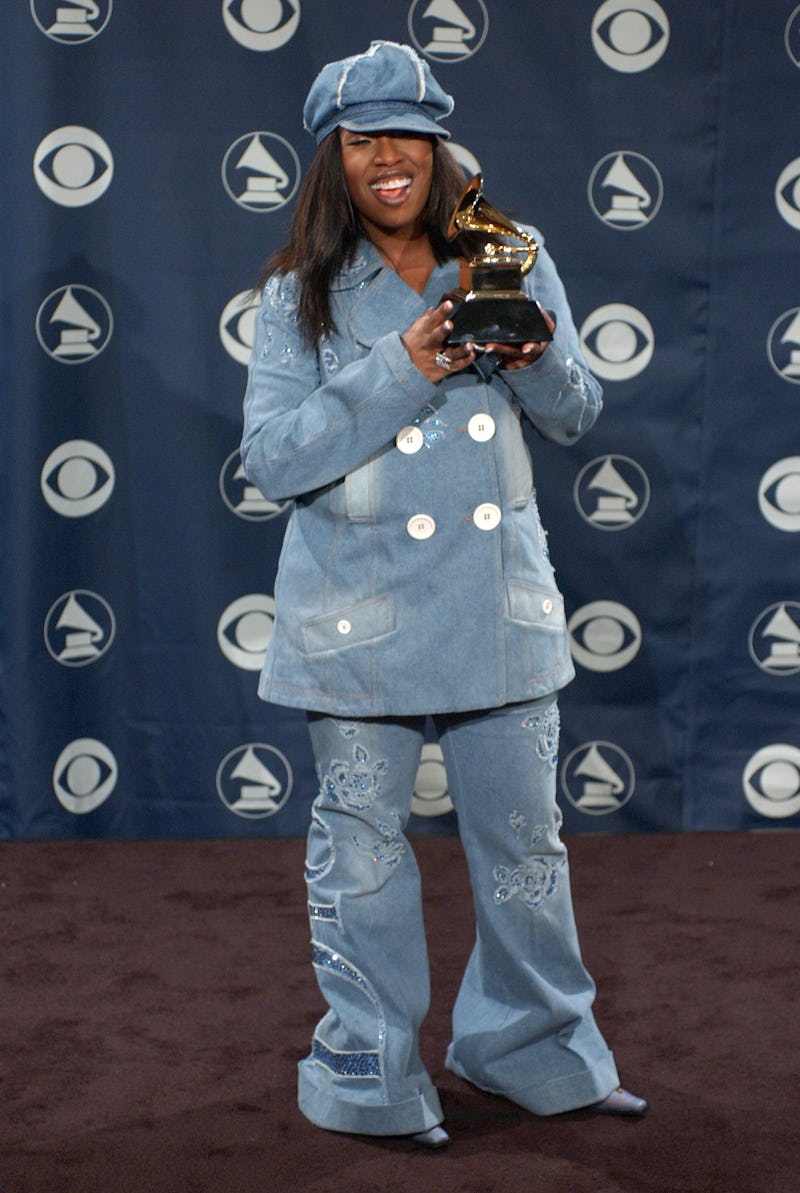 Gregg DeGuire/WireImage/Getty Images
We may receive a portion of sales if you purchase a product through a link in this article.
From Mary J. Blige to Run-D.M.C., artists have long used hip-hop to express themselves well beyond the music itself — particularly when it comes to style. And although hip-hop artists made waves on the music charts early on, the fashion industry was initially hesitant to fully embrace them.
Eventually, however, many did go on to gain recognition and respect from household names like Tommy Hilfiger, Adidas, and Gap — just a few of the many brands who launched collaborations with creators, introducing the burgeoning genre to a new and previously untapped audience.
Then, of course, there were Black and brown designers like Dapper Dan who raised the visibility of trends like logomania and oversize silhouettes, while other brands like Rocawear, Sean John, and Baby Phat helped popularize these styles and had a direct association with the stars who hip-hop fans knew and loved.
This all paved the way for today's giants, many of whom have close relationships with couture houses (see: Cardi B and Schiaparelli, or Pharrell Williams' newly-minted title as Men's Creative Director for Louis Vuitton).
As the music industry celebrates 50 years since the birth of hip-hop in The Bronx, take a look back at the genre's most memorable fashion looks through the years, and see how they can inspire some iconic, modern-day twists of your own.
Embellished Double Denim
Missy Elliott's head-to-toe Dior denim 'fit from the 2006 Grammys certainly turned (and would still turn) heads. The embellished floral detailing, along with the distressed logo detail along the side of the leg, kept the look from going in a more matronly direction. To try it for yourself, play with layering different denim washes that complement each other, and wear the oversize jacket and jeans with a bustier for added dimension. The Canadian Tuxedo never looked so good.
White Out
You can never go wrong wearing all white to build an incredibly chic look. For the 1995 Soul Train Awards, Mary J. Blige layered a longline white trench over a minidress along with sheer white tights and contrasting shoes. Bring the iconic style into the 21st century by layering a sheer ivory trench over a tube dress in the same hue, and top it off with a pair of strappy sandals.
Red Hot Crush
Lil' Kim's super recognizable red look from her 1997 "Crush On You" video is referenced repeatedly today across art, fashion, and music. Though head-to-toe red may feel a bit intimidating, don't be afraid to take this look to the street by playing with texture, from patent leather to velvet dressing. Finish the look with your favorite neutral pump to elongate the silhouette.
Stripe A Pose
Busta Rhymes smashed expectations when it came to what was expected, fashion-wise, from men in hip-hop by playing with style and silhouette, as well as gender. Play with this take on the classic pajama set by wearing an unstructured seersucker suit, and pair it with colorful loafers or slippers.
Beyond The Court
Known for their head-to-toe Adidas and Kangol sets, Run-D.M.C. took athleticwear out of the gym. Update the off-court look by wearing a more subdued take on the tracksuit and its classic vertical branding.