The Skin-Plumping Sheet Mask That Keeps Adut Akech Glowing
The model shares her must-have beauty products.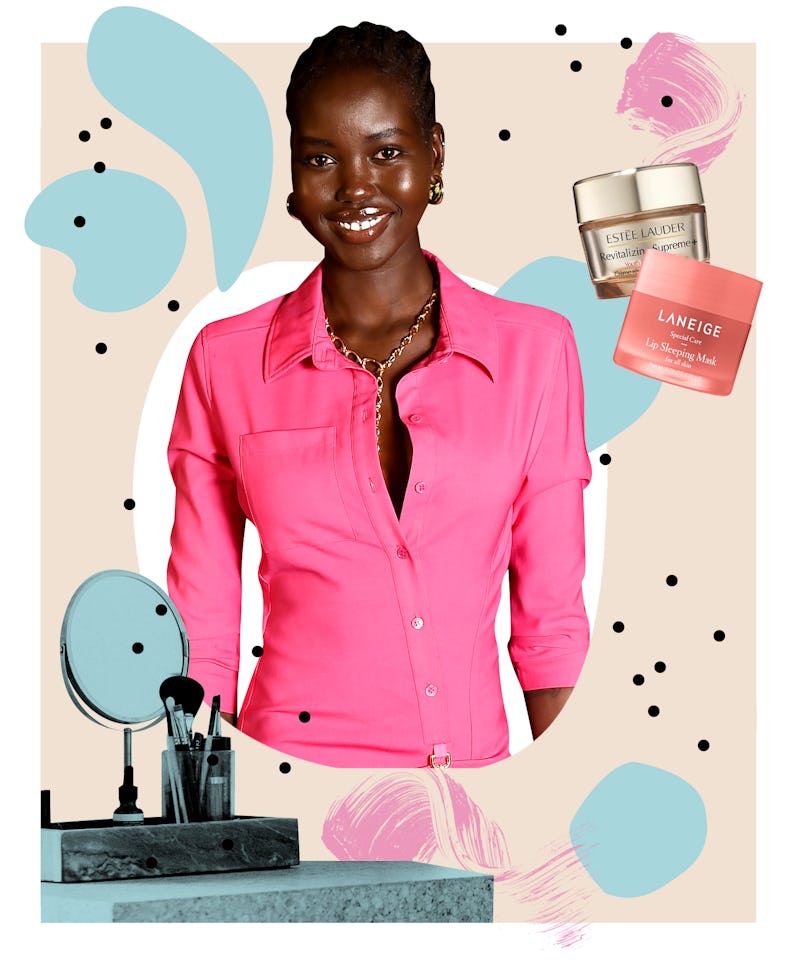 Anthony Ghnassia, Stringer/Getty Images
In Bustle's Beauty Detail, we dive into the beauty bags of our favorite talents for intel on the rituals that keep them glowing and the MVPs (most valuable products) they can't live without. Here, model Adut Akech tells Bustle about her must-have winter beauty products and diversity in high fashion.
At 22, model Adut Akech has already conquered the fashion world. Since making her debut back in 2017 at the Saint Laurent Spring/Summer 2017 show, the South Sudanese-Australian model has been named Model of the Year at the British Fashion Awards twice, starred on Vogue covers all over the world, and landed a major gig as Estée Lauder's global brand ambassador. Akech has played a significant role in improving dark skin representation in high fashion — a shift that will definitely be a part of her legacy.
"There's a lot more of us now," Akech tells me via Zoom. Her skin seems like it's glowing from within, and it pops against the creamy gold hue of the wall behind her. She radiates an effortless confidence. "There's a lot more models of color, specifically African models and even South Sudanese models. It makes me really happy to see that, and we need more [representation]. But I think fashion is on its way."
Akech tells me the industry has changed leaps and bounds since she started. Early in her career, she was often the sole Black model on shoots or runways, and encountered many makeup artists who didn't know how to celebrate her skin. "Foundation was the biggest issue," she shares. "Sometimes makeup artists on set wouldn't understand the different tones in Black skin, but it's getting better now and I know more now."