The 10 Best High-Waisted Jean Shorts On Amazon
We only recommend products we love and that we think you will, too. We may receive a portion of sales from products purchased from this article, which was written by our Commerce team.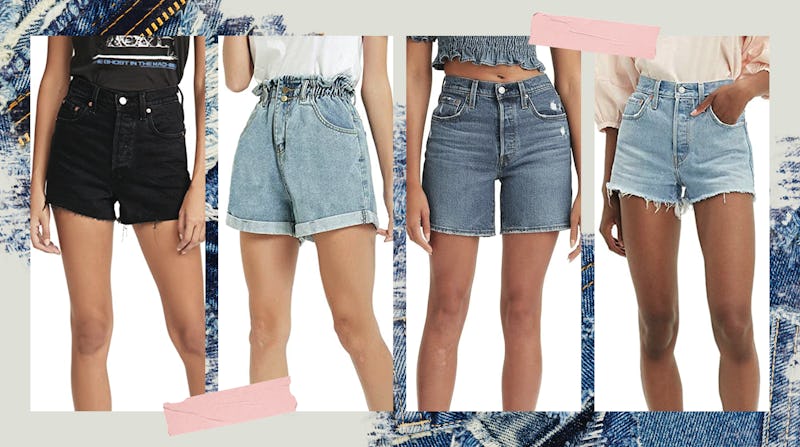 Bustle / Amazon
There's no question that denim shorts are a quintessential warm-weather staple, and the best high-waisted jean shorts are both chic and easy to wear. There are tons of styles to choose from, including tried-and-true and trendy silhouettes. But there are a few considerations when choosing a pair you'll confidently reach for again and again — namely, cut, material, and rise.
Choosing The Best High-Waisted Jean Shorts For You
Style is subjective, and that's certainly true when selecting a pair of high-waisted denim shorts that you'll love. But as you shop, you'll want to consider your own personal aesthetic first and foremost, as well as any gaps in your wardrobe. Denim comes in tons of colors and you'll find plenty of traditional blue denim featured on this list, but you'll also find black pairs and even a pastel option. Just don't forget to click through and check out the other available styles, as some come in dozens of colors.
Next, consider your favorite shorts styles. Some have simple yet versatile silhouettes, while others have unique design details like distressing or an elastic waist. In the dog days of the summer, a pair of short shorts might help you beat the heat. But if you prefer your hemlines longer, a pair of mid-to-knee-length shorts might be a better fit. What your jean shorts are made of also plays an important role in how they fit and feel. If you like the rigid construction of non-stretch denim, opt for a 100% cotton pair that will grow more comfortable as you wear it. Otherwise, denim blends with elastane (aka spandex) will offer some stretch from the moment you open the package.
Also take note that sizing will differ from one brand to the next, including exactly how high they'll sit on your waist (aka the rise). Not all manufacturers include rise measurements for their shorts, but I've included the information when it was available.
Shop The Best High-Waisted Jean Shorts
In a hurry? Here are the best high-waisted jean shorts:
Take a breather from your favorite pair of jeans and shop these high-waisted jean shorts, which can all be found on Amazon.
About The Recommender
Danielle Calma is a commerce writer for Bustle, where she researches and recommends the best fashion products for shoppers. She has also covered style topics for Elite Daily. Denim is a staple in her closet — and when she isn't wearing jeans, she's usually donning a pair of jean shorts, which are essential to her warm-weather wardrobe.